The capital of the former Austro-Hungarian Empire, Vienna is a city that needs no introduction. As you stroll through its streets, visit its grand palaces and awe at its stunning façades, you can't help but be constantly reminded of its incredible historical and architectural significance, a heritage that helps make it one of the most magnificent cities in the world!
Yet, this city is way more than just a collection of beautiful buildings. Vienna was once home to musical legends like Mozart, Beethoven and Schubert, making it a haven for opera and classical music enthusiasts. Besides, the Austrian capital is one of the birthplaces of the European coffee culture, inviting visitors to explore its numerous historic cafes where they can savor not only a great cup of coffee but also local delicacies like Schnitzel and Sachertorte. As you can see, Vienna has something to offer everyone, regardless of tastes and preferences!
That being said, we invite you to have a look at our Vienna 3-day travel guide and discover the best the city has to offer, including hotels, restaurants, tips to avoid tourist scams and even a detailed list with everything you must see and do in Vienna in 3 days.
Vienna 3-Day Travel Guide
How to get to Vienna – Flights from Ireland
Considering this is the largest and most important city in all of Austria, it comes as no surprise that the nation's capital is served by the country's biggest air hub: the Vienna International Airport.
As such, if you're traveling from Ireland, it is possible to fly directly to Vienna from Dublin with Aer Lingus and Ryanair.
Vienna 3-day travel guide – Best time to visit the city
Not a lot of wiggle room to be creative here! Considering the city is located in Europe, Spring, Summer and Fall are definitely the most sought-after months when it comes to booking a trip to Vienna, with the period between May and September standing out as the most researched. However, keep in mind Summer months can at times feel quite hot in the Austrian capital, and accommodation prices will be through the roof!
On the other hand, you may choose to visit during shoulder-season, when temperatures tend to be more pleasant, the streets less crowded and the prices smaller. However, and for those strong-willed enough to face the harsh Austrian winter, visiting Vienna in the winter can also feel refreshingly rewarding, as dozens of Christmas markets spring up all around the city.
Documents needed for your trip to Vienna
Since Austria is part of the EU, Irish citizens only need to show a valid ID Card in order to be granted access to the country.
Vienna 3-day travel guide – Withdrawals, banking fees and travel budget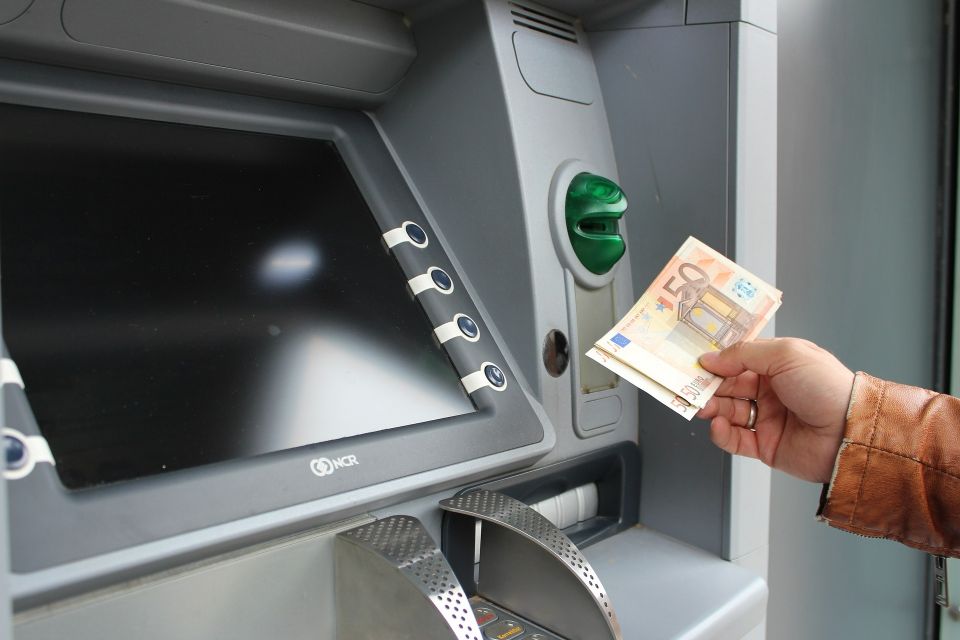 Since Austria is part of the Eurozone, just like Ireland, there is no currency exchange, with both nations using the Euro. As such, travelers are able to use the same credit/debit card that they utilize back at home without incurring in any fees. However, keep in mind some local banks or networks (such as the infamous Euronet ATM's) may charge you a flat fee per withdrawal upon detecting that you're using a foreign card.
Nevertheless, and so that you can get a tighter grip on your travel budget and things don't slide out of control, we always recommend using Revolut. Although in Italy you won't be able to take advantage of the card's most redeeming quality – to allow you to withdraw foreign currency without any exchange fees – this is still a pretty useful tool.
By using the bank's online app, you will have immediate access to your balance, as well as all your expenses, allowing you to check in real time whether you've been charged any fees for your withdrawals or not. Besides, you may just load your card with the exact daily amount you want to spend on your trip, helping you to avoid overspending and going over your budget. Plus, if you find yourself in a situation where your card got lost or stolen, the only money you stand to lose is amount you had loaded your card with. Sign up for Revolut for free >> to get 3 months of Premium. 
Vienna 3-day travel guide – Common scams and frauds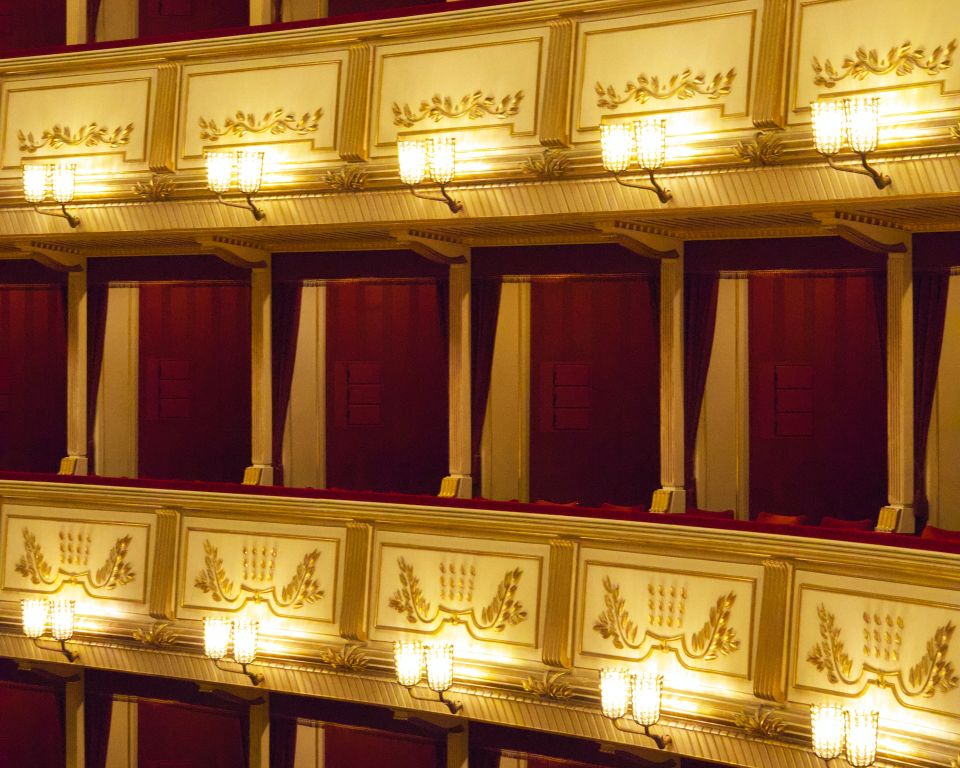 Given Austria's 5th place rank on the Global Peace Index, it's no wonder that Vienna stands out as one of Europe's (and the world's) safest capitals. As such, you can enjoy a pretty seamless and chill experience, since the chances of being the target of theft or scams are quite low.
However, and much like you would do in any other big city, using your common-sense is key. That means no taxis whose drivers refuse to start the meter, no accepting help from strangers when you're using an ATM or trying to buy metro tickets and always keeping an eye out for your stuff when you're walking through busy areas. To sum up: don't do anything you wouldn't feel comfortable doing in any other city!
As for travel scams, one of the most common ones involves ticket sales for opera and classical music performances. Since, these events are quite popular among tourists, it's pretty common to be approached by individuals trying to promote a show or a performance. Just as you would with airline tickets, it's best to purchase your tickets directly from the official source to avoid potential scams or overpaying. Additionally, in some of the more central coffee houses, some waiters will probably suggest that tips aren't included in the meal price. However, tipping isn't mandatory in Austria, so feel free to leave a tip only if you're pleased with the service and wish to show your appreciation.
Where to sleep in Vienna – Hotels and Accommodation
If you're looking out for a place to stay on our Vienna 3-day travel guide then we got your covered!
Unfortunately, Vienna is quite pricey. From dining to accommodation, transportation to entertainment, this European capital can make a dent in your budget rather quickly. However, one of the standout features of traveling in German-speaking countries is that hotels and apartments tend to have relatively high and consistent standards. Yes, you'll pay a bit more than in any parts of the world, but at least you'll get your money's worth!
That being said, here are a few hotel options which have passed our value-for-money test:
Vienna 3-Day Travel Guide – Transportation between the airport and the capital center
Upon landing in Vienna, the best way to reach the city is by using the local urban train system. There are three different trains that leave from the airport's station:
CAT – City Airport Train

Price: 14,90€ (or 24,90€ two-way)
Duration: 16 minutes
Frequency: Every 30 minutes, between 05h37 and 23h38
Destination: Wien Mitte – City Air Terminal
Tickets: Automatic machines, tourist information offices at the airport or online
OBB Railjet

Price: 4,40€
Duration: 15 minutes
Frequency: Every 30 minutes, between 05h42 and 22h12
Destination: Vienna Central Station
Tickets: Automatic machines, OBB offices at the airport or online
S7 Express Train

Proce: 4,40€
Duration: 25 minutes
Frequency: Every 30 minutes, between 05h19 and 01h19
Destination: Wien Mitte
Tickets: Automatic machines, OBB offices at the airport or online
On the other hand, if you happen to land outside of the railways' operating times, you may rely on one of the three public bus lines that go through the airport. Out of the 3 options, only routes VAL1 and VAL2 head to the city center, although the other alternative (VAL3) connect to the local metro system. Be that as it may, both lines operates 24/7, with a new bus leaving every 30 to 60 minutes. It takes about 20/25 minutes for the vehicle to arrive in the downtown area and you can buy your ticket (9,50€ or 16,00€ two-way) directly from the driver (cash only), at the airport's automatic machines or online.
Vienna 3-Day Travel Guide – Public transportation
Unsurprisingly, Vienna is served by an extensive public transportation network that includes the metro (U-Bahn), buses, trams and local trains (S-Bahn), reaching pretty much every single district in the outskirts of the city.
That being said, and if you really need to rely on public transportation, you'll most likely end up using the metro, aside from the journeys between the airport and the city, which (as seen above) are covered by the local suburban trains. As for the remaining means of transportation, they are mostly used by locals to commute between their residence and their place of work/studies.
Vienna Metro – Maps, Tickets and Fares
Known locally as the "U-Bahn", Vienna's metro system is a network of over 100 stations spread across 5 distinct lines, serving as not only an essential mode of transportation for residents but also as a fantastic way for tourists to explore the city. The metro conveniently connects the historic city center and extends into the outer neighborhoods, where you can visit places such as the Schönbrunn Palace and the Prater, making it the most useful transportation choice to explore Vienna from a tourist standpoint.
The metro operates every day from 5h00 to 00h30, extending its operation during the weekend (between Friday and Sunday), when it runs uninterruptedly 24/7.
As for tickets, each individual ride will set you back 2,40€, allowing you to switch between lines and even different modes of transportation until you reach your final destination. This means all tickets are valid on buses, trams and urban trains (S-Bahn). However, keep in mind this price applies to journeys within the city's boundaries, so if you travel beyond these borders, there's an additional 2,00€ fee. This is precisely why train rides between the city center and the airport, which falls outside these limits, cost 4,40€ (2,40€ for the "standard" fare plus 2,00€ for crossing the boundary). Still, for tourists like you and me, most trips will stay within the established boundaries.
That being said, if you plan on using the metro frequently, it's worth looking into the daily and multi-day options available:
1-Day Pass: 5,80€ (valid from moment it's scanned until 01h00 of the following day)
24-hour Pass: 8,00€
48-hour Pass: 14,10€
72-hour Pass: 17,10€
It's important to note that once you scan your ticket, it remains valid for a non-stop period of 24, 48 or 72 hours, depending on your choice. So, if you validate a 24-hour ticket at 14h00 on a Saturday, it will be valid until 13h59 of the following day (Sunday).
Vienna City Card
Alternatively, you can consider getting the Vienna City Card. Available in three versions – 24, 48 and 72 hours, this card grants unlimited access to public transportation for the chosen duration, plus a bunch of discounts at various attractions, museums, shops, restaurants and coffee houses. You can find the full list of partners and benefits on their website.
As for prices, there are the current rates:
24 hours: 17,00€
48 hours: 25,00€
72 hours: 29,00€
Furthermore, when you purchase the card, you also have the option of adding airport transportation (City Airport Train – CAT) for 22,00€ extra, or a city bus tour (the popular hop-on hop-off) for an additional 29,00€.
Vienna 3-day Travel Guide – Free walking tours
While in Vienna, you have the option to explore the city with a free walking tour. These tours, led by local guides or tour companies, offer guided visits to the historic center, sharing intriguing stories about each place and providing valuable cultural context. Even though these tours are technically free, it's customary to show appreciation for the guide's efforts by leaving a tip at the end. In Krakow, a reasonable minimum tip would be around 8,00€.
That being said, here are a few companies that run free walking tours in Vienna:
Vienna 3-day Travel Guide – Hidden Treasures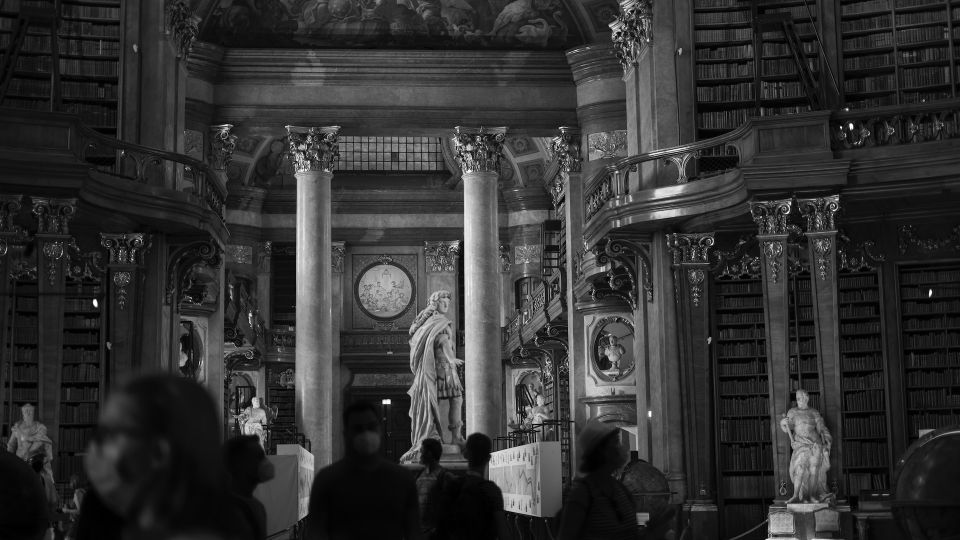 With 3 days in Vienna, and although there is definitely plenty to see, you will have enough time to at least cover the main highlights.
Be that as it may, and because we believe a good traveler must always be able to explore beyond the obvious, we wanted to add a few more obscure places to your list of things to see and do in Vienna in 3 days:
Hundertwasser House – Known as one of the artistic and bohemian quarters of the city, this complex of buildings appears to be from an alternative reality, with its vibrant colors, crooked lines and whimsical contours, in stark contrast to Vienna's classical and imperial style.
Prunksaal (Austrian National Library) – This main hall, with its imposing size, monumental dome and frescoes adorning the entire 80-meter-long ceiling, helps make this one of the most beautiful libraries in the world!
Naschmarkt – A highly popular street market among the locals where you can sample food from around the world. On Saturdays, there's also a flea market dedicated to antiques and kitsch objects.
Sigmund Freud Museum – Home to an equally brilliant and controversial figure (where Freud lived for nearly 50 years), this museum provides insight into the thoughts and personal life of the most famous psychiatrist in human history.
Jewish Museum Vienna – An excellent museum dedicated to the history and contributions of the Jewish people to the development of modern Austrian nation, before the terrible persecution they endured during World War II.
Vienna 3-Day Travel Guide – What to See and Do in 72 Hours
Despite its respectable reputation as one of the greatest and most beautiful cities in the world, it is perfectly possible to visit the best of Vienna in 3 days. With a full 72 hours, you can see its main palaces, walk along the magnificent Ringstrasse and explore every nook and cranny of the Innere Stadt – Vienna's historic center!
Without further ado, here's what to see and do in Vienna in 3 days:
Vienna 3-Day Travel Guide – Day 1 – The Fabulous Ringstrasse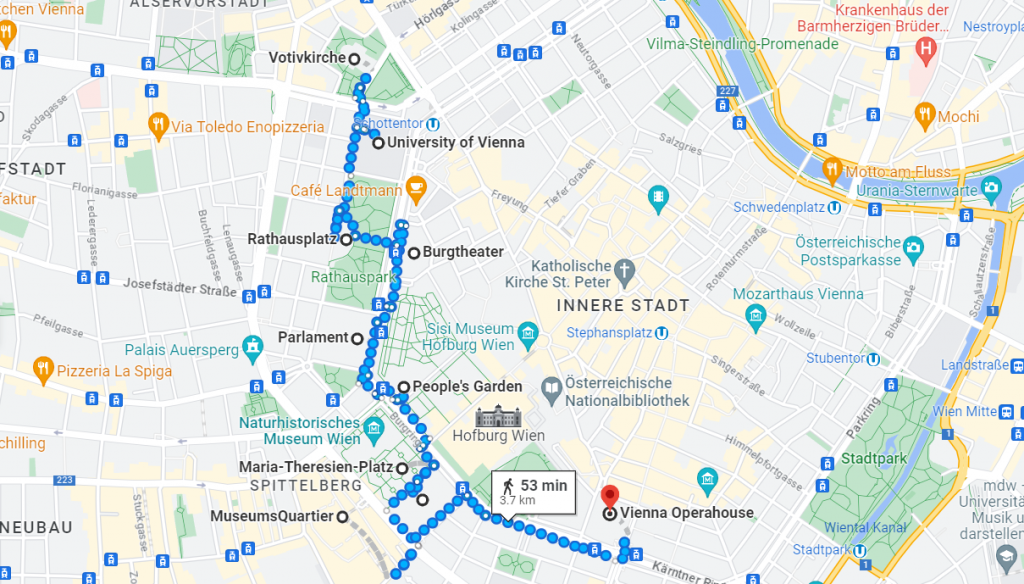 To kick off what's bound to be an unforgettable adventure in Vienna, there's no better way than strolling along what is arguably the city's most famous road: the magnificent Ringstrasse! Encircling Vienna's historic center (the Innere Stadt), this semicircular road stands exactly where the ancient medieval city walls once stood, and is adorned with a stunning collection of historic buildings, monuments and institutions.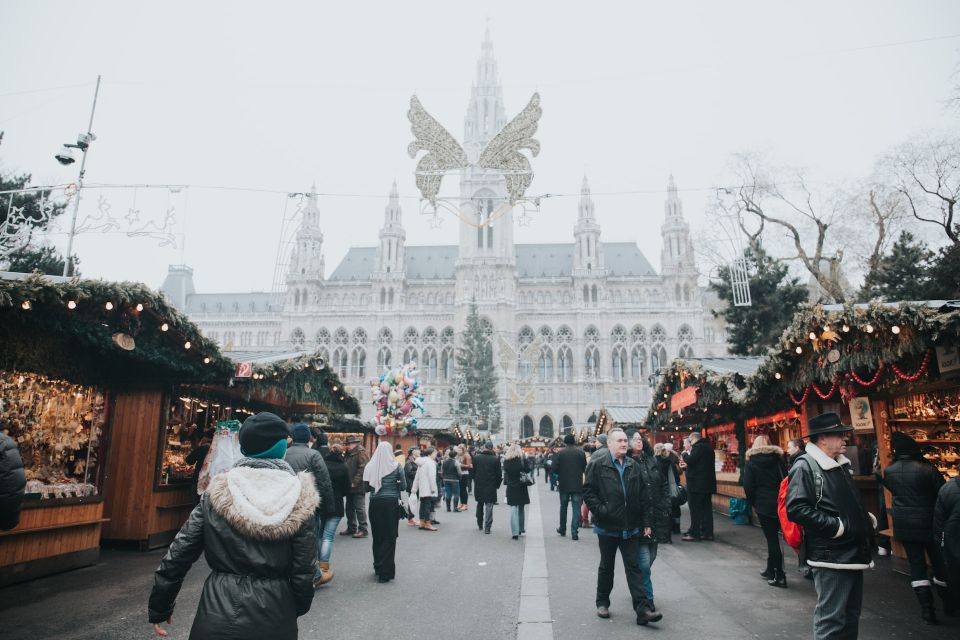 That being said, your day will start at the Votivkirche, one of the city's prettiest churches, located near the northern tip of the road. From there, you'll make your way towards the opposite end, visiting the impressive University of Vienna, as well as the extravagant Rathaus, the Flemish-style Town Hall, reminiscent of the buildings you'd find in the likes of Brussels, Bruges or Ghent. If you're interested in exploring its opulent interior, you can join one of the free tours (offered in German only) every Monday, Wednesday and Friday at 13h00. Across the street, you'll discover the Burgtheater (8,00€ for a guided visit in German; English tours only available in the Summer), Austria's national theater and one of Europe's most beautiful. Continuing your journey along the avenue, you'll make a stop at the Austrian Parliament Building, built to resemble an ancient Greek temple. During its heyday, when the Habsburgs controlled a big part of Europe, this was where the two chambers of the Imperial Council convened. To cleanse your palate from all the classical architecture, we suggest a brief detour to the charming Volksgarten.
Back in the Ringstrasse, our next stop is the imposing Maria-Theresien-Platz, a square flanked by two strikingly similar grand buildings. Due to time constraints, you'll have to make a choice here. On one side, you'll find the Kunsthistorisches Museum (21,00€), a space dedicated to showcasing the Habsburgs' extensive art collections, featuring works by renowned artists such as Raphael, Bellini, Vermeer and Caravaggio, along with Roman and Egyptian artifacts. On the opposite side of the square, however, you can explore the Naturhistorisches Museum (16,00€), a natural history institution, boasting an extensive dinosaur exhibit and the world's largest meteorite collection. If you're traveling with kids, the latter is a great way to spend a couple of hours! Behind the square, you can also pass-by the Museumsquartier, one of the trendiest spots in the Austrian capital.
Lastly, we'll cap off our Ringstrasse tour at the iconic Vienna State Opera, which, along with the Sydney Opera House, probably stand as the two most famous opera houses in the world. While you can certainly take a tour of its magnificent premises for (13,00€), nothing compares to actually attending a live performance. Although opera tickets can easily sell for hundreds of euros, booking in advance on their official website can secure you a seat for less than 20,00€. True, you might end up with an obstructed view of the stage and a less-than-comfortable seat, but at least you can say you've done it! Alternatively, you can visit the opera's ticket offices on the morning of the show (or 80 minutes before it starts) and try to snag a "Standing Ticket" for a max of 18,00€. You won't have a seat, but the views of the stage are good!
First day wrap-up:
Ringstrasse
Votivkirche
University of Viena
Rathaus
Burgtheater
Austrian Parliament Building
Volksgarten
Maria-Theresien-Platz
Kunsthistorisches Museum OR Naturhistorisches Museum
Museumsquartier
Vienna State Opera
Cheap restaurants close to the Ringstrasse:
Vienna 3-Day Travel Guide – Day 2 – Innere Stadt
After a full day exploring the road that borders the historic heart of Vienna, today you're going to cross over and discover the Innere Stadt. While the classical and imperial architecture still reigns supreme, the streets are narrower and there is limited car traffic. But before you dive into the maze of pedestrian lanes, our first stop will take place at the Hofburg Palace (17,50€), also known as the Imperial Palace of Vienna. This place was the official residence of Austrian kings and emperors for over 600 years, boasting a staggering 2600 rooms. Nowadays, you can take a tour of the Hofburg and explore the Imperial Apartments, where the Habsburg court once resided, as well as the Sisi Museum, dedicated to the life and collections of the nation's most famous (and beloved) empress. In the rear of the palace, don't forget to peek into the Austrian National Library, where its magnificent main hall – called Prunksaal (10,00€) – helps put it on the list of the world's most beautiful libraries!
Venturing deeper into the Innere Stadt, it's time to visit the Capuchin Church, famous for housing the Imperial Vault (8,50€), where lie the ornamented tombs and sarcophagi of nearly 150 members of Europe's most famous royal family, creating a fascinating (of eerie) art collection. Once back outside, we'll continue our stroll along Kohlmarkt and Graben streets, arguably the most famous and picturesque thoroughfares in Vienna's historic core. Along the way, we recommend quick stops to admire the Pestsaule and Peterskirche, followed by a well-deserved coffee break at Hofzuckerbäckerei Demel, Vienna's oldest coffee house, operating since 1786! However, its historical reputation comes at a price, which is why you can easily spend 12€-15€ on a coffee and a slice of Sachertorte. A little further down the road, you'll be greeted by the imposing St. Stephen's Cathedral, a magnificent Gothic structure that dominates the entire skyline of the Innere Stadt. Although entering Stephansdom (its local name) is technically free, you will only have access to a restricted area of the church, requiring a ticket (6,00€) to freely wander through the building and see the altar up-close. If you're up for it, consider going up one of the towers (6,00€) for breathtaking views of the city center.
As the day draws to a close, we'll exit the historic center once again, this time heading east to discover the Hundertwasserhaus! Known as one of the artistic and bohemian quarters of the city, this complex of buildings appears to be from an alternative reality, with its vibrant colors, crooked lines and whimsical contours, in stark contrast to Vienna's classical and imperial style. A little further north, on the other side of the Donaukanal (a Danube canal), your final destination of the day in none other than Prater, the world's oldest amusement park! While you'll have to pay for the rides – including the iconic Ferris wheel, in operation since 1897 – admission to the park grounds is free.
Second day wrap-up:
Innere Stadt
Hofburg Palace

Imperial Apartments
Sisi Museum

Austrian National Library – Prunksaal
Capuchin Church – Imperial Vault
Kohlmarkt and Graben
Pestsaule
Peterskirche
Hofzuckerbäckerei Demel
Stephen's Cathedral (Stephansdom)
Hundertwasserhaus
Prater
Cheap restaurants in the Innere Stadt
Vienna 3-Day Travel Guide – Day 3 – The Palaces of Vienna
For your last day in Vienna, we couldn't end this Vienna 3-day travel guide without a tour of the city's most popular palaces. That being said, let's start on a high note with the extraordinary Schönbrunn Palace (20,00€ for the shorter tour), a royal residence that can easily hold its own against other iconic places like Versailles (France), Peterhof (Russia) or Sanssouci (Germany). In fact, Schonbrunn's palace and gardens are so magnificent that they've earned a well-deserved spot on the list of UNESCO World Heritage Sites. While there's an admission fee to enter the palace, you can wander through its stunning gardens for free. Long story short: if you're going to visit just one palace in Vienna, make it Schonbrunn!
As the morning comes to an end and you start feeling hungry, your next stop should be at the Naschmarkt, a highly popular street market among the locals where you can sample food from around the world. On Saturdays, there's also a flea market dedicated to antiques and kitsch objects! After calming down your munchies, you'll get going to the extraordinary Karlskirche (8,00€, including access to the tower), my top choice when it comes to the most beautiful churches in Vienna, before rounding off your adventure at the Belvedere Palace, yet another exceptional example of Vienna's rich cultural heritage. Besides the gardens (completely free to explore), the palace itself is divided into the Upper Belvedere (19,00€ or 16,70€ online) and the Lower Belvedere (17,00€ or 14,70€ online), with the 2-in-1 ticket, which grants access to both buildings, currently available for 27,50€ (or 24,00€ online).
Third day wrap-up:
Schonbrunn Palace
Naschmarkt
Karlskirche
Belvedere Palace
Cheap restaurants near Naschmarkt and the Belvedere:
Got more than 3 days in Vienna? Then you might want to check out the best day trips from the city: