Considered one of the most beautiful road trips in Europe, the Amalfi Coast is a little piece of paradise stretching along 50 km of rugged coast, pristine beaches and dramatic views. Although it has been a pretty popular destination for quite a while now, lately everyone and their mother seems keen on visiting this small corner of the Italian peninsula.
And why wouldn't they? Traveling along the legendary SS163, taking in the admirable setting and discovering tiny little villages hanging from the coast's cliffs can be quite the experience! It's the kind of place where you want to slow-travel, a world away from the bustling attraction-hopping most people do when visiting the major cities in Italy.
That being said, and in case you're getting ready to board a plane and visit this idyllic destination, we have prepared the ultimate Amalfi Coast travel guide! Besides the information we usually compile for other guides as well, which includes hotels and restaurants, we will also show you the best public transportation options to move between villages and share two different itineraries with everything you should see and do in the Amalfi Coast in 3 days or 1 week, including day trips to Naples and/or Capri.
Amalfi Coast Travel Guide
How to get to the Amalfi Coast – Flights from Ireland
Sadly, but rather unsurprisingly considering its small size, the Amalfi Coast isn't served by any international airport. Therefore, passengers wishing to visit the region usually have to fly into the neighboring city of Naples, about 50 km away from Sorrento.
If you're flying from Ireland, you can reach Naples directly from Dublin (Aer Lingus and Ryanair) and Shannon (Ryanair).
Afterwards, from Naples, there are several options for you to officially reach the Amalfi Coast:
Train, with Circumvesuviana Railroad – Though there is no official website, these local trains depart every 30 minutes from Napoli Porta Nolana Station, arriving in the town of Sorrento in about 1h20. One-way tickets cost 3,60€
Ferry, with Alilauro – These boats leave from the quay at Molo Beverello. In Summer, ferries depart at 09h, 11h, 13h. 15h05, 17h15 and 19h15. Each trip takes about 40 minutes and tickets for non-residents cost 14€.
Bus, with Flixbus – Buses leave from Metropark Centrale and arrive in Sorrento in about 1h40. Frequency is seasonal and tickets – if booked before-hand – can cost you about 5€-7€. Alternatively, you may also use the company Curreri Viaggi, which leaves from the Napoli International Airport. In this case, the trip takes 1h15 and tickets cost 10€.
Amalfi Coast Travel Guide – Best time to visit the region
Well, considering this is a "sun, sea and sand" type of destination, it's only natural it gets swarms of visitors during the height of the Summer… which is precisely why you should pick another timing for your visit! Especially between mid-July and mid-September, the Amalfi Coast can get excessively crowded, causing prices to skyrocket and creating huge traffic jams along the otherwise scenic road.
That being said, we recommend visiting between May-July or right after the seasonal crowds disappear, between mid-September and mid-October. You'll still get good weather but won't have to deal with the crazy crowds or the outrageous hotel prices!
Amalfi Coast Travel Guide – Documents needed for your trip
Since Italy is part of the EU, Irish citizens only need to show a valid ID Card in order to be granted access to the country.
Amalfi Coast Travel Guide – Withdrawals, banking fees and travel budget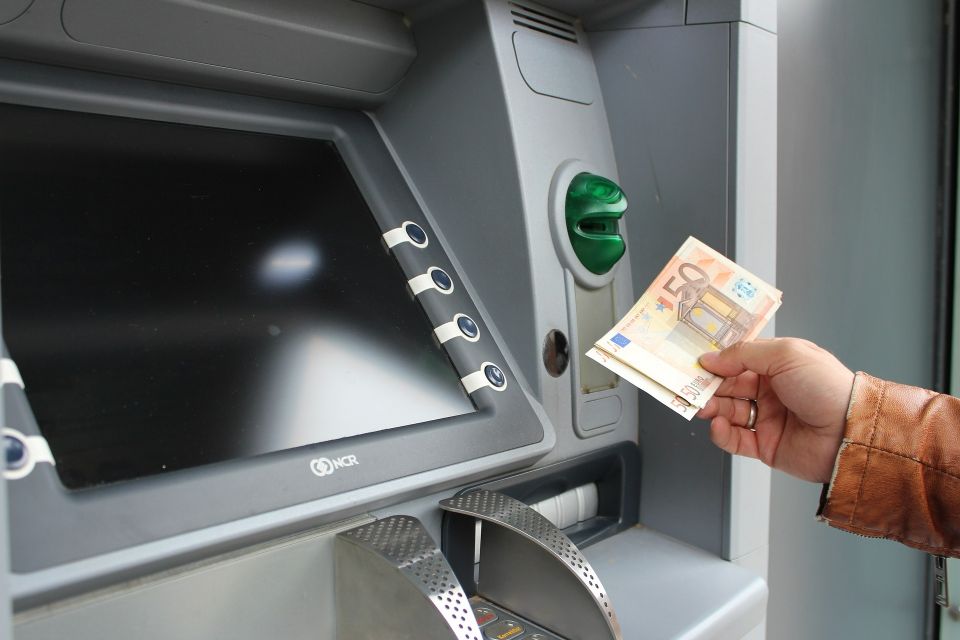 Since Italy is part of the Eurozone, just like Ireland, there is no currency exchange, with both nations using the Euro. As such, travelers are able to use the same credit/debit card that they utilize back at home without incurring in any fees. However, keep in mind some local banks or networks (such as the infamous Euronet ATM's) may charge you a flat fee per withdrawal upon detecting that you're using a foreign card.
Nevertheless, and so that you can get a tighter grip on your travel budget and things don't slide out of control, we always recommend using Revolut. Although in Italy you won't be able to take advantage of the card's most redeeming quality – to allow you to withdraw foreign currency without any exchange fees – this is still a pretty useful tool.
By using the bank's online app, you will have immediate access to your balance, as well as all your expenses, allowing you to check in real time whether you've been charged any fees for your withdrawals or not. Besides, you may just load your card with the exact daily amount you want to spend on your trip, helping you to avoid overspending and going over your budget. Plus, if you find yourself in a situation where your card got lost or stolen, the only money you stand to lose is amount you had loaded your card with. Sign up for Revolut for free >> to get 3 months of Premium.
Amalfi Coast Travel Guide – Common scams and frauds
In case you're having second thoughts regarding safety, we can assure you that the Amalfi Coast is an extremely tame place when it comes to crime and/or travel scams. Unlike big touristy cities in Italy, although they're still pretty safe by international standards, you have absolutely nothing to worry about regarding your physical integrity or that of your belongings.
Be wary of cabs with no meter, don't flash your money or belongings in crowded areas and never EVER take help from anyone while you're using the ATM. Aside from that, just pay special attention to the cafes/restaurant menus. Although these cases may not be as common, there are several online reports of tourists who kindly accepted the waiter's suggestion without looking it up on the menu and ended up with as unpleasant surprise upon being handed the check.
To sum it all up – just use common sense and don't do anything you wouldn't do anywhere else in the world!
Where to sleep in the Amalfi Coast – Hotels and Accommodation
If you're looking out for a place to stay on our Amalfi Coast travel guide then we got you covered!
Similarly to many other Italian cities/regions highly dependent on tourism money to survive, hotel prices in thee Amalfi Coast are also generally high… like, very high! Especially when looking at the most popular towns, such as Positano, a hostel bed can go as high as 80€/night, which is rather hefty. For that reason alone, and for the sake of the itineraries mentioned on this Amalfi Coast Travel Guide, we do not recommend staying the night in Positano.
However, and considering you'll be constantly moving between cities and hotels, at the end of the day it is still possible to do a healthy mix of expensive stays in the coast with more affordable places in the big cities (we're looking at you, Naples).
That being said, here are some options based on the cities we recommend you to stay at on your Amalfi Coast itineraries:
Amalfi Coast Travel Guide – Hotels in Naples
Amalfi Coast Travel Guide – Hotels in Sorrento
Amalfi Coast Travel Guide – Hotels in Amalfi
Amalfi Coast Travel Guide – Hotels in Salerno
Amalfi Coast Travel Guide – Transportation between Naples Airport and the city center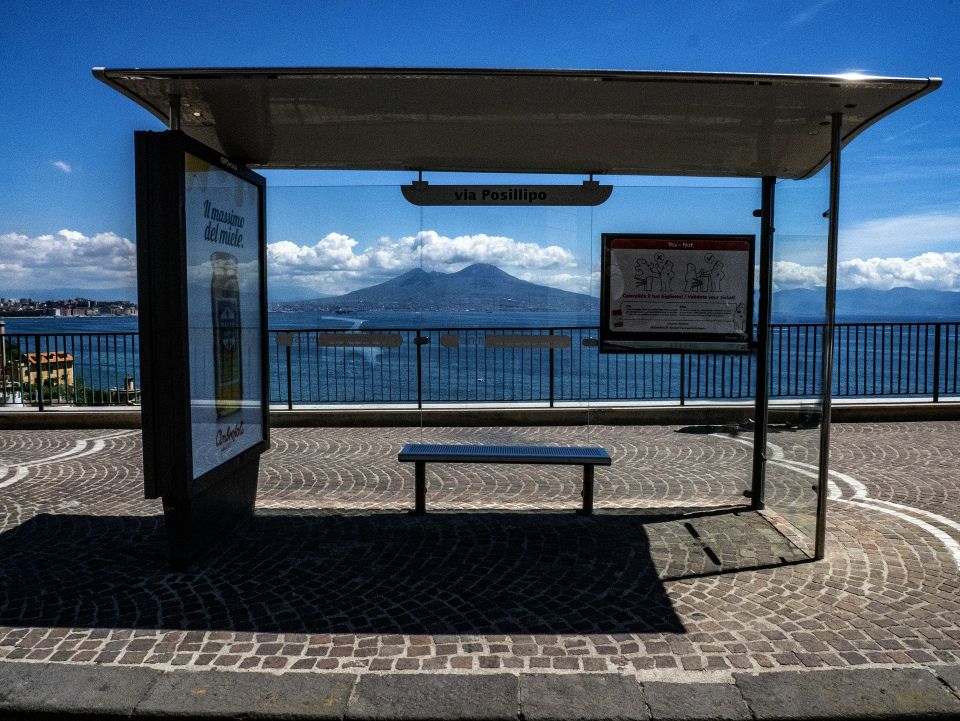 While most big city airports are usually located far out in the suburbs, the distance between the local airport in Naples and the city center is incredibly small! In fact, and for comic relief, you could actually walk your way to the historic core of Naples right after landing. Yeah, I'm sure you've jogged for at least 4km before!
However, and in order to save your legs from this needless effort – especially because you'll need the energy further ahead in the week – we suggest using one of the two bus routes available:
Shuttle Bus from Alibus

Departure: Terminal 1 – Arrivals
Destination: Molo Angioino/Beverello Stazione Marittima (stopping at the Central Railway Station)
Price: 5€
Frequency: Every 10/15 minutes (between 05h30 and 00h25)
Duration: 15 minutes
Tickets: Alibus or bought directly from the driver
Public Bus 182

Departure: Maddalena – S. Maria del Pianto
Destination: Piazza Dante
Price: 1,20€
Frequency: Every 30 to 60 minutes (depending on the time of day)
Duration: 15 minutes
Tickets: Sun Store Kiosk, located inside the airport
Amalfi Coast Travel Guide – Transportation between cities
As mentioned above, the Amalfi Coast stretches along a 50-km road… so, not exactly a walkable length! If you also factor in the distances between the region and the cities of Naples and Salerno, as well as the island of Capri, it's easy to understand you will need to figure out transportation between all these places by yourself. Just kidding – we've done for you already!
Transportation in the Amalfi Coast – Trains
Let's get to the bad news first! Unfortunately, there is no railroad connection between all the little towns along the Amalfi Coast. However, there are still two sections of our itineraries where we recommend using the train:
Naples – Pompeii – Naples: 30 to 40 minutes; 6,00€ round-trip
Salerno-Naples: 40 to 60 minutes; from 5,10€
You may check times and buy tickets at Trenitalia's official website.
Transportation in the Amalfi Coast – Renting a car
While many choose to go on endless tirades about how wonderful it is to roadtrip along the Amalfi Coast, I personally vouch for a more careful approach. If you visit during low season, then yes, renting a car is indeed an amazing idea.
However, as soon as crowds start piling up, renting a car may turn out to be more of a headache than a commodity. Besides the nagging traffic jams and the extreme difficulty to find free parking (or ANY parking, for that matter), the truth is that locals have already voiced their unhappiness and concern for the excessive presence of cars in the region. In fact, the problem got so bad that Italian authorities had to come up with a procedure where rented cars could only use local roads according to their plate number. If the last number was even, renters could only drive on even days. If not, only on odd days. Yes, this actually happened!
Anyhow, this rules only stands during high season, so if you can avoid those Summer months, renting a car and driving through the coast's winding roads is an absolute must. You can browse for prices and models at Rentalcars.com!
Transportation in the Amalfi Coast – Renting a scooter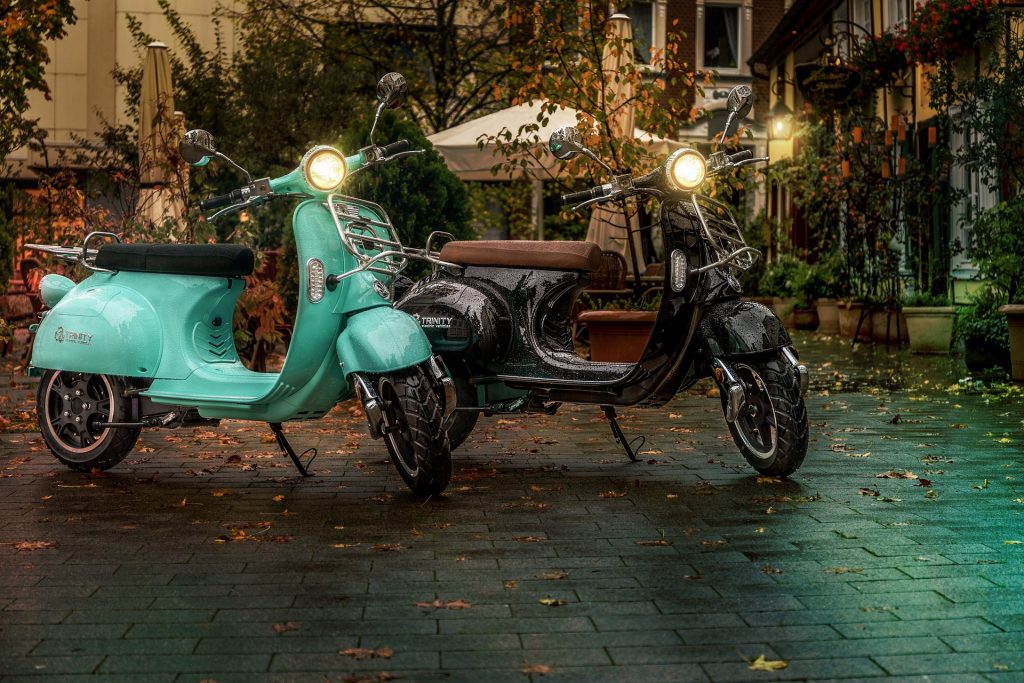 First things first: If you've never driven a scooter before, Italy is definitely not the place where you want to have your debut. Add in the Amalfi Coast's twists and turns, as well as the high season's packed roads, and this is definitely a big no-no!
However, if you have any kind of experience on top of a motorcycle, renting a scooter is definitely a great idea! You will get an extra layer of autonomy and flexibility, but you will also save some precious time by being able to escape traffic jams. Besides, rented scooters aren't affected by the restrictive measures mentioned above.
Regarding prices, 50cc scooters may range from 40€ to 60€ for a 24-hour rental, while weekly prices (for 7 days) will go from 180€ to 350€. If you wish to take it up a notch and rent a 125cc motorcycle, prices go up. 50-70€ for the daily rate, 250€-420€ for a full week.
From the several local companies we've managed to find, SorrentoTrips is the one with the lowest prices. You may complete your booking online as well. In order to drive a scooter in Italy, you just need a standard driver license. A motorcycle license is not required.
Transportation in the Amalfi Coast – Ferry services
Considering the region's intimate connection and proximity to the sea, it's only natural that most towns are actually connected by multiple ferry services. In fact, if you're visiting during high season (services only start running from April 1st), using a ferry might actually be the smartest option to escape traffic. Although tickets are considerably more expensive when compared to using the bus, you will, at the very least, save some precious time!
Therefore, we actually recommend mixing things up a little, alternating between the bus and the ferry according to distances and timetables. However, every time you notice that there's a lot of traffic clogging up the main thoroughfare, we definitely recommend going with the ferry. Depending on the route, you can expect to pay anything between 4€ and 15€ one-way. You can check prices and timetables right here.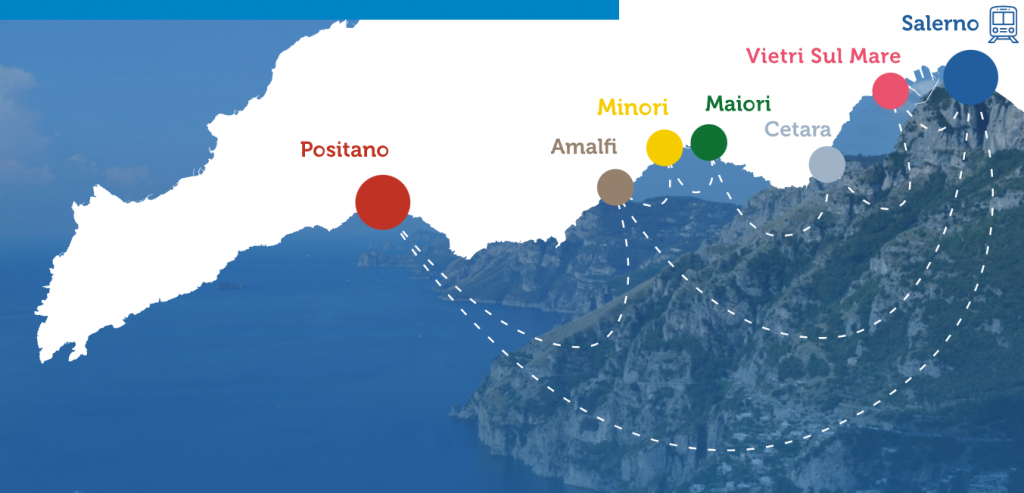 On the other hand, if you're not visiting during high season, when there is little to no traffic, we only recommend using the ferry for these two particular journeys (available all year round):
Naples – Capri: 90 minutes; 12,90€
Capri – Sorrento: 25 minutes; 15,10€
You can check prices and times for these two routes at Caremar's official website.
Transportation in the Amalfi Coast – Buses
Last, but certainly not least, the mean of transportation you will be using more often if you follow the itineraries on our Amalfi Coast travel guide. The good, old, boring-yet-reliable bus!
Villages and towns across the region are connected by the company Sitabus, although you can check the current timetables at the official page of the Positano Tourism Board.
That being said, we recommend using the bus for the following routes (depending on traffic, use the ferry instead):
Sorrento – Positano: 2,00€
Positano – Amalfi: 2,00€
Amalfi – Bomerano: 1,30€
Amalfi – Ravello: 1,30€
Amalfi – Furore: 1,30€
Amalfi – Salerno: 2,40€
What to eat in the Amalfi Coast – Local staples and culinary delights
I think you've probably got it by now that the Amalfi Coast isn't exactly an affordable destination. You can sense it on transportation and – most of all – hotel rates, but high prices also reflect on restaurant menus, as meals here tend to be more expensive that the Italian average. However, this is still Italy, home to what is probably the most beloved cuisine in the world!
Considering the coast's geographical proximity to the sea, you can expect a lot more fish and seafood dishes than what you usually conjure up in your mind when you think of Italian food. In fact, the overwhelming majority of traditional dishes around these villages is heavily centered on fish, such as Scialatielli ai Frutti di Mare, a recipe of fresh pasta served with mussels, shrimp, sea urchin and other shellfish. Other noteworthy examples include Frittura di Calamari (fried calamari), Casserole Octopus, Spaghetti Alle Vongole (spaghetti with clams) or Colatura di Alici (a fish condiment made with fermented anchovies). Beyond fish, the Amalfi Coast is also famous for its lemons, which is why the region serves as the main production hub for the popular Italian liquor Limoncello. Plus, many local restaurants also make a badass version of Pasta Al Limone!
As a final note, and since your trip will have to start and end in Naples anyway, do not miss the chance of trying the world-famous Neapolitan Pizza, widely considered to be the very best in Italy!
Amalfi Coast Travel Guide – Hidden Treasures
Even if we choose to leave places such as Naples, Capri and Salerno out of the equation – considering they're not officially a part of the Amalfi Coast – the truth is that there are still plenty of places in the region that insist on escaping most touristic radars.
Whether it's the lack of time or initiative, most people just focus their efforts around Sorrento, Positano and Ravello… and rightfully so, as these places are admittedly hard to match! Be that as it may, and even if you're a bit strap for time, we still want to leave you with a list of lesser-known places deserving of a visit along the Amalfi Coast:
Atrani
Praiano
Valle delle Ferriere
Furore Beach
Grotto dello Smeraldo
Maiori
Amalfi Coast Travel Guides – Itineraries for 3 days and 1 week
Considering that the post is already pretty long, we've decided to create separate articles for each itinerary.
You can check them through the following links: