This Tenerife 7-day itinerary is a part of our broader travel guide for the island. We recommend you check it out for the best travel tips and the most accurate information on transportation, hotels, restaurants and best beaches in Tenerife.
Tenerife 7-Day Itinerary – What to See and Do in 1 Week
When it comes to Tenerife, a relatively large island absolutely packed with things to do, there will inevitably be some places left unseen and unvisited, even if you have a whole week to explore. However, with seven full days at your disposal, you can get to know the most popular parks, towns and attractions of Tenerife, while still leaving some wiggle-room for a few offbeat activities.
So without further ado, here are the cities, beaches and attractions that you simply can't miss on our Tenerife 7-day itinerary:
Tenerife 7-Day Itinerary – Day 1: Santa Cruz de Tenerife
To kick off our exciting Tenerife 7-day itinerary, we set our sights on exploring the island's capital (as we usually do in our island itineraries). While Santa Cruz de Tenerife may not be the island's most touristy or picturesque city, it never fails to cause a stir. That being said, let's begin by immersing ourselves in the local ambiance with a leisurely stroll through the enchanting Garcia Sanabria Park. Once we've soaked up the surroundings, it's time to delve into the historic center and wander along its charming streets. Don't miss the lively Calle del Castillo, the city's busiest pedestrian street, the charming Plaza del Príncipe de Asturias or the Plaza de España, where you can enter the impressive San Cristobal Castle for free.
Afterwards, treat yourself to a dose of culture at the Guimera Theater, before paying a visit to the Museum of Nature and Man (5,00€). Housed inside a former hospital, this museum showcases the remarkable natural diversity of the Canary Islands, as well as the captivating "guanche" culture, the islands' indigenous people. Once you're done, it's time to check out the vibrant Our Lady of Africa Market, Tenerife's most renowned municipal market, before capping off your city tour at the César Manrique Maritime Park (2,50€), a sprawling green haven with stunning views of the Tenerife Auditorium and a few inviting saltwater pools (where visitors can swim). And finally, what better way to conclude the day than at the picturesque Las Teresitas Beach? Located near the capital, Las Teresitas is actually an artificially constructed beach with purposefully planted palm trees and sand imported from Africa (which explains its light color). Nevertheless, it is one of the most beautiful beaches in Tenerife.
First day wrap-up:
Santa Cruz de Tenerife
Garcia Sanabria Park
Calle del Castillo
Plaza del Príncipe de Asturias
Plaza de España
San Cristobal Castle
Guimera Theater
Museum of Nature and Man
Our Lady of Africa Market
César Manrique Maritime Park
Las Teresitas Beach
Cheap restaurant suggestions in Santa Cruz de Tenerife:
Tenerife 7-Day Itinerary – Day 2: San Cristobal de La Laguna
Leaving the bustling capital behind, it's time to take the short journey to San Cristobal de La Laguna, hailed as one of Tenerife's most captivating cities and the island's very first settlement. As you step into its UNESCO-designated historic center, adorned with vibrant colors, charming pedestrian squares and exotic trees, you can't help but conjure up images of a typical Latin American colonial village. Along your path, you'll encounter architectural wonders like the Abbey of San Benito, the awe-inspiring Church of La Concepción or the magnificent Cathedral of San Cristobal de La Laguna, the city's most important church. As you make your way to the delightful Plaza del Adelantado, you'll stumble upon other noteworthy attractions, including the Town Hall, the charming Ermita of San Miguel Church and the majestic Nava Palace. For an unforgettable farewell, ascend to the panoramic San Roque Viewpoint, where a breathtaking vista awaits.
After lunch, it's time to hit the road and venture into the spectacular Anaga Rural Park, a breathing ecosystem of stunning trails and mesmerizing viewpoints along the island's northeastern coastline. Amidst the dense forest and towering mountain peaks, you'll stumble upon secluded and wild beaches such as Benijo Beach, a remote and picturesque black stretch of sand nestled between high-rising cliffs.
Second day wrap-up:
San Cristobal de La Laguna
Abbey of San Benito
Church of la Concepción
Cathedral of San Cristobal de La Laguna
Plaza del Adelantado
Town Hall
Ermita San Miguel Church
Nava Palace
San Roque Viewpoint
Anaga Rural Park
Benijo Beach
Cheap restaurant suggestions in La Laguna:
Tenerife 7-Day Itinerary – Day 3: Teide National Park
Immersed in a landscape that looks straight out of a sci-fi blockbuster, the Teide National Park is an absolute gem that should not be missed on your Tenerife 7-day itinerary. Prepare to be awestruck as you gaze the magnificent Teide Volcano, considered the third-largest volcano in the planet.
Nature enthusiasts will find themselves spoiled for choice when it comes to hikes and viewpoints, so being selective is a must when visiting the park. As such, we recommend starting with a ride along the Mount Teide Cable Car (40,00€ round-trip; 22,00€ one-way), the only mode of transportation that will get you to the very summit of this famous volcano. As one would expect – you can't beat the view! Once you descend back to the base of the volcano, set out on the Sendero Roques de Garcia trail, find the popular "Queen's Shoe" rock formation and make your way up the awe-inspiring Boca Tauce Viewpoint.
Third day wrap-up:
Teide National Park
Teide Volcano
Mount Teide Cable Car
Sendero Roques de Garcia
Queen's Shoe
Boca Tauce Viewpoint
Tenerife 7-Day Itinerary – Day 4: Costa Adeje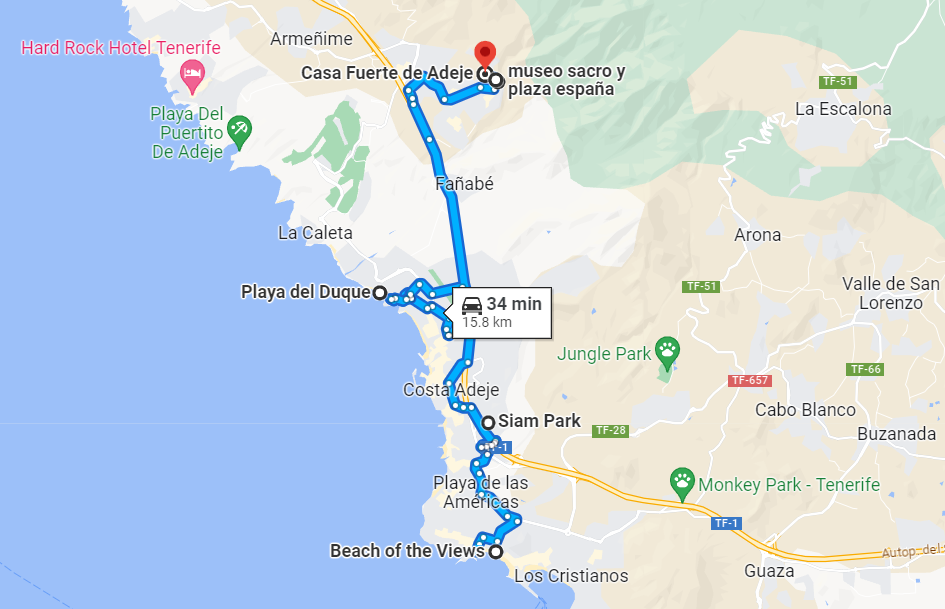 On the fourth day of our adventure in Tenerife, it's time to switch gears and embrace a day of relaxation at the beach. We headed to the vibrant and idyllic Costa Adeje, known for its stunning beaches that rank among the island's very best. Our first stop is the lively Las Vistas Beach, located in Los Cristianos. Buzzing with activity, the beach offers a vibrant promenade and all the amenities one could need for a perfect day. Furthermore, the sea here is considerably shallow, making it perfect for swimming and allowing children to feel more at ease. And speaking of the little ones, a visit to the renowned Siam Park (42,00€ for adults; 30,00€ for children) is a must, as this is considered one of the best water parks in Europe.
After an exhilarating time at the park, you'll want to chill out and visit yet another beautiful stretch of sand. Enter Duque Beach, which is surrounded by some of the most luxurious hotels in all of Tenerife, making it an extremely popular and exclusive spot in the Costa Adeje region. As expected of such a place, the beach is clean and well-maintained. Once you feel like you've had plenty of R&R for the day, venture into the heart of the town of Adeje, exploring its quaint center. While you're at it, discover the delightful Plaza de España, the elegant Church of Santa Ursula and the historic Adeje Fort House, a fascinating reminder of the island's past, originally constructed to protect against invaders and pirates.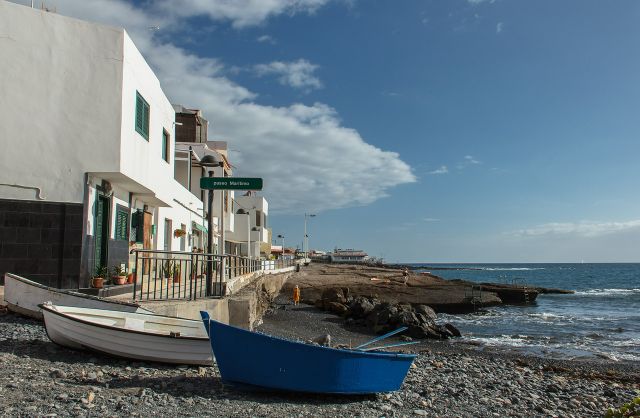 Fourth day wrap-up:
Costa Adeje
Las Vistas Beach
Siam Park
Duque Beach
Adeje
Plaza de España
Church of Saint Ursula
Adeje Fort House
Cheap restaurant suggestions in Costa Adeje:
Tenerife 7-Day Itinerary – Day 5: Los Gigantes and Whale-Watching
Considered one of the most jaw-dropping landscapes in Tenerife, the awe-inspiring cliffs of Los Gigantes are an absolute must on the island. Start your journey in the charming coastal village of Puerto Santiago and follow the winding TF-454 road, which will lead you up to the Archipenque Viewpoint. From this vantage point, get ready to descend towards the famed Acantilados de los Gigantes, the local name for the aforementioned dramatic cliffs. As you make your way down, make sure to take a little detour to the mesmerizing Los Guios Beach, a stunning black sand beach tucked under the shade of the towering precipices.
But hold on, because the best is yet to come! After all, Los Gigantes is renowned as one of the top spots for whale-watching in the Canary Islands, with these majestic creatures often gracing the waters of the region. There are many tour options available, offering different durations, activities and even different types of boats, although most of them depart from the local port and stop at the Masca Bay. Tenerife's warm and deep waters, along with consistently pleasant weather all-year-round, make the island one of Europe's prime locations for whale watching, with some experts boasting an impressive success rate of 99% for sightings during these tours (and over 60% for dolphins). Be that as it may, it's always a good idea to do your own research and reach out to the tour company you find the most suitable to your needs. To give you a taste, here's one potential option.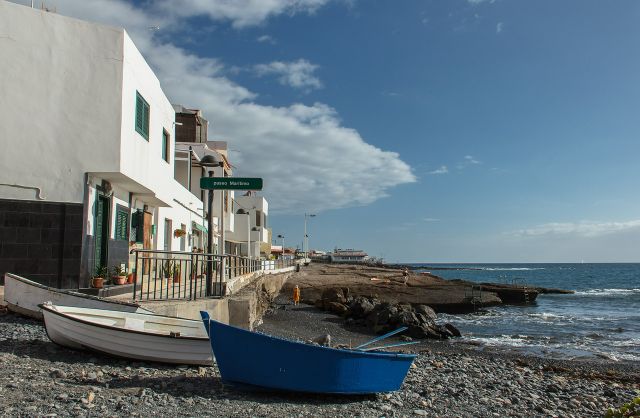 Fifth day wrap-up:
Puerto Santiago
Archipenque Viewpoint
Acantilados de los Gigantes
Los Guios Beach
Whale-Watching Tour
Cheap restaurant suggestions in Los Gigantes and Puerto Santiago:
Tenerife 7-Day Itinerary – Day 6: Masca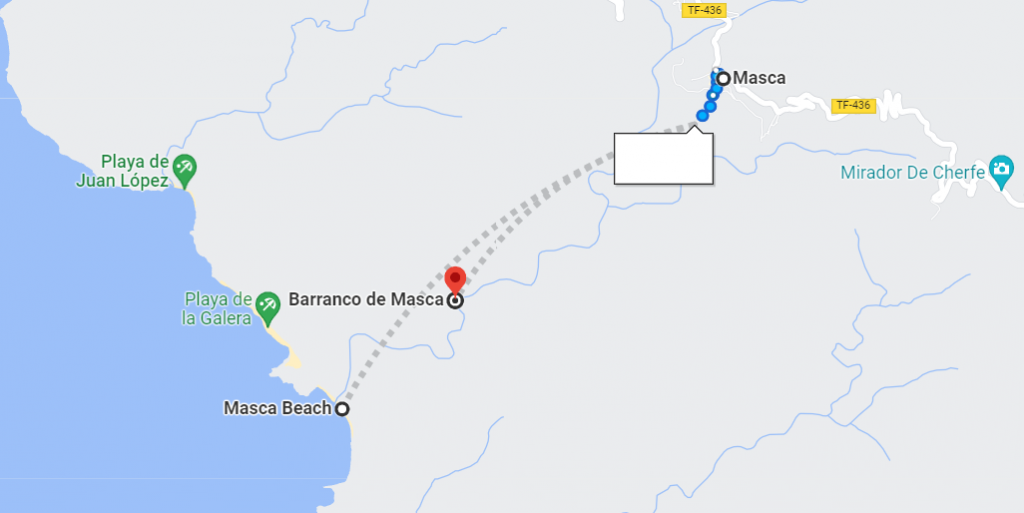 For your penultimate day in Tenerife, you'll have something different in store. You'll venture up to the mountain village of Masca, renowned for its unparalleled scenery. The journey to get there may be long, tiring and even potentially intimidating for some people, but the end-product more than makes up for the effort! After strolling through the village and taking in the Hawaiian-like landscape, you'll tackle one of the most beautiful trails in Tenerife.
Taking a total of 7 hours (round trip), the Masca Gorge trail can be challenging, but just like the ascent to the village, the experience is unforgettable. Not only is the route adorned with phenomenal landscapes painted with lush green hills and the blue of the sea, but the end will have you plunging into the water at Masca Beach. By far the most secluded beach on our list, taking this hike is actually the only way to access it. Surrounded by dramatic cliffs, it offers untouched natural beauty and is a great spot for snorkeling or diving. The descent into the gorge can be steep and rugged, but it adds to the sense of adventure and accomplishment once you reach the picturesque beach below. As for the climb back up… well, good luck with that!
Sixth day wrap-up:
Masca
Masca Gorge
Masca Beach
Cheap restaurant suggestions in Masca:
Tenerife 7-Day Itinerary – Day 7: Garachico, Puerto de la Cruz and Orotava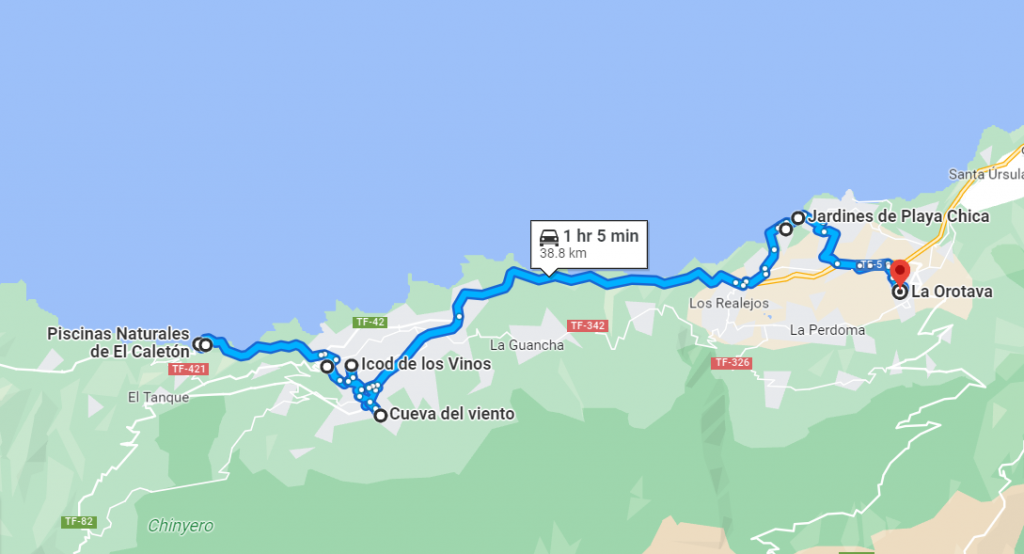 On your final day in Tenerife, it's time to explore the captivating northern coast, visiting charming towns that stretch from the island's northwest tip to the city of Puerto de la Cruz, where your journey will come to an end. Without further ado, your first destination is Garachico, a place that once held great importance in the Canary Islands. Despite losing its economic prominence due to a violent eruption, Garachico has emerged as a popular tourist spot, thanks to its colonial architecture and scenic viewpoints scattered across the village's elevated terrain. Beside visiting Plaza de la Liberdad, the Convent of San Francisco and the San Miguel Fortress, don't leave town without taking a dip at the Salt Pools of Garachico, a series of natural pools formed within volcanic craters. Afterwards, hop back on the road and make your way to Icod de los Vinos, another picturesque village, known for housing Tenerife's most famous tree. Nestled inside the Drago Park (5,00€), the local dragon tree is the oldest of its kind in the Canary Islands and is surrounded by a delightful botanical garden. While in the vicinity, we highly recommend a visit to the awe-inspiring natural wonder known as Cueva del Viento (20,00€).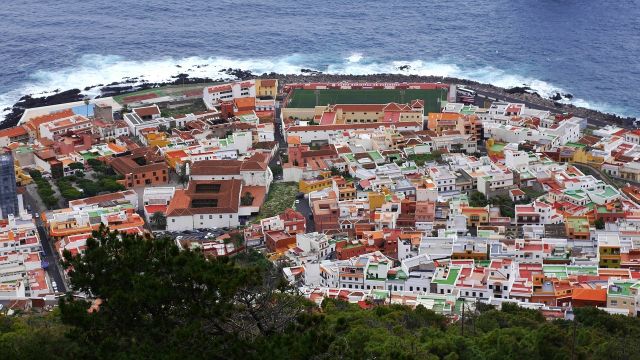 Please note that exploring this extensive lava tube and its intriguing underground passages requires booking a guided tour in advance through their online platform. If you're traveling with children, you may want to save this experience for another time and head straight to Puerto de la Cruz, where a delightful surprise awaits the little ones at Loro Park (42,00€ for adults; 30,00€ for children). However, don't be fooled into thinking this is just a kid's attraction – Loro Park has earned the prestigious title of the world's best twice, according to the renowned TripAdvisor platform! As a tip, if you plan on visiting both Siam Park and Loro Park, consider purchasing a combined ticket for 74,00€ per adult (10€ discount) and 53,00€ per child (7€ discount). Before bidding farewell to the island's stunning beaches, make sure to visit Jardín Beach. Surrounded by a collection of botanical and tropical gardens designed by Cesar Manrique, you can take a stroll through the green area and enjoy great views of Mount Teide in between dips. Finally, as the sun begins to set, embark on a short journey to the village of Orotava, renowned for its vibrant art galleries, colorful colonial houses and numerous balconies with unobstructed views of the bright-blue sea. Find a cozy spot on one of these balconies and let the captivating sunset serve as a fitting backdrop for your farewell.
Seventh day wrap-up:
Garachico
Plaza de la Liberdad
Convent of San Francisco
San Miguel Fortress
Salt Pools of Garachico
Icod de los Vinos
Drago Park
Loro Park
Jardín Beach
Orotava
Cheap restaurant suggestions in Garachico, Puerto de la Cruz and Orotava: