Known as the "Eternal City," Rome is one of those captivating destinations, forever steeped in their very own aura. With its rich archaeological history and boasting one of the Seven Wonders of the World, it's no wonder that millions of visitors flock to the vibrant Italian capital year after year, marveling at the grandeur of the Colosseum, wandering through the magnificent St. Peter's Basilica or simply unwinding in one of the charming pedestrian piazzas while indulging in a delicious gelato.
Despite its immense popularity and the constant stream of tourists, Rome stands out as a destination that never fails to impress. The city offers a seemingly endless array of sights and activities, ensuring that there's always something new to discover.
That being said, we invite you to have a look at our Rome 3-day travel guide and discover the best the city has to offer, including hotels, restaurants, tips to avoid tourist scams and even a detailed list with everything you must see and do in Rome in 3 days.
Rome 3-Day Travel Guide
How to get to Rome – Flights from Ireland
Considering just how popular the Italian capital really is, it's no surprise that the city is served by two different international air hubs: Rome-Fiumicino and Rome-Ciampino.
As such, if you're traveling from Ireland, it is possible to fly directly to Rome from any of these cities:
Rome-Fiumicino

Dublin – Aer Lingus and Ryanair
Cork – Ryanair
Rome 3-day travel guide – Best time to visit the city
Much like most other European destinations located further away from the coast, the best time to visit Rome is during shoulder-season, in the months of Spring and Fall. Although you may be taking the risk of catching a little rainfall, this unlikely possibility is still far less uncomfortable when compared to the extreme temperatures you'll probably get during the other two seasons.
During the peak of summer, it's quite common to see the thermometers in Rome climbing over 30 degrees. Combine that with the bustling crowds and heavy foot traffic during this time, and the whole experience becomes somewhat less pleasurable. The same goes for the long queues to purchase tickets and enter the main tourist attractions, which seem to grow exponentially. On the other hand, winter can be a fantastic choice for exploring the "Eternal City". While the weather may be chilly and there's always a chance of a passing shower, the lines are significantly shorter, the streets are less congested, and accommodation prices are much more reasonable.
Documents needed for your trip to Rome
Since Italy is part of the EU, Irish citizens only need to show a valid ID Card in order to be granted access to the country.
Rome 3-day travel guide – Withdrawals, banking fees and travel budget
Since Italy is part of the Eurozone, just like Ireland, there is no currency exchange, with both nations using the Euro. As such, travelers are able to use the same credit/debit card that they utilize back at home without incurring in any fees. However, keep in mind some local banks or networks (such as the infamous Euronet ATM's) may charge you a flat fee per withdrawal upon detecting that you're using a foreign card.
Nevertheless, and so that you can get a tighter grip on your travel budget and things don't slide out of control, we always recommend using Revolut. Although in Italy you won't be able to take advantage of the card's most redeeming quality – to allow you to withdraw foreign currency without any exchange fees – this is still a pretty useful tool.
By using the bank's online app, you will have immediate access to your balance, as well as all your expenses, allowing you to check in real time whether you've been charged any fees for your withdrawals or not. Besides, you may just load your card with the exact daily amount you want to spend on your trip, helping you to avoid overspending and going over your budget. Plus, if you find yourself in a situation where your card got lost or stolen, the only money you stand to lose is amount you had loaded your card with. Sign up for Revolut for free >> to get 3 months of Premium.
Rome 3-day travel guide – Common scams and frauds
Living up to its status as Italy's capital and main tourist hub, Rome is extremely safe. As such, you'll just need to use your common sense and you'll be fine. Be wary of cabs with no meter, don't flash your money or belongings in crowded areas and never EVER take help from anyone while you're using the ATM. To sum it all up – don't do anything you wouldn't do anywhere else in the world!
We just recommend being a bit more careful around the most touristy areas, where it's statistically more likely than someone may try to scam you. If a random person tries to leave a bracelet on your shoulder or arm, just ignore the situation and keep walking, as they will ask you for money in return. Should the vendor be especially pushy, just lay the bracelet on the floor and move on. He will eventually give up. Furthermore, always ignore any requests asking for your signature on a petition. Even though they may seem to support noble causes, their sole purpose is to convince you to donate money to a non-existent organization or initiative. Now, when it comes to those long queues you're bound to encounter at the city's most popular attractions, resist the temptation of individuals selling tickets at inflated prices promising faster entry. Turns out there's not only a risk of ending up with a fake ticket but you'd also be supporting an exploitative practice.
Also around these more touristy areas, pay special attention to the cafes/restaurants menus. Although these cases may not be as common, there are several online reports of tourists who kindly accepted the waiter's suggestion without looking it up on the menu and ended up with as unpleasant surprise upon being handed the check.
Where to sleep in Rome – Hotels and Accommodation
If you're looking out for a place to stay on our Rome 3-day travel guide then we got your covered!
Even though Rome is one of the most popular cities to visit worldwide, the interesting thing is that accommodation prices here are surprisingly affordable when compared to other incredibly popular European cities like Paris, London, Amsterdam or Barcelona. They may not be dirt-cheap, but with some research and a bit of patience, you can definitely find some great options within your budget.
That being said, here are a few accommodation options which have passed our value-for-money test:
Rome 3-Day Travel Guide – Transportation between the airports and the capital center
How to go from Rome-Fiumicino Airport to the center of Rome:
Leonardo Express Train

Duration: 32 minutes
Price: 14,00€
Service Frequency: Running every 15 to 30 minutes, operating between 05h30 and 23h50
Destination: Termini
Buy Tickets: Trenitalia
Alternatively, you can also take a regional train from Fiumicino Airport to Roma Trastevere, Roma Tiburtina or Roma Ostiense stations, and transfer at any of them towards Termini. The total cost of the journey would be 8,00€, and the travel time would take approximately 55 minutes.
Shuttle Bus

Duration: 50 minutes
Preço: 6,00€ one-way (or 11,00€ return)
Service Frequency: Running every 15 to 40 minutes, operating between 08h30 and 00h30.
Destination: Termini
Buy Tickets: SIT Bus ou Terravision
How to go from Rome-Ciampino to the center of Rome:
Shuttle Bus

Duration: 45 minutes
Price: 6,00€ one-way (or 11,00€ return)
Service Frequency: Running every 30 to 60 minutes, operating between 08h15 and 22h30.
Destination: Termini
Buy Tickets: Terravision
Ciampino AirLink (bus to Ciampino + train to Termini)

Duration: 35-40 minutes
Price: 2,70€
Service Frequency: Running every 10 to 30 minutes, operating between 06h15 and 22h40.
Destination: Termini
Buy tickets: Trenitalia
Public Bus 720 + Metro to Termini

Duration: 50-55 minutes
Price: 1,50€ (valid for both the bus and the metro)
Service Frequency: Running every 20 minutes, operating between 06h00 and 23h30.
Destination: Laurentina Metro Station, followed by a metro ride to Termini
Buy tickets: At the automatic machines located inside the arrivals' hall, at the Zètema Tourist Information Point or at the Chef Express Point of Sale (all inside the airport)
Rome 3-Day Travel Guide – Public transportation
While Rome has a fairly comprehensive and diverse transportation system, the reality is that its historic center is relatively compact, allowing you to easily explore all the major attractions on foot.
That being said, and if you really need to rely on public transportation, you'll most likely end up using the metro, as buses, trams and regional trains are predominantly used by locals, serving as vital connections between the city center/business districts and the suburbs where the majority of the population lives.
Rome Metro – Maps, Tickets and Fares
When you consider the city's reputation, it's quite surprising that Rome's metro system consists of only three distinct lines. The latest addition, Line C, was actually inaugurated as recently as 2014. However, the initial pair of routes, Line A and Line B, conveniently cover the entire historic center of the Italian capital, making it incredibly useful for tourists.
The metro operates every day from 5h30 to 23h30, with extended hours until 01h30 on Friday and Saturday nights, allowing you to explore the city even during the late hours.
Regarding fares, a single ride costs 1,50€, allowing you to switch lines and travel between any two stations. However, if you plan on using the metro frequently, it's worth looking into the daily and multi-day options available:
24 hours: 7,00€
48 hours: 12,50€
72 hours: 18,00€
It's important to note that once you scan your ticket, it remains valid for a non-stop period of 24, 48 or 72 hours, depending on your choice. So, if you validate a 24-hour ticket at 14h00 on a Saturday, it will be valid until 13h59 of the following day (Sunday). Also, these tickets can be used on buses and trams as well.
As an alternative option, you might consider getting a Roma Pass. Available for either 48 hours (32,00€) or 72 hours (52,00€), these passes offer unlimited public transportation during the specified duration, along with discounts at selected attractions and free access to archaeological sites or museums, with one entry included for the 48-hour pass and two entries for the 72-hour pass.
Rome 3-day Travel Guide – Hidden Treasures
With 3 days in Rome, and despite the unbelievable amount of tourist attractions and iconic sights, it is still possible to cover – at the very least – the city's major landmarks.
Be that as it may, and because we believe a good traveler must always be able to explore beyond the obvious, we wanted to add a few more obscure places to your list of things to see and do in Rome in 3 days:
Archbasilica of Saint John Lateran
Trastevere Quarter
Villa Borghese
Vatican Necropolis
Via Appia
Baths of Caracalla
Rome 3-Day Travel Guide – What to See and Do in 72 Hours
As one might expect, three days would never be enough to truly delve deep into a city as extraordinary as Rome. However, it's still remarkable just how many incredible sights you can pack in such a short visit to the "Eternal City", largely due to the close proximity of its main attractions.
Without further ado, here's what to see and do in Rome in 3 days:
Rome 3-Day Travel Guide – Day 1 – The Colosseum
Now that you've made it this far, let's start by diving straight into Rome's greatest symbol! After all, who wouldn't want to start by visiting one of the Seven Wonders of the World? However, and so that you don't have to walk aimlessly back-and-forth, begin by exploring the lesser-known gem of the Archbasilica of Saint John Lateran, which, despite not drawing the same crowds as its Vatican counterparts, is nonetheless one of the most beautiful and important churches in Rome, serving as the official seat of the Bishop of Rome – the Pope! Afterwards, it's finally time to make your way to the iconic Colosseum (16,00€ + 2,00€ online booking fee), a place enshrouded in such grandiosity that can be instantly recognized by anyone. Perhaps the single, greatest top tourist attraction in all of Europe. While you're at it, don't forget to swing by the nearby Arch of Constantine for a quick visit.
Once you've immersed yourself in the magnificent amphitheater, you can use the same ticket to access two other extraordinary archaeological sites: the Roman Forum and the Palatine Hill. For the former, take a step back in time and wander through the ancient streets of Ancient Rome, marveling at the remnants of one of mankind's greatest empires and imagining the vibrant life that thrived within these ruins. As for Palatine Hill, one of Rome's seven hills (overlooking the Forum), was the site of the very first settlements in Ancient Rome, and is a place brimming with ruins of temples, palaces and thermal baths.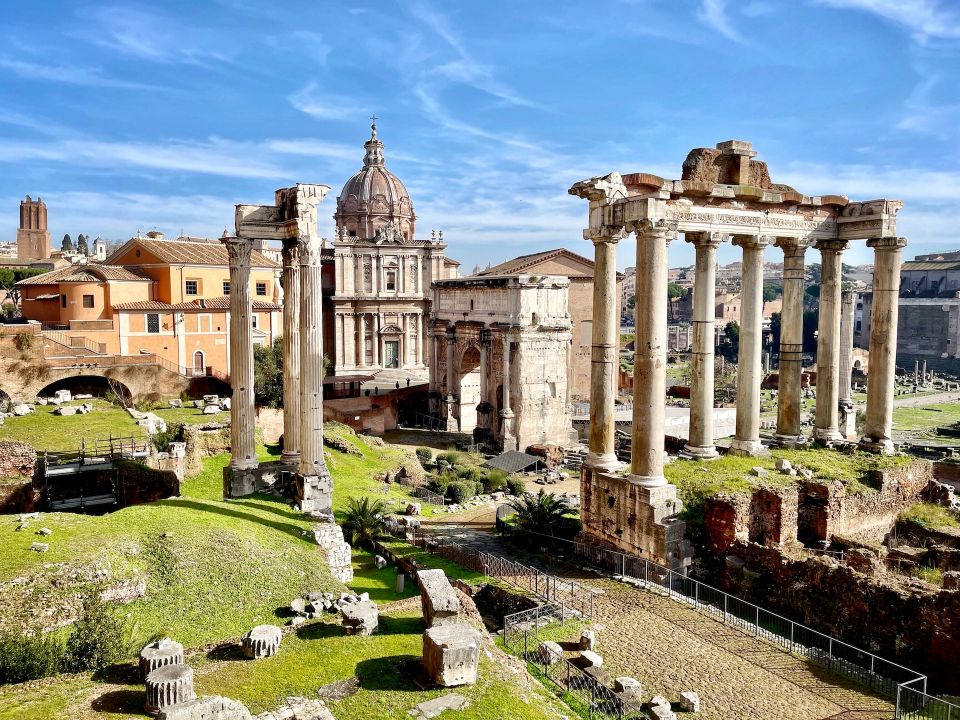 Once you're happy with your archaeological endeavors, bid farewell to the ancient ruins and venture to the Vittorio Emanuele II Monument, a 1935 standing tribute to the first King to rule over a unified Italy. While entry to the monument itself is free, accessing the panoramic terrace or exploring the two museums housed within the compound require a ticket (12,00€). Take a moment to admire the architectural beauty of nearby Piazza del Campidoglio before concluding your day in the vibrant Quarter of Trastevere, regarded as one of the most bohemian and picturesque in the city. Beyond its medieval streets, historic churches and breathtaking viewpoints, Trastevere is also known for its lively bars and local trattorias.
First day wrap-up:
Archbasilica of Saint John Lateran
Colosseum
Constantine Arch
Roman Forum
Palatine Hill
Vittorio Emanuele II Monument
Piazza del Campidoglio
Trastevere Quarter
Cheap restaurants in Trastevere and near the Colosseum:
Rome 3-Day Travel Guide – Day 2 – Centro Storico
As the sun rises over Rome, it's time to explore the historic heart of the Italian capital! But before we dive into the bustling center, let's repeat yesterday's recipe and start the day with a visit to another magnificent church: the incomparable Basilica of Santa Maria Maggiore. Take a moment to admire its timeless mosaics, steeped in nearly 2000 years of history, before walking into the Centro Storico, a labyrinth of narrow winding streets, pastel-colored façades, grand piazzas and monumental landmarks. One such example is the iconic Fontana di Trevi, one of the most visited sites in Rome. Remember to participate in the age-old tradition of tossing a coin over your shoulder into the fountain, a symbolic gesture believed to ensure your return to the eternal city. Whether it works or not, we'll never know… but we take a risk?
Our journey continues to the picturesque Piazza Navona, a baroque masterpiece that stands on the site of an ancient Roman circus (hence its oval shape), before the mandatory stop at the majestic Pantheon, the best-preserved building hailing from Ancient Rome. As the day unfolds, our final destination will be the renowned Spanish Steps, which can be found at Piazza di Spagna. Though they may not tower above the city, the view from the top has been portrayed in thousands upon thousands of photos snapped by visitors from all over the world.
Second day wrap-up:
Santa Maria Maggiore Basilica
Centro Storico
Fontana di Trevi
Piazza Navona
Pantheon
Spanish Steps (Piazza di Spagna)
Cheap restaurants in the Centro Storico:
Rome 3-Day Travel Guide – Day 3 – The Vatican
Despite Rome's global reputation and appeal, making it one of the most popular cities on the planet, the reality is that a visit to the Italian capital is like getting a two-for-one deal. Where else can you wander through the city center and find yourself walking along the border of another sovereign state? That's right, I'm talking about the Vatican, officially the world's smallest country. It's no surprise that this little nation, being the epicenter of the papacy, is deeply rooted in Christian traditions and history, centered around the world-famous Saint Peter's Basilica. Despite the long queues, you can actually enter the most significant Catholic church in the world for free, although there is an 8,00€ fee if you want to climb up to the dome. Moreover, should you happen to be there on a Sunday, keep your eyes peeled because you might catch a glimpse of the Pope reciting his noon (12h00) prayer from his window. On the other hand, be prepared for larger crowds on those days. Once you've marveled at the basilica, you absolutely cannot miss the chance to explore the Vatican Museums (17,00€ + 5,00€ online booking fee), one of the richest and most extensive art collections you'll ever see. Besides the staggering artworks, the rooms themselves are nothing short of amazing, and no less impressive that the ones you'd find at Europe's grandest palaces. Obviously, you simply cannot miss the legendary Sistine Chapel – it truly is a sight to behold.
"Back" in Rome, it's time to explore Castel Sant'Angelo (14,00€), a colossal castle that has seen it all, from serving as a mausoleum for Roman Emperors to a papal residence, and even as a defensive fortress, proudly standing as a national museum nowadays. Apart from the commanding view of the Tiber River, the castle hides opulent papal apartments, an astonishing collection of weaponry, and even ancient dungeons. As your time in Rome draws to a close, take a leisurely stroll through the enchanting Villa Borghese, located near the equally captivating Piazza del Popolo. Considered one of Rome's largest parks, it's the perfect place to bid farewell to the Eternal City, one of the greatest tourist destinations in the world.
Third day wrap-up:
Vatican
Saint Peter's Basilica
Vatican Museums
Sistine Chapel
Castel Sant'Angelo
Villa Borghese
Piazza del Popolo
Cheap restaurants near the Vatican and the Piazza del Popolo:
Staying in Rome for more than 3 days? Then check out the best day trips from the Italian capital:
Orvieto
Viterbo
Bolsena Lake