Despite not being among Italy's most beautiful cities, Milan enjoys a pretty unique and privileged location, set at relatively close distance to three of the country's neighbors – France, Switzerland and Austria. If we count in the fact that Milan is the Italian capital of fashion, business and finance, it becomes quite clear why the city is so well connected, to the point that is pretty much possible to fly from there to any other corner of our world.
Looking at Milan's three airports, low-cost carriers assure a staggering 300 connections to other European, northern African and Middle-Eastern cities. With such competition, flying to Milan is more often than not a pretty cheap journey… which helps explain why the city is so popular with holiday-goers!
Whether you're traveling to Milan for a layover, to use it as a starting point to your Italian adventure or (why not?) to simply explore the city as a getaway weekend, we assure you there is plenty to see and do here. That being said, we invite you to have a look at our Milan 3-day travel guide and discover the best the city has to offer, including hotels, restaurants, tips to avoid tourist scams and even a detailed list with everything you must see and do in Milan in 3 days.
Milan 3-Day Travel Guide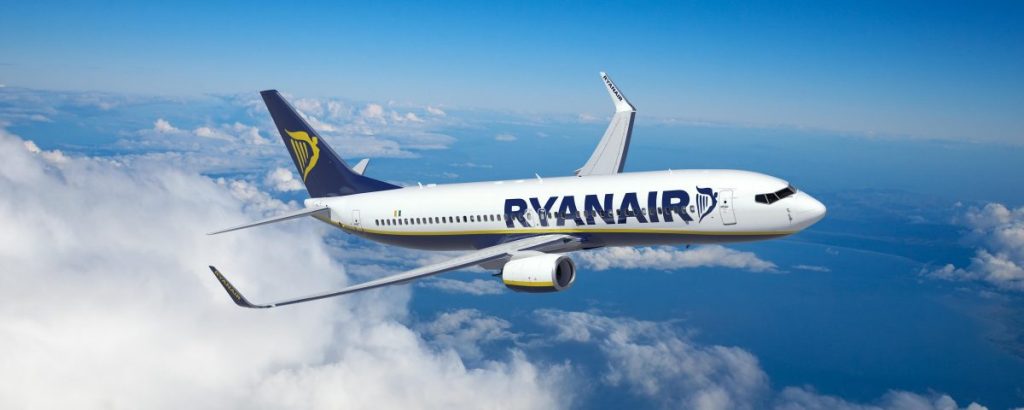 How to get to Milan – Flights from Ireland
As mentioned above, Milan is an extremely well-connected city, being served by no less than 3 international airports: Milan Malpensa, Bergamo and Linate.
As such, if you're traveling from Ireland, it is possible to fly directly to Milan from any of these cities:
Milan-Malpensa

Dublin – Aer Lingus and Ryanair
Milan Bergamo

Dublin – Ryanair
Cork – Ryanair
Knock – Ryanair
Milan 3-day travel guide – Best time to visit the city
Much like most other European destinations located far way from the coast, the best time to visit Milan in during shoulder-season, in the months of Spring and Fall. Although you may be taking the risk of catching a little rainfall, this unlikely possibility is still far less uncomfortable when compared to the extreme temperatures you'll probably get during the other two seasons.
Make no mistake – Milan is NOT a great Summer destination (at least not on its own). Temperatures in July and August can be scorching, with thermometers sometimes reaching the 40ºC mark. On the other hand, Winters and cold and dry, with minimum temperatures easily falling below 0ºC. Be that as it may, it is still perfectly possible to enjoy Milan on both instances… so as long as you're adequately prepared!
Documents needed for your trip to Milan
Since Italy is part of the EU, Irish citizens only need to show a valid ID Card in order to be granted access to the country.
Money in Milan, Italy – Withdrawals, banking fees and travel budget
Since Italy is part of the Eurozone, just like Ireland, there is no currency exchange, with both nations using the Euro. As such, travelers are able to use the same credit/debit card that they utilize back at home without incurring in any fees. However, keep in mind some local banks or networks (such as the infamous Euronet ATM's) may charge you a flat fee per withdrawal upon detecting that you're using a foreign card.
Nevertheless, and so that you can get a tighter grip on your travel budget and things don't slide out of control, we always recommend using Revolut. Although in Italy you won't be able to take advantage of the card's most redeeming quality – to allow you to withdraw foreign currency without any exchange fees – this is still a pretty useful tool.
By using the bank's online app, you will have immediate access to your balance, as well as all your expenses, allowing you to check in real time whether you've been charged any fees for your withdrawals or not. Besides, you may just load your card with the exact daily amount you want to spend on your trip, helping you to avoid overspending and going over your budget. Plus, if you find yourself in a situation where your card got lost or stolen, the only money you stand to lose is amount you had loaded your card with. Sign up for Revolut for free >> to get 3 months of Premium.
Milan 3-day travel guide – Common scams and frauds
Living up to its status as Italy's richest and most prosperous city, Milan is extremely safe. Since the city is not as dependent on tourism money as most of its southern counterparts, scams and frauds specifically targeted towards tourists tend to be lower.
You'll just need to use your common sense and you'll be fine. Be wary of cabs with no meter, don't flash your money or belongings in crowded areas and never EVER take help from anyone while you're using the ATM. To sum it all up – don't do anything you wouldn't do anywhere else in the world!
We just recommend being a bit more careful around the Central Railway Station and the Piazza del Duomo, where it's statistically more likely than someone may try to scam you. While wandering in this square, if a random person tries to place some corn on your hand to attract the pigeons or leave a bracelet on your shoulder or arm, just ignore the situation and keep walking, as they will ask you for money in return. In the bracelet tactic, and if the vender is especially pushy, just lay it on the floor and move on. He will eventually give up.
Also around these more touristy areas, pay special attention to the cafes/restaurants menus. Although these cases may not be as common, there are several online reports of tourists who kindly accepted the waiter's suggestion without looking it up on the menu and ended up with as unpleasant surprise upon being handed the check.
Where to sleep in Milan – Hotels and Accommodation
If you're looking out for a place to stay on our Milan 3-day travel guide then we got your covered!
Although Milan has never been a "cheap city" by most travelers' standards, the last few years have seen hotel prices skyrocketing, to the point where it is pretty much impossible to stay in the city center on the cheap. As a result, and in order to keep their budget under control, the number of tourists booking their accommodation in the outermost suburbs of the city has been on the rise.
That being said, here are a few accommodation options which have passed our value-for-money test:
Milan 3-Day Travel Guide – Transportation between the airports and the city center
How to go from Milan-Malpensa Airport to the center of Milan:
Train

Duration: 55 minutes
Price: 13€
Frequency: Every 30 minutes
Destination: Milano Centrale Railway Station
Tickets: Malpensa Express or Trenitalia
Shuttle Bus

Duration: 50 minutes
Price: 10€ one-way (or 16€ round-trip)
Frequency: Every 20 to 40 minutes, depending on the time of day
Destination: Milano Centrale Railway Station
Tickets: Autostradale or Terravision
How to go from Bergamo Airport to the center of Milan:
Shuttle Bus

Duration: 50 minutes
Price: 10€ one-way (or 16€ round-trip)
Frequency: Every 30 minutes (except between 03h00 and 05h40, when there is no service)
Destination: Milano Centrale Railway Station
Tickets: Autostradale or Terravision
Alternatively, you may also use a combination of public bus + train to make it to the Milano Centrale Railway Station. Just take the bus at the arrivals' terminal exit (every 20 minutes, between 05h00 and midnight) heading towards the center of Bergamo. This short trip takes about 15-20 minutes and tickets cost 2,60€. Once you arrive at the Bergamo Railway Station, catch a train to Milano Centrale (which you can, once again, buy at Trenitalia). Direct trains between both cities depart every hour and cost 5,80€. The length of the trip is around 50 minutes.
How to go from Linate Airport to the center of Milan:
Public Bus nº73

Duration: 60 minutes
Price: 2,20€
Frequency: Every 10 to 30 minutes, depending on the time of day (operates between 05h30 and 01h00)
Destination: Piazza Duomo
Tickets: Directly from the driver
Shuttle Bus

Duration: 25 minutes
Price: 5-7€ one-way (or 10-12€ round-trip)
Frequency: Every 30-60 minutes (operates between 06h45 and 22h30)
Destination: Milano Centrale Railway Station
Tickets: Air Bus or Air Pullman
Public Transportation in Milan – Metro Network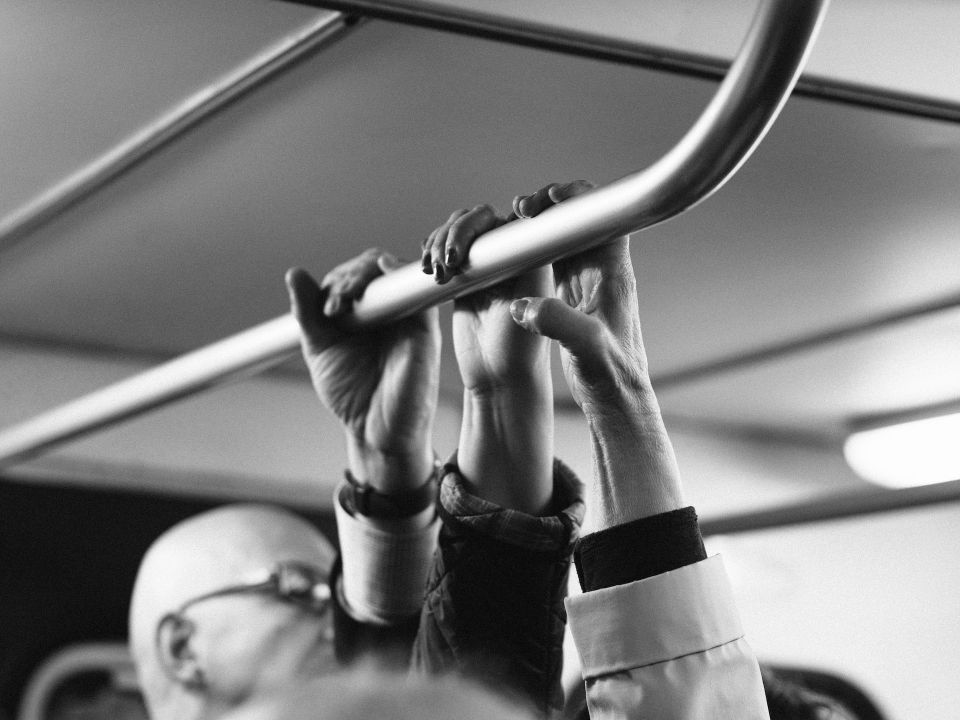 Considering this is the second biggest city in Italy, it certainly comes as no surprise that Milan is served by a pretty vast and efficient public transportation system. And considering what I mentioned above regarding the need for most tourists to stay outside the city center, I'd say it is very likely you will end up using it at some point during your getaway.
Therefore, we will be taking this section of our Milan 3-day metro guide to explain how to use the city's metro system!
Let's start by mentioning the network is composed of 4 different lines, with a fifth one on the way, scheduled to be completed in 2023 (in fact, 4 stops are already in service since November 2022).
The metro operates every single day between 05h30 and 00h30, starting one hour later on Sundays.
Milan Metro – Tickets and Fares
Regarding metro tickets, you may choose one of the following options, according to your estimated needs:
Single Ticket – valid for 90 minutes, you can do any trips you want within that timeframe. Price: 2,20€
Daily Tickets – daily passes for 1 or 3 days, with unlimited trips throughout the pre-selected period. Prices: 7,60€ (1 day) or 13€ (3 days)
10-Trip Block – block of 10 single tickets. Price: 19,50€
Milano Card – Tourist pass valid for 1, 2 or 3 days, with unlimited trips throughout the pre-selected period. It also includes free and discounted admission on several city attractions. You may consult all the benefits right here. Price: 12,50€ (1 day), 17,50€ (2 days) or 19,50€ (3 days)
Last, but certainly not least, make sure to always validate your ticket before your trip in order to avoid unnecessary fines.
Where to eat in Milan – Restaurants for all budgets
When in Italy, knowing where to eat is a matter of the utmost importance. Home to the most universally acclaimed cuisine worldwide, you certainly don't want to take no chances when it comes to restaurants. After all, why spoil the chance of having one extraordinary meal?
Starting out with the bad news, and looking at the data from Numbeo, eating out in Milan is getting progressively more and more expensive, with an "inexpensive" joint setting you back around 20€/meal. If you want to take it up a notch and have a full meal (appetizer + main + dessert) at a midrange restaurant, be ready to pay 40€/pax.
That being said, we wanted to make sure our 3-day Milan travel guide tended to all kinds of demographics (and budgets), which is why we've listed a few restaurants where you can have a good meal at an acceptable cost:
For the last day in your adventure, which will be spent in Lake Como, here are a few cheap restaurants as well:
Milan 3-day Travel Guide – Hidden Treasures
With 3 days in Milan – and already considering one of them will be spent outside the city – it is still perfectly possible to cover all of the major landmarks.
Be that as it may, and because we believe a good traveler must always be able to explore beyond the obvious, we wanted to add a few more obscure places to your list of things to see and do in Milan in 3 days:
Basilica of San Vittore al Corpo
Villa Invernizzi
Leonardo's Vineyard
Sanctuary of San Bernardino alle Ossa
Monumental Cemetery
Church of San Maurizio al Monastero Maggiore
Milan 3-Day Travel Guide – A complete itinerary
Although you can skim through the city's highlights in less time, our opinion is that you should dedicate at least 3 days to a Milan trip. With 72 hours in hand, you will be able to explore all the different sites in the city and still spend a full day enjoying one of the many day trip options from Milan.
That is precisely one of Milan's greatest strengths – its location and accessibility – allowing you to reach some of the best destinations in Northern Italy in less than 3 hours.
Milan 3-Day Travel Guide – Day 1 – Art, Fashion and Catholicism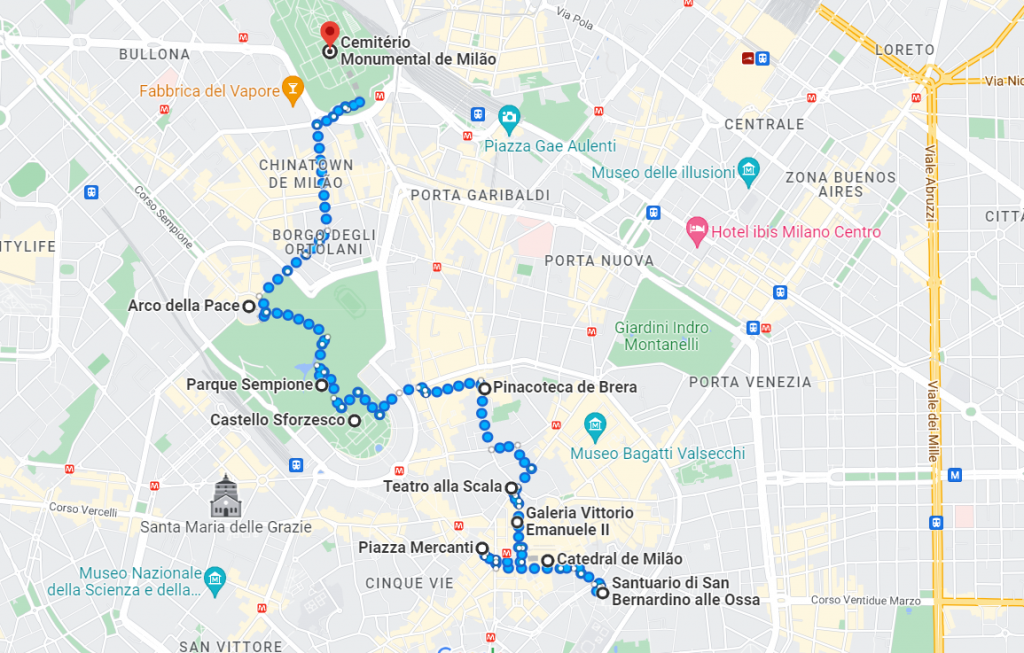 For your inaugural day in Milan, we recommend that you explore the most famous places in the city, with a natural focus in its historic center. However, and before you get there, the day starts at the Sanctuary of San Bernardino alle Ossa, still one of Milan's best kept secrets. What may look like yet another classical church at first, its inner walls hide a small chapel currently serving as an ossuary. Definitely an outside-the-box experience!
And now – time for the Milan you can find in the postcards! And to kick things off with a bang, nothing better than setting foot at the Piazza del Duomo and admire the absolute juggernaut that is the Duomo di Milano (7€, only admission to the cathedral). Considered the city's main landmark and symbol, it's possible to visit this magnificent religious building and even climb to its terrace for amazing views of the surrounding area (15€ for cathedral admission and terrace access). Shifting from religion to fashion and shopping, it's time to walk along the Galleria Vittorio Emanuele II, possibly the most famous (as well as beautiful) shopping arcade in the world. Even though prices here are nothing short of ridiculous, admiring the gallery's exquisite architecture won't cost you a thing! Once you make it out on the other side of the arcade, you'll come across a lovely little square hiding the Teatro alla Scala (25€ for a guided tour), one of the city's greatest cultural treasures. Despite its humble and unsuspicious façade, this is actually one of the most fabulous and revered opera houses in the planet, having served as a place where the likes of Verdi and Bellini debuted their works, as well as center stage to world-class artists such as Pavarotti. If you prefer, you may actually buy a ticket and watch a live performance. If you purchase them early enough, and depending on the dates and performers, prices may not differ that much from those you would pay for a tour.
After visiting the opera, make your way to Pinacoteca di Brera (15€), the highest rated museum in Milan. Housed inside a 17th century palace, the exhibition displays one of the most extensive collection of paintings by Italian masters in the country, encompassing an entire period of 700 years. Afterwards, visit Parque Sempione, the city's main park, where you'll be able to find two other city landmarks, such as the Arco della Pace or the Sforza Castle. The latter is known today as one of the biggest citadels in all of Europe, housing as many as 9 different museums within its fortifications. Fortunately, it is possible to enter the complex and wander around for free. To cap off your day in the most uncommon of circumstances, take a walk through Milan's Monumental Cemetery, exploring its artistic tombs, detail-carved mausoleums and decorative sculptures.
First day wrap-up:
Sanctuary of San Bernardino alle Ossa
Duomo di Milano
Galleria Vittorio Emanuele II
Teatro alla Scala
Pinacoteca di Brera
Parque Sempione
Arco della Pace
Sforza Castle
Monumental Cemetery
Milan 3-Day Travel Guide – Day 2 – Leonardo and the Navigli Canals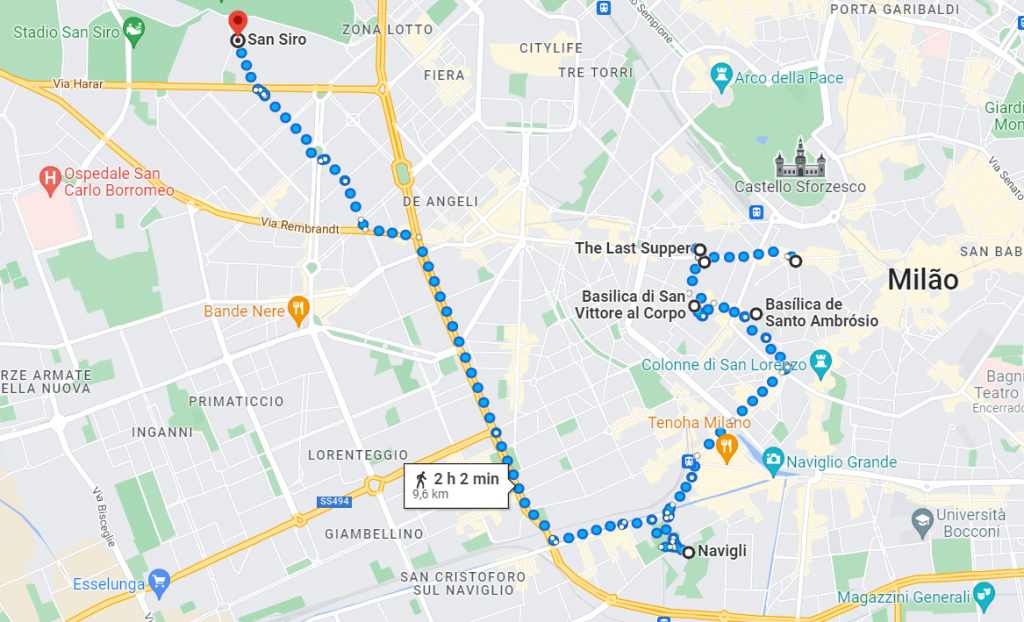 For your last day in Milan proper (remember – the third one will be spent on a day trip), you will progressively step away from the downtown while exploring new quarters of the city. Nevertheless, your day will start just like the last one: with an historic church. This time, you will visit the Church of San Maurizio al Monastero Maggiore, known as the "Sistine Chapel of Milan". Its frescoes are nothing short of unbelievable, and perfectly capable of rivaling Michelangelo's masterpiece… with the bonus of having a lot less tourist to bump your elbow into!
Then, it's time to move on towards what is arguably the city's second most popular attraction. Located inside the Convent of Santa Maria delle Grazie, you'll have the chance to lay your eyes on one of mankind's most iconic paintings: Leonardo's very own "The Last Supper" (15€). Considering the current efforts towards the mural's preservation, a limited number of visitors can enter the same hall where the piece is exposed. For that reason, you must book your ticket online well in advance (max 3 months). Right next to the convent, we suggest visiting Leonardo's Vineyard (10€) as well, a plot of land gifted to the legendary artist by the then-Duke of Milan as a token of appreciation for da Vinci's works.
Heading on to Navigli, the soon-to-be highlight of your afternoon, make sure to make two stops along the way. First, at Basilica of San Vittore al Corpo, one of the most beautiful and still relatively unknown in the city, and then at Basilica of Sant'Ambrogio, already pretty well-established on most itineraries. From the latter, walk around 2km and you'll finally arrive in Navigli, Milan's most picturesque quarter. Located at the intersection of two beautiful medieval canals, this district is a world apart from the rest of the cityscape. A place where the tall, ornamented buildings give place to tiny, colorful façades, reminiscent of destinations you would only find in Eastern and Central Europe.
Finally, and for the fans of the Beautiful Game, one can't visit Milan without taking a quick peek at the Giuseppe Meazza Stadium (30€/tour). Also known as San Siro, depending on the city team you sympathize with the most (Inter or AC Milan), it is one of the ultimate shrines of European football. Considering how costly the tours are, buying a ticket to watch an actual match becomes an even more appealing option.
Second day wrap-up:
Church of San Maurizio al Monastero Maggiore
Convent of Santa Maria delle Grazie
The Last Supper
Leonardo's Vineyard
Basilica of San Vittore al Corpo
Basilica of Sant'Ambrogio
Navigli
Giuseppe Meazza/San Siro
Milan 3-Day Travel Guide – Day 3 – Day Trip to Lake Como
As promised, the third and final day of your adventure will have you getting out of the big city and explore a different area. Fortunately, Milan certainly isn't lacking when it comes to good day trip options, with cities such as Bergamo, Verona, Brescia, Turin, Bologna and Venice (not too practical, but possible) as strong contenders. However, when all things considered, we believe no other place provides such a great day trip experience from Milan quite like the magnificent Lake Como.
Luckily, making the trip between Milan and the lake is quite easy and intuitive, as all you have to do is buy your tickets online directly at the websites of either Trenitalia or Trenord. Our suggestion, so that you don't have to go around in circles, is to take the first leg of your trip from Milano Centrale to Varenna-Esino (7,10€, 1 hour with Trenitalia), and then comeback from the village of Como. For the return, you can take the train between Como S. Giovanni and Milano Centrale (5€-10,90€, 45 minutes, with Trenitalia) or Como Lago and Milano Cadorna (5€, 1 hour, with Trenord).
Although there are plenty of picturesque villages scattered all over the lake shores, there are three in particular you HAVE to visit: Como, Bellagio and Varenna. The best way to move between these villages is to use the public ferries who cross the lake pretty much all day long. It's actually a great combo of transportation and sightseeing, as the ferry rides will allow you to take in the views of this idyllic lake. Therefore, and in order to get to the end of our Milan 3-day travel guide, you're going to have to catch two different ferries:
Varenna-Bellagio: 4,60€
Bellagio-Como: 10,40€
More than hopping around between tourist attractions, this day is all about getting lost in these villages' lovely little streets and alleys, and appreciate the journey across the true painting-in-motion that is Lake Como.
Third day wrap-up:
Lake Como
Varenna
Bellagio
Como
And that's a wrap-up to our Milan 3-day travel guide. Let's hope it can come in handy when you book your next trip to Italy's second city!