Welcome to Budapest, one of the most spectacular capitals in Europe. Previously stereotyped as a cold and grey big city from the former Eastern Bloc, the city has firmly established itself as a major tourist hotspot within the past decade.
However, although people could still look to Budapest for a cheap, outside-the-box escapade about 5 or 6 years ago, the truth is that the Hungarian capital is already experiencing the struggles of overtourism, with prices skyrocketing for locals. Still, this is undoubtedly a city that should belong on everyone's European bucket list, with a rich history and an extensive cultural legacy that largely surpasses the struggle it had to go through during the second half of the 20th century.
That being said, we would like to introduce you to our Budapest 3-day travel guide, so that you can prepare your next visit to the Hungarian capital. Up to date on the latest information on hotels, restaurants, public transportation and money exchange, our guide also contains a full itinerary so that you know what to see, visit and do in 3 days in Budapest.
Budapest 3-Day Travel Guide
How to get to Budapest – Flights from the Ireland
The city is served by the Ferenc Liszt International Airport, by far the largest in the country, having received over 16 million passengers back in 2019. Considering Hungary borders 7 different nations, one quickly realizes the real number of visitors is far bigger!
If you're visiting from Ireland, you can fly to Budapest from both Dublin and Shannon with Ryanair. Aer Lingus also connects the Irish and Hungarian capitals with regular flights.
Budapest 3-day travel guide – Best time to visit the city
Not a lot of wiggle room to be creative here! Considering the city is located in Europe, Spring, Summer and Autumn are definitely the most sought-after months when it comes to booking a trip to Budapest, with the period between May and September standing out as the most researched. However, keep in mind Summer months can at times feel unbearably hot in the Hungarian capital!
On the other hand, you may choose to visit during shoulder-season, when temperatures tend to be more pleasant, the streets less crowded and the prices smaller. However, and for those strong-willed enough to face the harsh Hungarian winter, visiting Budapest in the winter can also feel refreshingly rewarding. After all, where else in Europe can you soak in scalding hot waters while the fluffy snow piles up around you? Due to the city's world-famous hot baths, this dreamy scenario can actually become real when visiting Budapest in the winter!
Long-story-short, the iconic Parisian motto can also be applied to Budapest: Is always a good idea!
Documents needed for your trip to Budapest
Since Budapest is part of an EU country, Irish citizens only need to show a valid ID Card in order to be granted access to the city.
Money in Budapest – Withdrawals, banking fees and travel budget
With the Hungarian Forint (HUF) as Hungary's official currency, any withdrawal using an Irish bank card might incur in the payment of several different fees. Besides the percentual fee referring to the currency conversion, some Irish banks may also charge a flat commission for withdrawals made outside the Euro zone. In some instances, you may well end up paying 5%-6% of your original withdrawal in banking fees.
On the other hand, exchanging money before your trip is not a viable solution either. Besides not being any cheaper, it's also not safe or wise to carry so much money on you during your trip. As such, we recommend using the services of online banking fintech companies such as Revolut, N26 or Monzo.
Although each have their own limitations and fees, they allow you to withdraw a certain amount in foreign currency without any fees involved. And even after that threshold is reached, costs are much smaller when compared to traditional banks. Sign up for Revolut for free >> to get 3 months of Premium.
Be that as it may, keep in mind neither Revolut or any other card can safeguard you against fees which may be charged by local banks. When you're using an ATM to withdraw cash at your destination, the bank responsible for each specific ATM may actually charge a flat fee for each withdrawal made with a foreign-issued card. Though this isn't always the case, the practice is getting increasingly common. This is especially true with the infamous Euronet ATMs, so steer away from those. In the case of Budapest, that might actually be harder than in any other destination, since Hungary is the birthplace of the Euronet multi-currency machines. Still, ATM operators are always obliged to notify you of each charge before you complete your transaction. That means you need to actively accept the charge, so you'll never be caught unaware when looking at your bank statement later.
Budapest 3-day travel guide – Common scams and frauds
Before all else, it's good to clarify that Budapest is an extremely safe city. With low crime rates and virtually no record of any terrorist attacks, this is the kind of place where you can feel comfortable both during the day and night.
However, and much like you would do in any other big city, using your common-sense is key. That means no taxis whose drivers refuse to start the meter, no buying recreational drugs from strangers approaching you on the street and no accepting help from strangers when you're using an ATM or trying to buy metro tickets from a machine. Also, keep an eye out for your stuff when you're walking through busy areas (especially around the train station) and never exchange money on the streets, no matter how good the rate sounds like.
Circling back to the taxi issue, and in case you're looking for a pretty reliable way of finding out weather the driver is being honest or not, just ask to pay by card. All the licensed vehicles in Budapest are able to take electronic payments, so, if the guy is showing any kind of resistance to that idea, then you'll be better off by finding another taxi.
That being said, the biggest and most common scam in Budapest is perhaps one of the oldest tricks in the book. Considering the city is famous for its crazy nightlife and sexual industry, Budapest is a pretty popular destination among male groups and bachelor parties. Knowing that premise all too well, it is common to see young women (alone or in pairs) wandering along the most touristy areas of the city, approaching strangers and asking them out for a drink. Well, so far so good, but the real problem will come up a few hours later, when the ladies mysteriously disappear and the bar owner hits you with an astronomical bill. Don't feel like settling the tab? Don't worry, the two humongous security guards at the door will be happy to convince you otherwise. Let's hope our 3-day Budapest travel guide can help you avoid this kind of mess!
Last, but certainly not least, a word of caution to the LGBTQ+ community. When looking at all these countries in Europe, Budapest is far from being the most welcoming destination when it comes to sexual minorities. The Hungarian government, overwhelmingly popular judging by recent election results, is well-known for its populist speech on the fight against what they perceive as "gender ideology", trying to associate homosexuality to truly perverse concepts, such as pedophilia, sexual harassment and indoctrination. As such, we advise you to be more cautious than you would be at home when it comes to PDA's towards same-sex people.
Where to sleep in Budapest – Hotels and Accommodation
If you're looking out for a place to stay on our Budapest 3-day travel guide then we got your covered!
Although the city isn't as cheap as it used to be, Budapest is still a pretty affordable European capital, especially when compared to its western counterparts! Naturally, that also means hotel prices are usually a bargain for those coming from the Ireland.
When looking at the information available on the website Budget Your Trip, the average prices in Budapest are around 59€/night, with higher-end hotels (4 and 5-star establishments) setting you back 98€/night.
That being said, we leave you a suggestion for a place of accommodation within each price level. The rates shown by these hotels/hostels are below the average for a room night in Budapest (assuming a stay of 3 days in Budapest in March 2023):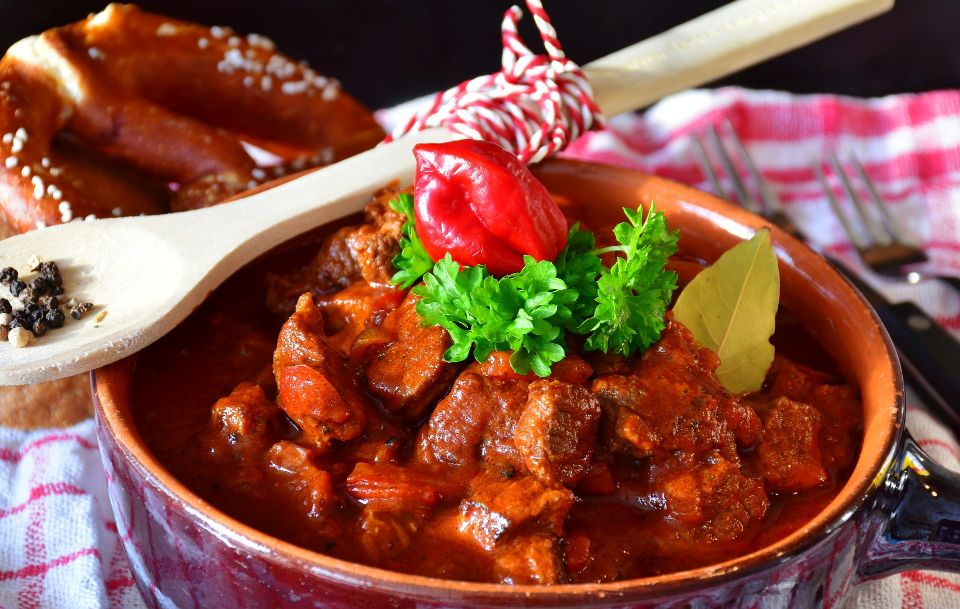 Where to eat in Barcelona – Restaurants for all budgets
As mentioned previously on this 3-day Budapest travel guide, and although prices have in fact gone up over the last half-decade or so, the Hungarian capital is still a pretty low-budget destination. According to the portal Numbeo, the price of a meal at an inexpensive restaurant stands below 8€, while a full meal at a mid-range restaurant, with entrée, main and dessert will cost you around 19€/pax.
That being said, we have compiled a diverse list of restaurants and cafés where you can eat for the aforementioned budgets:
Budapest 3-Day Travel Guide – Transportation between the airport and the city center
Since the local airport isn't served by any of Budapest's metro lines, your only public alternative is to use the bus.
For that specific goal, the 100E line was created, connecting the airport to Deák Ferenc Square – in the city center – with regular stops at Kálvin and Astoria metro stations on the way. Although the trip used to require a transfer from bus to metro in case you landed in Budapest at night, the 100E line is now running 24/7, departing every 07-10 minutes throughout the day. The only exception to this frequency is observed between 01h00 and 03h00, when buses leave the terminal every 30 to 40 minutes.
The ride to the city center takes around 40 minutes and regular tickets cost 1500 HUF.
Public Transportation in Budapest – The oldest metro line in the world
Unless you're staying at an extremely obscure area, the trip between the airport and the city center will probably be the only instances where you'll have to use the bus. For all other journeys, the metro will be the most convenient option, although it is perfectly possible to cover all the main tourist attractions in the city on foot.
Still, and as a curiosity, the Budapest metro system holds the honor of housing the oldest underground metro line in the world (M1 – 1Millennium Underground) as well as the only one designated a World Heritage Site by UNESCO! Yet, and despite its old age, the Budapest metro is rather easy to comprehend and navigate, being composed of only 4 different lines. Besides the plastic passes and paper tickets, it is also possible to buy and validate digital tickets using a mobile device. Download the app BudapestGo and you'll just need your phone in order to ride the metro.
Budapest Metro – Tickets and Fares
Although the small network doesn't leave too much room for questions or misinterpretations, the fare system is needlessly complicated, with different options according to the number of stops, the need (or lack thereof) of line transfers and the length of the trip. However, and to make things easier for you, we have compiled a small list with all kinds of tickets:
Single ticket: valid for a single trip, no transfers. 350 HUF
Block of 10 tickets: a stapled block with 10 single paper tickets. 3000 HUF
Transfer ticket: valid for a single trip with transfers. 530 HUF
Short section ticket: valid for trips that only cover up to 3 stops, no transfers. 300 HUF
24H ticket: pass with unlimited trips along the entire network for a period of 24 hours, starting from the moment of the first validation. 2500 HUF
72H ticket: pass with unlimited trips along the entire network for a period of 72 hours, starting from the moment of the first validation. 5500 HUF
24H group ticket: single pass to be used by a group of up to 5 people. It includes unlimited trips along the entire network for a period of 24 hours, starting from the moment of the first validation. 5000 HUF
As a final note on this section of our 3-day Budapest travel guide, it is worth pointing out that all tickets are valid across the entire public transportation network, including metro, buses, trams and regional trains. Also, keep in mind that it is mandatory to validate your ticket before hopping on any vehicle. Otherwise, you might get fined.
Budapest 3-Day Travel Guide – Hidden Treasures
If you have 3 days in Budapest, and although you'll undoubtedly have plenty to see and explore, it is still possible to look beyond the most obvious hotspots and discover some lesser-known places in the Hungarian capital.
Of course attractions such as the Parliament, Buda Castle or the Fisherman's Bastion will have to be a part of your Budapest 3-day itinerary, but we also want to leave you with a shortlist of other sights you might be interested on:
Vajdahunyad Castle
Ervin Szabó Metropolitan Library
Palvolgyi Cave
Hospital in the Rock Museum
House of Terror
Szimpla Kert (Ruin Bar)
Gul Baba Street
Budapest 3-Day Travel Guide – A complete itinerary
Although it is impossible to get to know an entire city in just 72 hours, we firmly believe our Budapest 3-day travel guide can help you get a good-enough sample for you to fall head over hells for this amazing and bustling capital.
Our itinerary will urge you to explore the embankments of Buda and Pest – which used to be completely separated entities until the city was officially founded – cross the ever-present Danube River, climb all the way up to Gellert Hill and still find the time to spend a morning soaking on the city's prominent thermal baths.
Will you tag along?
Budapest 3-Day Travel Guide – Day 1 – The Buda Embankment
For your first day in Budapest, you will be exploring the western embankment and find out first-hand why the city has been nicknamed "The Pearl of the Danube". Although many still recall Budapest as a closed-off city under the Soviet sphere of influence, it is important to remember that long before communism this used to be the second most important city of the Austro-Hungarian Empire, one of the most powerful and important kingdoms in European history! Well, it's time to put that legacy to the test!
We recommend starting with one of the most famous places in Budapest and climbing your way up to the Fisherman's Bastion (1000 HUF, free before 09h00 and after 19h00), a special set of watchtowers and balconies with one of the most splendid views over the Parliament Building and the whole Pest side of the Danube. Opposite the balconies, within the same square, you can also pay a visit to Mathias Church (1800 HUF), where two former Hungarian Kings have been crowned. Around the area, there are also several streets with rows of colorful houses very much worth a few photos – a stark contrast to the imperial and grandeur architecture of the Pest embankment. Still near the bastion, you will find the Hospital in the Rock (9650 HUF), a nuclear-bunker-turned-hospital during World War II, and one of the most interesting museums (although a bit pricey) you can visit in Budapest. Time to follow that up with a walk to the Castle Hill and the quarter of Várnegyed, famous for the imposing Buda Castle. Although you can enter the complex for free and wander through its squares, fountains and exterior paths, the palace rooms and halls are now occupied by two different museums: the Hungarian National Gallery (3400 HUF) and the Budapest History Museum (2400 HUF).
After lunch, and now that your energy levels have received a much-needed boost, you'll have to complete the strenuous walk to the top of the Gellért Hill. If you're wondering where the name "Gellért" comes from, he is actually a Hungarian Saint who was put inside a barrel and thrown from the top of this very same hill during a pagan revolt. Once there, you can visit the Citadel and the Liberty Statue, but what really put this hill on the maps were the awe-inspiring views of the entire Budapest. A view so glorious that ended up becoming one of the city's most popular postcard-pictures. Once it's time to come down, go back to the embankment of Pest and cap off your afternoon at the Great Market Hall, the oldest and largest indoor market in the whole country.
After the sun sets, you can marvel at all the illuminated buildings located along the city's embankments aboard one of the many Danube River Cruises (also available on a budget-friendlier version, without the buffet dinner). A magical way to end your first day in one of the most fascinating capitals in Europe.
First day wrap-up:
Fisherman's Bastion
Mathias Church
Hospital in the Rock
Buda Castle
Gellért Hill (Citadel and Liberty Statue)
Great Market Hall
Danube River Cruise
Budapest 3-Day Travel Guide – Day 2 – The Pest Embankment
After suffering through the never-ceasing hills of Buda, it is now time to explore the flatter imperial streets of the Pest embankment. We suggest kicking-off your day with a walk along Margaret Island, a gigantic recreational area that provides a much-appreciated respite from Budapest's bustling city center. You can visit the island's Art Nouveau Water Tower, see the ruins of an ancient church and finish with a music show at the Dancing Fountain, although these only take place during the Spring and Summer months.
Back to the shore, you must now walk along the extensive river promenade and take in every single mesmerizing frame that slowly unfolds in front of your very own eyes. You will start that walk with what is probably Budapest's most recognizable building: the Hungarian Parliament Building (5000 HUF). Honestly, there are very few words capable of describing the beauty and magnificence of this construction. You really have to see it to believe it! However, walk about 500 meters and your disposition will shift as you lay your eyes on the extremely sad Shoes on the Danube Memorial. A sculpture made up of dozens of cast iron shoes lined in front of the Danube, this memorial seeks to immortalize the 800 jews assassinated by the Arrow Cross Party, a Hungarian fascist militia submissive to the interests of Adolf Hitler. According to historical reports, the victims were lined at this exact spot and shot dead by the militias, only for their bodies to be washed away by the river. The symbolic representation of their shoes stands as a testament to one of the darkest chapters in modern history.
A bit further ahead, you can cross the Széchenyi Chain Bridge, the most beautiful and popular of all of Budapest's central bridges, before leaving the embankment and walking a few hundred meters north, towards the gigantic Saint Stephen Basilica (1200 HUF). Considered the most important church in Hungary, it's famous for housing the hand of Saint Stephen itself, the first King of Hungary. Moving across different quarters and different faiths, next up you'll visit the Dohány Street Synagogue (8000 HUF), a beautifully-designed building which holds the honor of being the single biggest synagogue in Europe, as well as one of the 5 largest in the world, outside of Israel. Finally, you will end your day with a stroll through Váci Street, the main commercial and pedestrian throughfare in the city, before reaching the Ervin Szabó Metropolitan Library, one of the city's best kept secrets.
Second day wrap-up:
Margaret Island
Hungarian Parliament Building
Shoes on the Danube Memorial
Széchenyi Chain Bridge
Saint Stephen's Basilica
Dohány Street Synagogue
Váci Street
Ervin Szabó Metropolitan Library
Budapest 3-Day Travel Guide – Day 3 – Along the monumental Andrássy Avenue
Looks like your final day in Budapest is already here. Chin up, though – we won't let you leave until you try the city's world-famous bath houses! In fact, we recommend starting your day precisely at the Széchenyi Baths (7100 HUF from Monday to Friday; 8200 HUF on weekends and holidays), whose facilities are more reminiscent of a royal palace than a spa. Built directly over two natural hot springs, this will be the perfect place to spend a few hours of your morning recovering from all the walking of the past couple of days. The fact that you can do it while exploring all of their different pools, saunas and Turkish baths only enhances the experience. Don't forget to take your own cap, towel and flip-flops, otherwise you'll have to pay extra to rent them on the spot.
Back to action, and once you're done with the bath house, you'll want to visit the Vajdahunyad Castle, a sinister-looking palace that could perfectly belong in the neighboring Romanian region of Transylvania. After exploring the castle's premises, it's time to start the lengthy walk along the Andrássy Avenue, the most impressive boulevard in Budapest and yet another UNESCO World Heritage Site in the city. Starting at the Heroes' Square, make your way down and enjoy the classical architecture throughout the entirety of the avenue's 2.5km extension. Along the way, you will also find other landmarks worth checking, such as the Hungarian State Opera (7000 HUF/guided tour) or the horrific House of Terror (4000 HUF), a museum dedicated to the victims of the fascist and communist regimes which took a hold of Hungary during most of the 20th century. Although the exhibition tries its best to sweep the active role Hungarian authorities played in these crimes under the rug, portraying the entire country as a victim of occupation (which isn't exactly accurate), this is nonetheless a very interesting and well-organized museum.
After reaching the end of the avenue, our 3-day Budapest travel guide recommends a quick peek at the Café New York, the most beautiful in the city. However, keep in mind this is an extremely touristy and upscale place, with menu prices being outright abusive. Once the night falls, and in order to party your way out of Budapest, there's nothing better than trying the atmosphere of a Ruin Bar. If you're wondering what the hell a "ruin bar" is, these are basically nightlife hubs established inside hold, decrepit, downtown buildings. We can guarantee you've never had a beer at a place like this before! Since you won't really have the time to try different joints and pick your favorite, we recommend heading straight to Szimpla Kert, one of the movement's pioneers and the quintessential Ruin Bar.
Third day wrap-up:
Széchenyi Baths
Vajdahunyad Castle
Heroes' Square
Andrássy Avenue
Hungarian State Opera
House of Terror
Café New York
Ruin Bar – Szimpla Kert
Got more than 3 days in Budapest? Then we suggest checking out these popular day trips:
This brings an end to our 3-day Budapest travel guide. Let's hope this document can come in handy when you decide to visit the extraordinary Hungarian capital!