Considered the biggest city along the Mediterranean coast, Barcelona is one of those inescapable tourist destinations. Whether because of its amazing beaches, party atmosphere or endless movida, the city simply has that "IT" factor that makes it so hard to resist.
Just strolling along its streets, filled with the unmistakable signature architecture of Gaudi, is an experience on its own. Yeah, Barcelona is a pretty special place.
That being said, if you're getting ready for your upcoming visit to the "Ciudad Condal", we want to make sure you have all the information you need. Check our Barcelona 3-day travel guide and find out the best way to make it to the city, where to sleep, where to eat, what are the most common scams and what to see when spending 3 days in Barcelona.
Barcelona 3-Day Travel Guide
How to get to Barcelona – Flights from Ireland
Although the city oversees the arrival of about 30 million tourists every year, Barcelona is mostly served by a single airport: Barcelona-El Prat. On the other hand, and mostly during high season, some passengers can also make it to the city by landing on either Reus or Girona airports, around 100 km away.
That being said, you can fly to Barcelona-El Prat from Dublin with Ryanair, Vueling or Aer Lingus.
Barcelona 3-day travel guide – Best time to visit the city
Much like virtually any other European destination, the best time to visit Barcelona encompasses any month between May and October, when chances of getting good weather and enjoying the beaches are higher. However, this is also the time of the year when everything tends to get pricier, aside from the winter and easter holiday seasons.
Anyhow, Barcelona is still one of the sunniest cities in Europe, making it a perfect destination to visit during spring or fall, or even outside the main season, when prices are lower and crowds smaller.
As such, do not rule out a visit to Barcelona even in winter. Chances of raining are still small, the cold will not be an issue and your wallet will thank you in the end. Perfect factors for a 3-day adventure in Barcelona.
Documents needed for your trip to Barcelona
Since Barcelona is part of the EU country, Irish citizens only need to have a valid ID Card in order to be granted access to the city.
Money in Barcelona – Withdrawals, banking fees and travel budget
Since Spain is part of the Eurozone, just like Ireland, there is no currency exchange, with both nations using the Euro. As such, travelers are able to use the same credit/debit card that they utilize back at home without incurring in any fees. However, keep in mind some local banks or networks (such as the infamous Euronet ATM's) may charge you a flat fee per withdrawal upon detecting that you're using a foreign card.
Nevertheless, and so that you can get a tighter grip on your travel budget and things don't slide out of control, we always recommend using Revolut. Although in Spain you won't be able to take advantage of the card's most redeeming quality – to allow you to withdraw foreign currency without any exchange fees – this is still a pretty useful tool.
By using the bank's online app, you will have immediate access to your balance, as well as all your expenses, allowing you to check in real time whether you've been charged any fees for your withdrawals or not. Besides, you may just load your card with the exact daily amount you want to spend on your trip, helping you avoid overspending and going over your budget. Plus, if you find yourself in a situation where your card gets lost or stolen, the only money you stand to lose is amount you had loaded your card with. Sign up for Revolut for free >> to get 3 months of Premium.
Barcelona 3-day travel guide – Scams and frauds
Ok, time for some honest truth. Is Barcelona the kind of dangerous city where you need to fear for your physical integrity? Absolutely not… but that doesn't mean the city won't require some special attention.
In the case of the Catalan capital, the city is infamous for its pickpockets. There are hundreds (maybe thousands?) of online reports from visitors who, all of a sudden, came to realize that they were either missing their phone, their wallet or their backpack. Don't get too relaxed about your belongings, as the city provides you with a fake sense of security.
However, all you need to do is to keep aware of your surroundings and look after your stuff.  That means no valuables on your back pocket or any other place that can be easy to reach. In crowded areas, always wear your backpack in front of you instead of on your back. And never – AND I MEAN EVER – put your bag or backpack on the floor in busy areas (even restaurants), especially around Las Ramblas.
When all is said and done, you just need to be more careful than usual about your belongings. Aside from that, Barcelona is perfectly safe!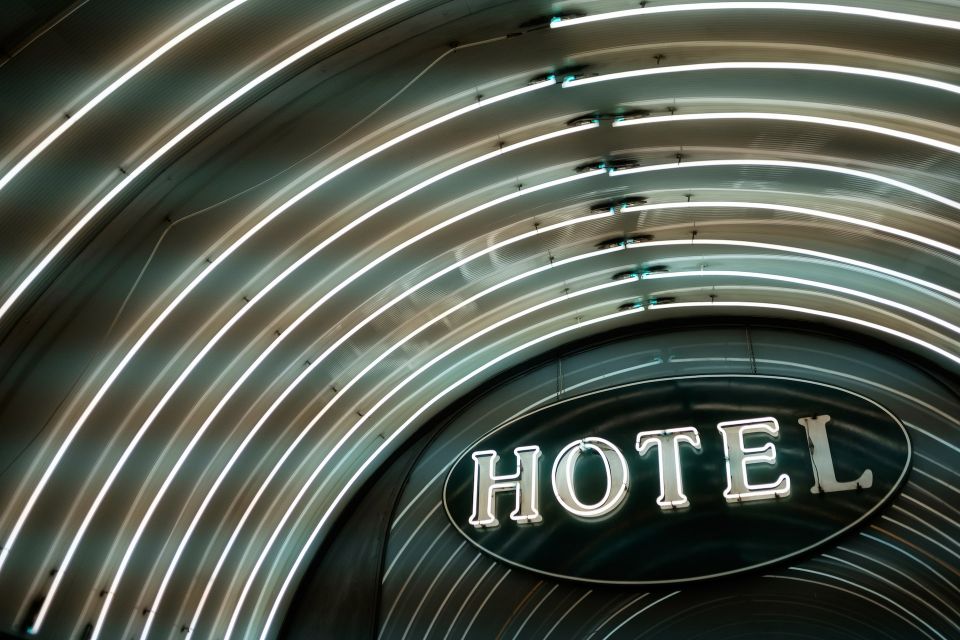 Where to sleep in Barcelona – Hotels and Accommodation
If you're looking out for a place to stay on our Barcelona 3-day travel guide then we got your covered!
Being an extremely popular destination, especially in the ultra-busy post-pandemic months, accommodation prices in Barcelona have skyrocketed! During summer, the average price for a night in Barcelona reached €150, while the specialist website Budget Your Trip states that the current average room night in the city will set you back €125, with luxury hotels (4 and 5 stars) available at around €230/night.
That being said, we leave you a suggestion for a place of accommodation within each price level. The rates shown by these hotels/hostels are below the average for a room night in Barcelona (assuming a stay of 3 days in Barcelona in April 2023):
Where to eat in Barcelona – Restaurants for all budgets
As mentioned, the exponential growth of tourism in Barcelona has resulted in a spike in hotel fares all over the city. However, rising inflation levels have also taken a toll in everything else, including meal prices. According to Numbeo, the price for an inexpensive meal in Barcelona stands around €14/pax, while a meal at a mid-range restaurant with appetizer, main and dessert will cost around €30/pax.
Therefore, and when it comes to food and restaurants, we kick things off on our Barcelona 3-day travel guide with the very best restaurants in the city. Perfect choices for culinary enthusiasts to whom budgeting might not be an issue:
However, and assuming the options above are only reserved for special occasions, we also wanted to leave you a list with different alternatives than can be considered "inexpensive" by Numbeo standards:
Barcelona 3-Day Travel Guide – Transportation between the airport and the city center
How to go from Barcelona-El Prat Airport to the city center:
Train

Duration: 30 minutes
Price: €4
Destination: Sants, Passeig de Grácia or El Clot
Where to buy tickets: Directly at the airport station (terminal 2)
Metro – Line 9

Duration: 30 minutes
Price: €5,15
Destination: Any station located in the city center. It is necessary to transfer to either line 1 (in Torrassa) or line 5 (in Collblanc)
Where to buy tickets: Directly at the airport stations (available in both terminals)
Public Bus – Nº46 or Nº16/17/18 (night buses)

Duration: 30 minutes
Price: €4,60 or €5,15 (night buses)
Destination: Plaça Espanya or Plaça Catalunya (night buses)
Where to buy tickets: Directly at the buses
Shuttle Bus – Aerobus

Duration: 30 minutes
Price: €8,90
Destination: Plaça Espanya, Gran Via-Urgell, Plaça de l' Universitat or Plaça Catalunya
Where to buy tickets: Aerobus Barcelona (also available at the airport terminals or directly from the driver)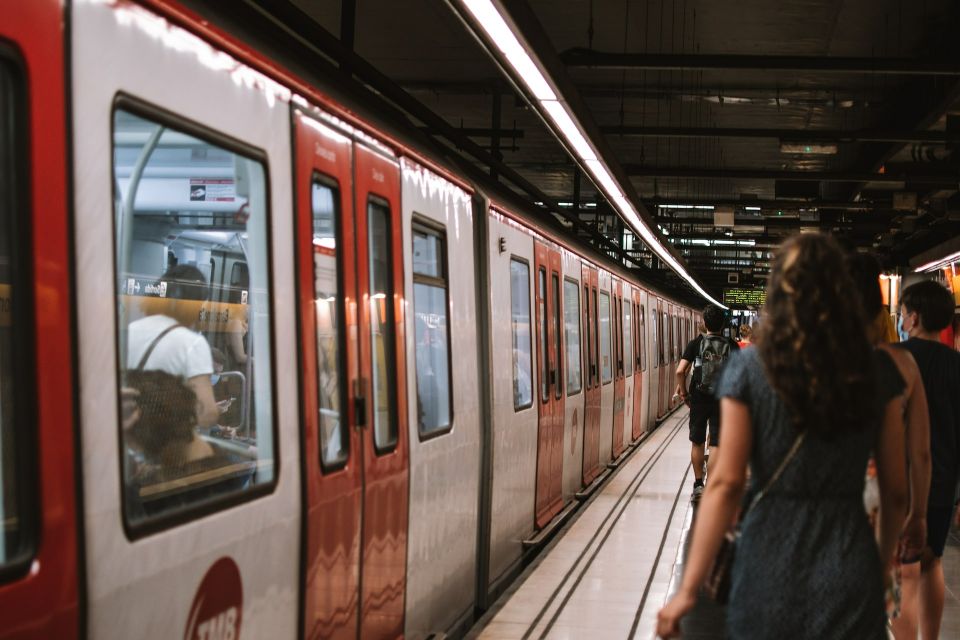 Public Transportation in Barcelona – The metro system
As a fairly big city, it comes as no surprise that Barcelona displays a pretty lengthy and efficient public transportation system. However, and although many locals do make use of the city's buses and trams, I dare to say the overwhelming majority of tourists will get by with just the metro.
Barcelona Metro
Made up of 12 lines, 170km of rail tracks and over 180 different stations, the metro is the main public transport in Barcelona, reaching pretty much every single one of the city's most important suburbs, as well as the entire center and its most prominent tourist attractions.
Considering its extension, you'd be excused to think using the metro system might be more complex that it really is, but here on our Barcelona 3-day travel guide we'll show you how simple the process can be:
Individual tickets – Single or T-Casual
Although there is a vast array of different metro tickets available, as a tourist there are only 2 types that can be of use to you (unless you're staying for a full month): the single ticket or the T-Casual.
The first one, as its name suggests, is valid for a single trip. You can buy it directly from the machines in any metro station and it costs €2,40. Alternatively, you can use your contactless credit/debit card, with the cost of the trip being automatically charged from said card.
The other option – which is way cheaper – is to buy a T-Casual. This ticket contains a total of 10 trips and has a cost of €11,35 for 1 zone, although there is currently a promo until December 31 that takes 30% off the original price (€7,35). If you need the ticket to be valid across 2 different zones, the price will be €22,40 (or €15,70 until December 31). Keep in mind this ticket cannot be shared with anyone else simultaneously, meaning only one user can take advantage of it at a time (if you're riding with someone else, you can't use the same card to cover both trips).
This ticket is NOT valid for the trip between Barcelona-El Prat Airport and the city centre.
Tourist passes
Getting a travel pass from Hola Barcelona might be another interesting option for visitors.
These passes allow for unlimited use of Barcelona's entire public transportation system, including metro, buses, trams, local trains and funicular (Montjuic). You can choose the duration of your pass, which will start counting from minute you first validate it:
2 days (48 hours) – €16,40
3 days (72 hours) – €23,80
4 days (96 hours) – €31,00
5 days (120 hours) – €38,20
If you buy any of these passes online, you can enjoy a 10% discount. Unlike T-Casual, this pass is also valid for transportation between the airport and the city centre.
Barcelona Card
As the final public transportation ticket option for tourists, we introduce you to the Barcelona Card.
Much like the previous passes from Hola Barcelona, this card also includes unlimited trips along the city's public transport system during the previously selected period of use:
3 days (72 hours) – €48,00
4 days (96 hours) – €58,00
5 days (120 hours) – €63,00
However, and besides public transportation, the Barcelona Card also serves as a tourist pass. The card includes free admission to a varied range of museums and institutions, such as the Picasso Museum, the MNAC or the Fundació Joan Miró, as well as special discounts on tickets to other attractions, such as the Sant Pau Modernist Complex, the Houses of Gaudi (Battló, Milà and Vicens) or the Palau de la Música Catalana. Yet another great tip on our Barcelona 3-day travel guide!
Barcelona Metro operating hours
Monday to Thursday: 05:00 to midnight
Fridays: 05:00 to 02:00
Weekends: 05:00 (Saturday) to midnight (Sunday) – continuous night service
Line 9 (airport): Daily between 05:00 and midnight
Barcelona 3-Day Travel Guide – Hidden Treasures
Although everyone is already familiar with the Cathedral of La Sagrada Familia, Park Guell or Las Ramblas, the truth is that Barcelona has a lot more to offer beyond its most popular sights.
As such, and in order to help you get closer to the true essence of the Catalonian capital, our Barcelona 3-day travel guide will show you some hidden gems you must visit in the Ciudad Condal:
Bunkers del Carmel
Teatre Grec
Antic Teatre
Monestir de Pedralbes
Casa Vicens
Mercat Santa Caterina
Gato de Botero
Laberint d'Horta Gardens
Barcelona 3-Day Travel Guide – A complete itinerary
Although 3 days aren't enough to do more than scratching the surface, it will nevertheless be time enough to make you fall head over heels for fabulous Barcelona.
That being said, we tried our best for this Barcelona 3-day travel guide to be as complete and diverse as possible. We hope you enjoy this itinerary!
Barcelona 3-Day Travel Guide – Day 1 – The legacy of the prodigal sons
For the first of your 3 days in Barcelona, you will witness the legacy of what is probably the city's biggest hometown hero: Antonio Gaudí. After all, there is always a mark or remembrance of the legacy left by one of the world's most famous architects wherever you look. A legacy that ended up influencing another name that helped mold the Barcelona that we know and love today – Lluís Domènech i Montaner. We start off our adventure at Park Guell (€10), a monumental park where Gaudí lived and worked, letting loose all of its genius in its trademark shapes and colors. Not far away, you will find the Bunkers del Carmel, one of the city's most beautiful viewpoints, which, despite its name, has never housed any type of bunker, but a military antiaircraft facility.
Moving south towards the city center, we stop at the Sant Pau Modernist Complex (€15), one of the most majestic examples of Art Nouveau architecture in Europe. Originally designed as a hospital by Domènech i Montaner, today it serves as a museum and artistic installation, having been elected by UNESCO as a Word Heritage Site. Afterwards, it's finally time to visit La Sagrada Familia (€26; free on Sundays during the 9am mass), Barcelona's postcard picture! As we all know, the church isn't fully built yet, even though it has technically been under construction since 1882. Furthermore, there is still no consensus on when it will finally be officially finished!
As the day is heading towards its end, we recommend visiting at least one of Gaudi's two most popular houses: Casa Batlló (€35) or Casa Milà (€25), with the latter also known as La Pedrera. Located right next to each other, the first one boasts more impressive interiors, while the second is a bit more informative, housing a small museum dedicated to the life and work of Gaudí. Besides, Casa Milà also finishes the tour on a high note with amazing views from its terrace. Finally, the first day comes to an end at the Palau de la Música Catalana (€16), an eccentric music hall, also designed by Lluís Domènech i Montaner. Filled with colorful tiles, glass art, sculptures and unusual shapes, it stands as a living tribute to the Catalan Modernism.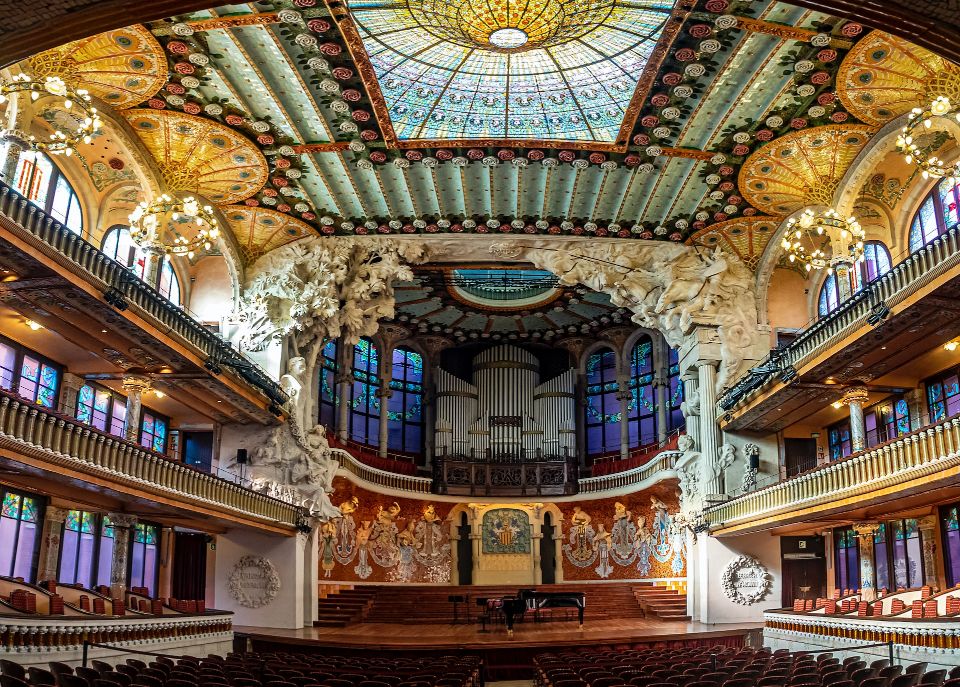 First day wrap-up:
Parque Guell
Bunkers del Carmel
Sant Pau Modernist Complex
La Sagrada Família
Casa Batlló/Casa Milà
Palau de la Música Catalana
Barcelona 3-Day Travel Guide – Day 2 – From the Gothic Quarter to Montjuic
For the second of our 3-day Barcelona travel guide, we're picking up where we left off. But before we walk into the mayhem of central Barcelona, let's start with a visit to the Picasso Museum (€12), where you can find works from another of the city's most famous inhabitants. After regrouping at Plaça de Catalunya, the time has come to walk along Las Ramblas, the most famous avenue in all of Barcelona! Despite being an extremely touristy place, this is nevertheless a must-visit, even if just for a quick look. Halfway through, kill off your cravings at the popular Mercado de la Boqueria. If you save this stop for the end of the day, you might be lucky enough to get some pretty good deals on fresh produce and treats (think fresh fruit juices for €0,50).
Afterwards, it's time to explore the Gothic Quarter, the medieval core of the old Barcelona. A world apart from the bright colors, odd shapes and modernist style you can find in the rest of the city, this is the place where you'll find medieval walls, narrow streets, lovely squares and ancient cathedrals. While strolling through the quarter, make sure to visit the Plaça del Rei, the Plaça Reial, the Saint Eulalia Cathedral (€9; free during mass) and the Santa Maria del Pi Basilica.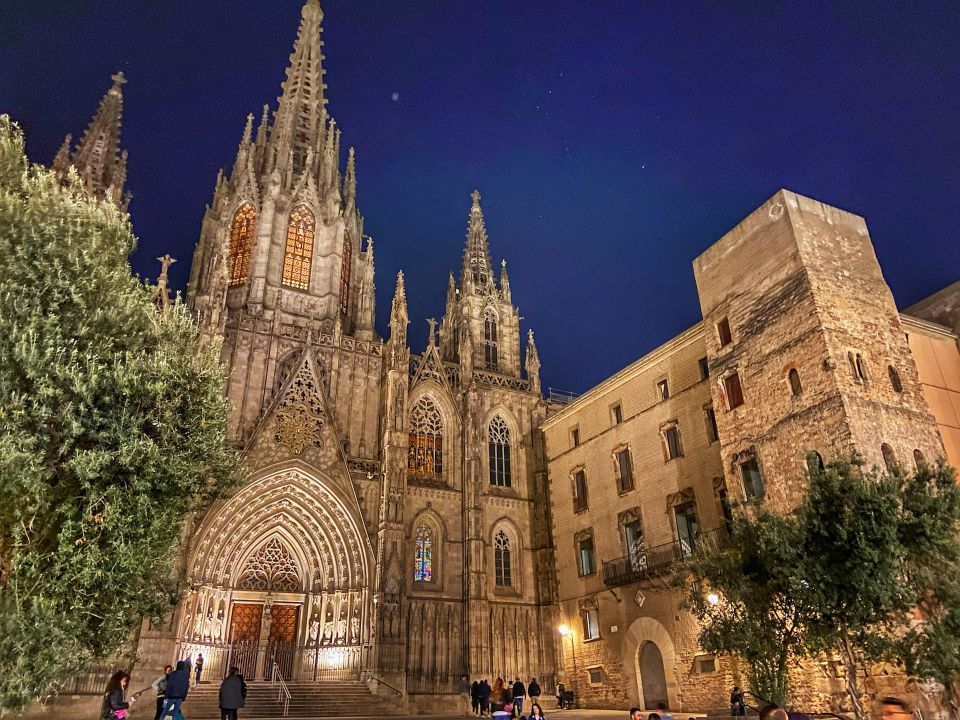 After you're done with the old town, you may then go to the area of Montjuic, a famous hill where local populations used to set up defensive fortifications. Therefore, there's where you'll find the Montjuic Castle (€9 or €10 if combined with the Botanical Garden), the only defensive structure that survived to present day. In order to get there, you may hop on the Montjuic Cable Car (€9,40 one-way) and then descend back to the city on foot, visiting other attractions along the way. You must then head to the Palau Nacional, the hill's most distinguished building, and enjoy the iconic view from atop of its staircase. To cap off your day in style, relax by the Font Màgica and watch a show at one of the most iconic dancing fountains in the world (don't forget to check the schedule). No matter how much you're already expecting "Barcelona" from Freddie Mercury and Montserrat Caballé to play, this is always a goosebump-inducing moment!
Second day wrap-up:
Picasso Museum
Plaça de Catalunya
Las Ramblas
Mercado de la Boqueria
Gothic Quarter (Plaça del Rei, Plaça Reial, Saint Eulalia Cathedral, Santa Maria del Pi Basilica)
Montjuic Hill (Cable Car, Montjuic Castle, Botanical Garden, Palau Nacional)
Font Màgica
Barcelona 3-Day Travel Guide – Day 3 – Picking up the pieces
On our third and final day, we will be visiting places that, although not located particularly close to each other, are nevertheless impressive or important in order to understand the essence of this magnificent city! We'll start with the Barceloneta Beach. Despite its popularity, you may choose to visit any other beach instead, so as long as you take the time to swim or at least take a walk along the promenade. Then, take your first metro trip of the day and go to Camp Nou, where you can tour the stadium and visit the museum (€28), or even watch an FC Barcelona match. Though this may seem like an activity for sports fans-only, the truth is that very few cities have such a strong connection to its local club. As its written on the main stand, this is definitely "more than a club".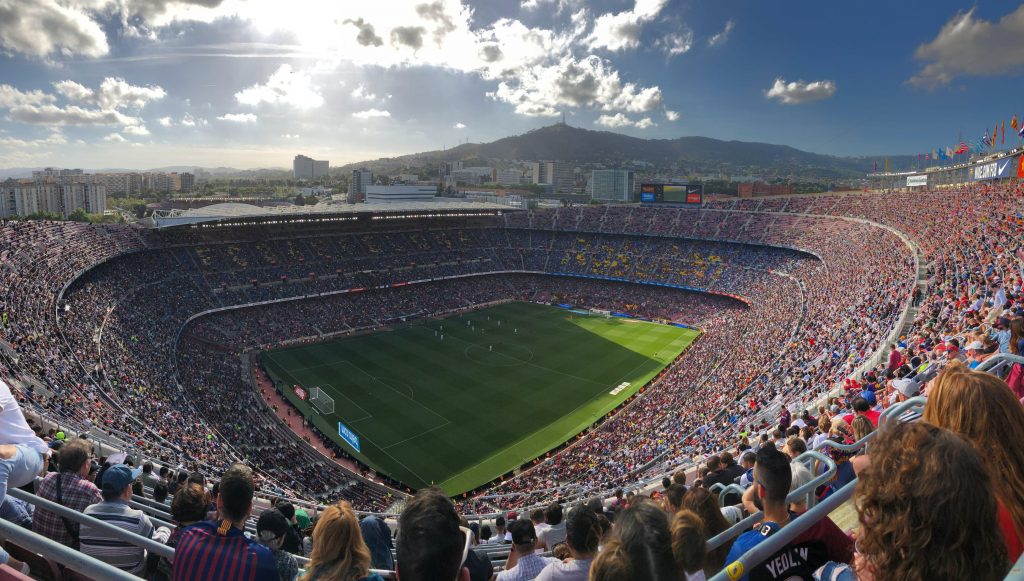 Following your visit to the stadium, it's time to check out the Pedralbes Monastery (€5), one of the city's hidden gems. After exploring the cloisters and awe at the sight of the San Miguel Chapel, it's time get back on the public transport system and head to the foothills of the Tibidabo mountain. In order to get to the top, where you'll find an amusement park as well as the fabulous Sagrat Cor Church, you'll need to catch a ride from the Tibidabo Funicular (€12). At last, you can walk along the mountain for about 90 minutes – taking in the breathtaking views of the city – until you reach the final stop on our Barcelona 3-day travel guide: the Labirint d'Horta Park (€2,50). Considered the city's oldest park, this historical garden is a suitable place to finish your adventure calmly, in a city otherwise known for its constant buzz.
Third day wrap-up:
Barceloneta
Camp Nou
Pedralbes Monastery
Tibidabo (Funicular, Sagrat Cor Church)
Labirint d'Horta Park
This brings an end to our 3-day Barcelona travel guide. We hope this turns out to be a useful tool when you prepare your next visit to the Catalonian capital!