Despite being one of the smallest countries in Europe, Luxembourg certainly packs a punch when it comes to things to see and do. Home to a staggering 47% of foreign population, Luxembourg is a highly multicultural place, where one can feel abroad but simultaneously at home, regardless of where they come from.
Although it has never been a major tourist hub, the country has seen a substantial increase in its number of arrivals throughout the past few years, as more people seem willing to discover the tiny country.
That being said, if you've already booked your flight to the Grand-Duchy, we hope this Luxembourg 2-day guide might come in handy. Featuring useful information on hotels, restaurants and public transportation, as well as a full 48-hour itinerary, it's a must-read for those visiting Luxembourg.
Luxembourg 2-Day Travel Guide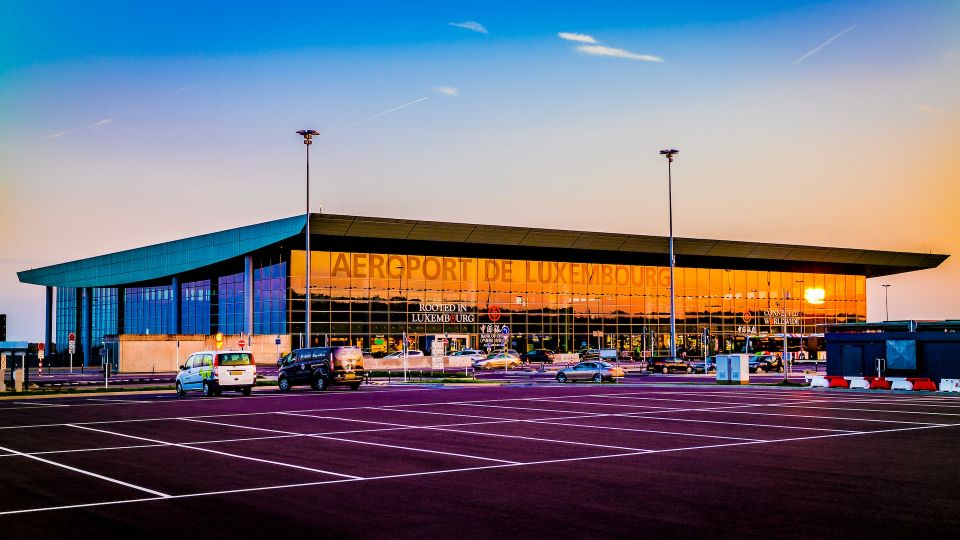 How to get to Luxembourg – Flights from Ireland
Considering how small the country is, it's far from surprising that it only gets served by a single international airport: the Luxembourg Airport.
If you're visiting from Ireland, you can fly to Luxembourg from Dublin with Ryanair.
Luxembourg 2-day travel guide – Best time to visit the city
Just like most European destinations, the best time to visit Luxembourg is during Spring, Summer and the start of Fall, especially between the months of May and October, when your chance of getting sunny, longer days is substantially higher. Plus, and according to our Luxembourg 2-day travel guide, the Christmas season is also a great time to visit the small nation, as the capital puts on what is surely one of the best Christmas markets in Europe!
Unfortunately, these are also the times of the year when flight and accommodation prices are higher, which is definitely something you need to factor in, considering how expensive Luxembourg already is.
Documents needed for your trip to Luxembourg
Since Luxembourg is part of the EU, Irish citizens only need to show a valid ID Card in order to be granted access to the country.
Money in Luxembourg – Withdrawals, banking fees and travel budget
Since Luxembourg is part of the Eurozone, just like Ireland, there is no currency exchange, with both nations using the Euro. As such, travelers are able to use the same credit/debit card that they utilize back at home without incurring in any fees. However, keep in mind some local banks or networks (such as the infamous Euronet ATM's) may charge you a flat fee per withdrawal upon detecting that you're using a foreign card.
Nevertheless, and so that you can get a tighter grip on your travel budget and things don't slide out of control, we always recommend using Revolut. Although in Luxembourg you won't be able to take advantage of the card's most redeeming quality – to allow you to withdraw foreign currency without any exchange fees – this is still a pretty useful tool.
By using the bank's online app, you will have immediate access to your balance, as well as all your expenses, allowing you to check in real time whether you've been charged any fees for your withdrawals or not. Besides, you may just load your card with the exact daily amount you want to spend on your trip, helping you to avoid overspending and going over your budget. Plus, if you find yourself in a situation where your card got lost or stolen, the only money you stand to lose is amount you had loaded your card with. Sign up for Revolut for free >> to get 3 months of Premium.
Luxembourg 2-day travel guide – Common scams and frauds
Since Luxembourg is one of the richest and safest countries in the world, providing its population a standard of living hard to match anywhere else on earth, it is extremely rare to find yourself being the target of any scam aimed towards tourists.
Still, and purely as a way of precaution, it's just better to watch your stuff in very crowded areas – especially around the Central Railway Station. Besides, don't take help from anyone while using the ATM or accept a taxi ride if the meter isn't on, otherwise you might have an unpleasant surprise in hands by the end of your trip.
Where to sleep in Luxembourg – Hotels and Accommodation
If you're looking out for a place to stay on our Luxembourg 2-day travel guide then we got your covered!
As we mentioned, and considering this is one of the most expensive countries in the world, accommodation prices in Luxembourg – especially around the capital city – tend to be particularly high. In fact, according to the specialty platform Champion Traveler, the average night in Luxembourg will cost you about 119€, with the highest-rated hotels (4 and 5-star hotels) setting you back anything in between 126€ and 180€ per night.
That being said, we leave you a suggestion for a place of accommodation within each price level. The rates shown by these hotels/hostels are below the average for a room night in Luxembourg City (assuming a stay of 2 days in Luxembourg in April 2023):
Where to eat in Luxembourg – Restaurants for all budgets
Once again, and much like accommodation, the high cost of living in Luxembourg City also reverberates on the prices of its restaurants. According to Numbeo, a restaurant that charges you 18€ for a meal is still considered "inexpensive". If we take it up a notch and look for a 3-course dinner at a mid-range restaurant, then each person will pay, on average, about 36€.
Before you start crying and stop reading our 2-day Luxembourg travel guide, we figured that compiling a list of inexpensive restaurants (at least per Numbeo's standards) would be a nice thing to do. There you have it:
Luxembourg 2-Day Travel Guide – Transportation between the airport and the capital center
Doing the trip from the airport to the center of the City of Luxemburg couldn't be any simpler!
In order to get to the Central Railway Station, you just need to hop on Bus 29, which leaves right from the exit of the arrivals' hall. This bus is completely free and runs every 15 minutes between 04h45 and 23h50.
On the other hand, if you land outside the bus's operating hours, you may choose to rely on the Door2Gate official services from Flibco. This shuttle service, which can be shared or private, will pick you up directly from the airport and drop you off at a place of your choosing. If we take the same route as the bus, the trip between the airport and the Central Railway Station will set you back around 16€.
Public Transportation in Luxembourg – How to use it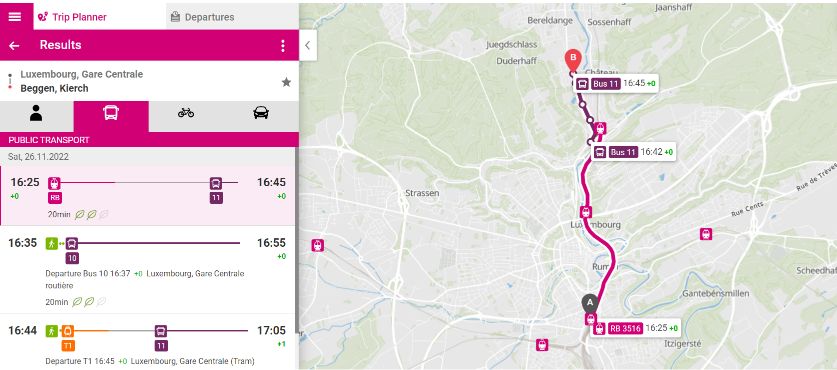 Back in March 2020, Luxembourg made headlines all over the world after becoming the very first country to grant its citizens and visitors free access to its entire public transportation network. This means that, even as a tourist, you can use the country's public transportation system without spending a single penny!
This includes each and every nationwide trip on buses, trams and trains. Naturally, this gratuity does not apply to cross-border trips (international) or if you choose travel 1st class on trains.
In order to find out how to get to any part of Luxembourg, you can use the Mobiliteit.lu journey planner tool. You just need to set your origin and destination – doesn't matter if you're traveling within the capital's city limits or not – and the platform will let you know right away what transportation you must take, where to take it, when, the total length of the trip and whether or not you need to change vehicles at some point.
Luxembourg 2-Day Travel Guide – A 48h itinerary
Despite being a very small country, the truth is that there is plenty to see and do in the Grand-Duchy. Therefore, if you're planning a weekend getaway in the country, we've prepared a full 48-hour itinerary as the highlight to our Luxembourg 2-day travel guide.
That being said, our itinerary dedicates a full day to the capital, where most of Luxembourg's most popular tourist attractions can be found. However, and for your second and last day, we recommend getting out of the "big" city and exploring different parts of the country.
Once you're done, you'll probably realize that 1 or 2 extra days wouldn't have been such a bad idea after all!
Luxembourg 2-Day Travel Guide – Day 1 – The Capital City
As soon as you arrive the capital's city center, we recommend taking a good peak at what lies in store for your day. And for that matter, there's nothing better than a panoramic view! Finished in 2016, the Pfaffenthal Panoramic Elevator is part of an old public network that sought to connect the Pfaffenthal quarter with the Old Town, located at the top of a plateau. This is probably the place with the best views in the entire City of Luxembourg.
Soon after, make your way towards the Chemin de la Corniche, a pathway by the cliffs that surround the city center. Several monuments and leisure gardens were built along the chemin, although the main highlight are the views over the Grund Quarter, located on the lower side of town.
From this point onwards, you will be officially entering the Old City of Luxembourg (Ville-Haute), a district which used to be guarded by one of the most impenetrable walls in the history of mankind (until it was finally dismantled in 1867). However, and though the fortifications are no longer there, they certainly helped in the conservation of much of Ville-Haute, the most beautiful area in the Luxembourgish capital. While walking through the old center, and in order to know a little more about the country, we suggest visiting the National Museum of History and Art (FREE), before making a quick stop at the Grand Ducal Palace (15€) which serves as the official residence to the Grand Duke of Luxembourg (basically the country's king).
Take the rest of your time in the old town to explore every nook and cranny of this beautiful quarter, visiting the Place d'Armes, Place Guillaume II and the Notre-Dame Cathedral, and crossing the picturesque Adolphe Bridge. In between these last two attractions, you must also take some time to discover the Casemates de Pétrusse (15€), a complex of underground passages, directly carved into the cliffs, where Luxembourg's defensive forces used to strategically hide during foreign invasions. Definitely one of the highlights of our Luxembourg 2-day travel guide.
First day wrap-up:
Pfaffenthal Panoramic Elevator
Chemin de la Corniche
National Museum of History and Art
Grand Ducal Palace
Place d'Armes
Place Guillaume II
Notre-Dame Cathedral
Casemates de Pétrusse
Adolphe Bridge
Luxembourg 2-Day Travel Guide – Day 2 – The Castles of Luxembourg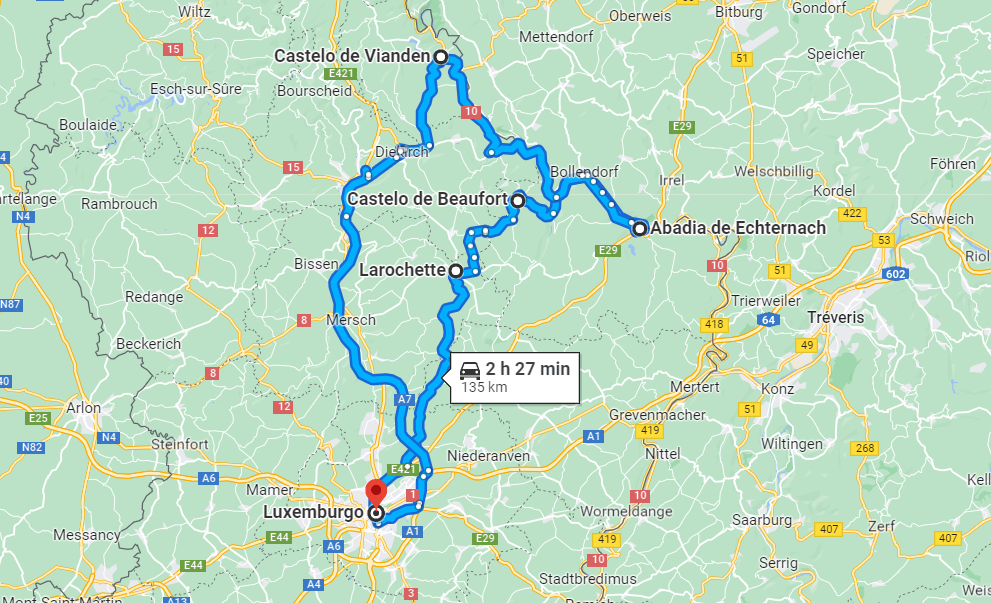 For your second day in the country, you will access the aforementioned Mobiliteit.lu portal and use (for free!) the country's entire public transportation system. In total, you will explore 4 different locations and travel 150 km.
Start early in the morning and visit the neighboring city of Larochette, a small town filled to the brim with adorable little buildings and ancient churches, along with the ruins of the imposing Chateau de Larochette. Afterwards, get back on the road to visit the Beaufort Castle, located in the surroundings of a village bearing the same name. Although, much like its predecessor, is also in ruins, this is nonetheless an impressive piece of medieval architecture.
Once your body starts asking for some much-needed calories, stop for lunch in Echternach, right next to the border with Germany. Considered the oldest city in the country, it resembles a stereotypical fairytale town, with colorful façades, medieval squares, cobblestone streets and the remains of an ancient city wall. While visiting, you absolutely cannot miss the Abbey of Echternach, a beautiful religious complex where you can find the oldest church in all of Luxembourg.
After spending a couple hours wandering through Echternach, it's time to leave towards your last stop of the day, before making it all the way back to the City of Luxembourg: the Vianden Castle (10€). Considered the most famous and spectacular of all the Luxembourgish castles (and trust me, there were plenty left to mention), it remains a "must-see" in any itinerary of this little country.
Second day wrap-up:
Larochette
Beaufort Castle
Echternach
Vianden Castle
If you don't feel comfortable organizing all these transfers by yourself, you may always resort to the services of a private tour. This tour, for example, includes all of the stops mentioned throughout this second day, with the exception of Larochette. Be that as it may, it is still a perfectly fine alternative to our 2-day Luxembourg travel guide.