Stretching for approximately 150 km, from the province of Cadiz to Nerja, with Malaga in between, the Costa del Sol has grown into one of the country's most popular tourist destinations, despite being little more than a cluster of tiny villages up to a few decades ago. Nowadays, this region boasts idyllic beaches and charming coastal towns, renowned for their whitewashed façades by the sea.
Beyond captivating beach lovers, the truth is that, being part of the Autonomous Community of Andalusia, there is also a very strong cultural legacy. After all, and just a few dozen kilometers away from the coastline, you can find historical cities, megalithic tombs and breathtaking trails.
So, if you're planning a trip to this stunning destination, our ultimate Costa del Sol 1-week travel guide is here to help. In addition to practical information about hotels, restaurants, transportation and beaches, we've also put together a comprehensive itinerary, including all the places you must see and visit in the Costa del Sol in one week (7 days).
Costa del Sol 1-Week Travel Guide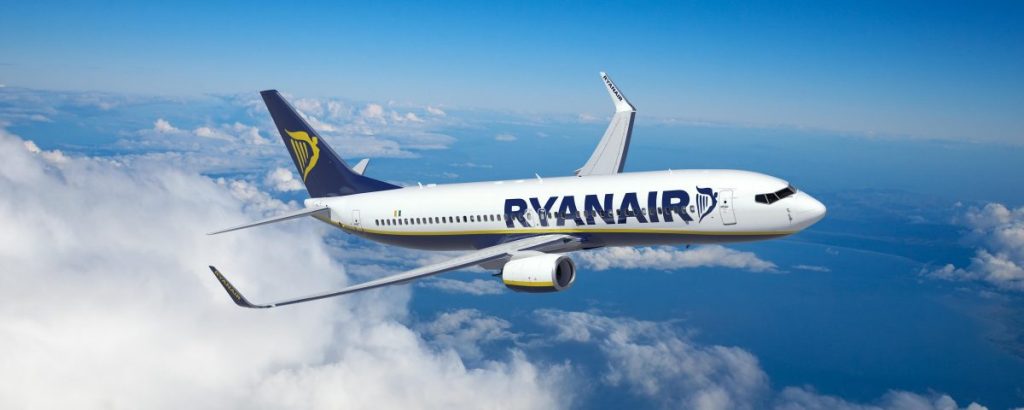 How to get to the Costa del Sol – Flights from Ireland
Considering this is the biggest and most popular city along the Costa del Sol, it's far from surprising the region's main air hub can be found in Malaga.
As such, if you're coming from the UK, you can fly directly into the Malaga Airport from Dublin (Aer Lingus, Ryanair and TUI), Cork (Aer Lingus and Ryanair), Knock (Ryanair) and Shannon (Ryanair).
Costa del Sol 1-Week Travel Guide – Best time to visit the region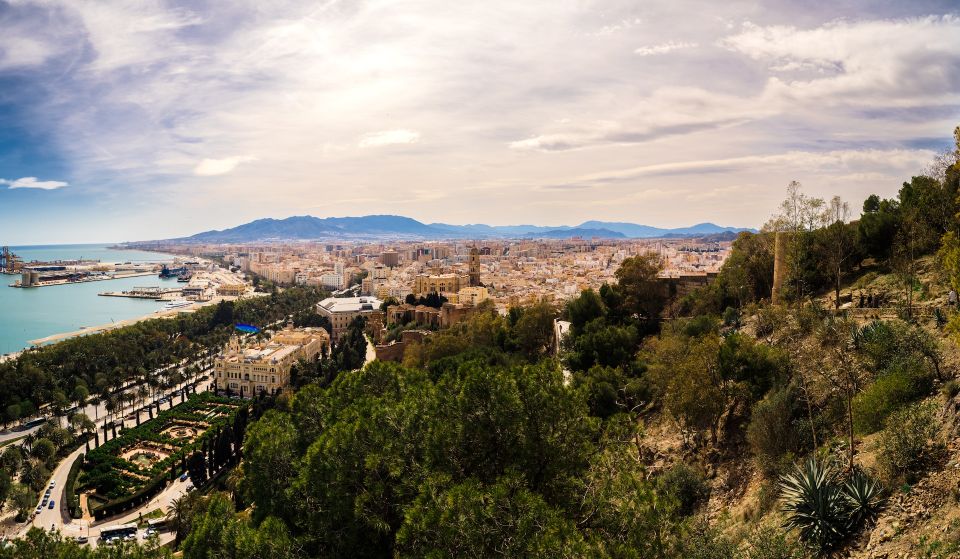 Much like the rest of the country, the Costa del Sol is also an extremely seasonal destination, receiving most of its tourists during the Summer months, especially in July and August. That being said, it might be a good idea to skip the region during those months, both for the sake of your well-being and your wallet. Plus, the weather will be scorching hot, making it pretty difficult to enjoy the overall experience.
As an alternative, and so that you can still enjoy the beaches and good weather, we suggest booking your visit the shoulder-season, specifically for the period between May-June or September-October.
Costa del Sol 1-Week Travel Guide – Documents needed for your trip
Since Spain is part of the EU, Irish citizens only need to show a valid ID Card in order to be granted access to the country.
Costa del Sol 1-Week Travel Guide – Withdrawals, banking fees and travel budget
Since Spain is part of the Eurozone, just like Ireland, there is no currency exchange, with both nations using the Euro. As such, travelers are able to use the same credit/debit card that they utilize back at home without incurring in any fees. However, keep in mind some local banks or networks (such as the infamous Euronet ATM's) may charge you a flat fee per withdrawal upon detecting that you're using a foreign card.
Nevertheless, and so that you can get a tighter grip on your travel budget and things don't slide out of control, we always recommend using Revolut. Although in Greece you won't be able to take advantage of the card's most redeeming quality – to allow you to withdraw foreign currency without any exchange fees – this is still a pretty useful tool.
By using the bank's online app, you will have immediate access to your balance, as well as all your expenses, allowing you to check in real time whether you've been charged any fees for your withdrawals or not. Besides, you may just load your card with the exact daily amount you want to spend on your trip, helping you to avoid overspending and going over your budget. Plus, if you find yourself in a situation where your card got lost or stolen, the only money you stand to lose is amount you had loaded your card with. Sign up for Revolut for free >> to get 3 months of Premium.
Costa del Sol 1-Week Travel Guide – Common scams and frauds
Generally speaking, the Costa del Sol is an extremely safe destination for visitors, since a huge part of its economy revolves around tourism.
We only recommend that you pay special attention to your belongings around crowded areas or at the beach, and never accept a taxi ride where the meter is not working. Here, much like everywhere else in the country, you just need to use your common sense to stay out of trouble. On a side note, never order anything at a restaurant without looking at the menu first, especially around the most touristy areas, as you may end up with a very unpleasant surprise once the tab comes your way.
Where to sleep in the Costa del Sol – Hotels and Accommodation
If you're looking out for a place to stay on our Costa del Sol 1-week travel guide, then we got you covered!
Although the current economic context shows an increasingly expensive and exclusive Europe, the Costa del Sol is a fantastic beach destination that is still somewhat affordable. However, during the high season, prices in the region soar, especially when it comes to accommodation.
That being said, here are some options based on the cities we recommend you to stay at:
Costa del Sol 1-Week Travel Guide – Hotels in Malaga
Costa del Sol 1-Week Travel Guide – Hotels in Marbella
Costa del Sol 1-Week Travel Guide – Hotels in Nerja
Costa del Sol 1-Week Travel Guide – Transportation between Malaga Airport and the city center
Upon landing in Malaga, the cheapest and easiest way to reach the center is by using the train, whose airport station is located under Terminal 3. This station in served by line C1, which connects the center of Malaga and the suburbs of Fuengirola. The journey takes about 10 minutes, with a new vehicle leaving towards the center every 20 minutes, between 06h30 and 23h40. You may get out at the station called Malaga Centro. However, if your hotel is not located in the city center, you'll be better off by leaving the metro at Malaga Maria Zambrano, located right next to a pretty big taxi stand. You can buy your tickets at the station's ticket machines for 1,80€.
Another great option is to rely on the Express Aeropuerto buses from local company EMT, whose vehicles depart from the arrivals' terminal (just follow the signs). They operate between 07h00 and midnight, leaving every 30 to 45 minutes. Once again, the journey only takes 10 minutes, though tickets are more expensive (4,00€) and can be bought directly from the driver.
As an alternative, you can hire a taxi to take you straight to your place of accommodation, although this will naturally turn out to be a lot more expensive than just using the bus or the train. As an example, the same exact trip will set you back around 20€-25€.
 Costa del Sol 1-Week Travel Guide – Transportation and how to move around
Although public transportation along the Costa del Sol is surprisingly extensive and efficient, the truth is that you'll still find yourself struggling to reach all the places on our travel guide if you're totally reliant on local buses and/or trains.
For that reason alone, and in order to get as much autonomy and flexibility as possible, renting your own vehicle is the way to go.
Public Buses in the Costa del Sol
When it comes to getting around the Costa del Sol and hopping between different towns, buses are considered the go-to option. You'll find several private bus companies serving the region, and although most of the local and small-scale companies barely have any information on the web, ALSA and Avanza at least post their schedules and offer the convenience of purchasing tickets online.
While it's entirely feasible to explore most places on this itinerary using buses, it's important to note that travel times will be considerably longer, with the situation being further aggravated by the need to transfer and switch buses for certain routes on our program. However, if renting a car really isn't an option, taking the bus remains a viable and practical solution (especially when combined with train travel). It simply requires a bit more patience and flexibility!
Now, let's take a look at some specific routes you can use the bus for and their prices:
Málaga – Antequera – Málaga: 13,00€ (return); 1h00 one-way
Fuengirola – Marbella: 3,75€; 30 minutes
Marbella – Ronda: 7,60€; 1h20
Ronda – Málaga: 12,00€; 2h00
Málaga – Nerja – Málaga: 11,00€ (return); 1h30 one-way
Trains in the Costa del Sol
While the city of Málaga enjoys excellent railway connections to other destinations within Spain, it's quite a different story when it comes to locations along the Costa del Sol. In fact, there is only one train line – known as Malaga Cercanías – that links the city to a few other points in the region. This is the same line we mentioned earlier, which conveniently stops at the airport as well.
Due to its limited coverage, the C1 line only offers a couple of interesting stops worth exploring, such as Benalmádena or the charming village of Mijas Pueblo (1,80€ per trip), before reaching its terminus at Fuengirola.
However, you can rely on Renfe (the Spanish railway company) to reach the renowned Caminito del Rey, as there is a daily connection in each direction between Malaga and El Chorro, the main access point to the trail. This train departs from Málaga at 10h00, returning from El Chorro at 18h00. The journey takes approximately 50 minutes and tickets cost 10,00€ (round trip).
Car or scooter hire in the Costa del Sol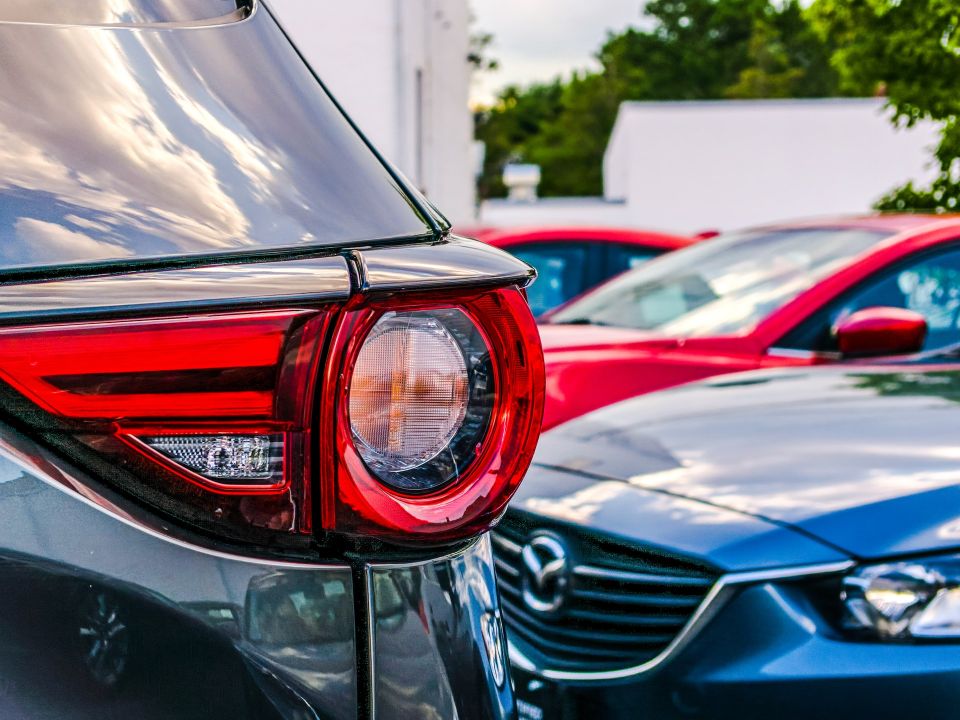 Finally, we leave you with our most recommended transportation option on this Costa del Sol 1-week travel guide. You know the drill – when it comes to convenience and spontaneity, there's nothing like having our own vehicle when traveling!
You can easily find companies where you can rent different motorized vehicles, such as cars or scooters, while traveling along the Costa del Sol. However, and before you make up your mind on this solely based on your budget or personal preferences, it's equally important to assess the topography and type of terrain you will find, as well as your experience behind the wheel.
When looking at the region's inland villages and mountainous areas, where roads tend to be quite steep, renting a scooter might not be the way to go. Plus, keep in mind it is mandatory to have a motorcycle license in order to drive any scooter over 125cc. On the other hand, according to Spanish law, a type B driver's license is sufficient to rent a 50cc scooter. However, if you opt for a 125cc motorcycle, you must have a type A driver's license OR a type B license issued more than 3 years ago.
That being said, if you wish to rent a scooter in the Costa del Sol, you can check these local companies:
As for cars, you can browse for prices and availability on Rentalcars.com!
What to eat in the Costa del Sol – Local staples and culinary delights
Given the region's proximity to the sea, it comes as no surprise that many of the most emblematic dishes of the Costa del Sol feature fish or seafood as their main source of protein.
For example, the vast majority of restaurants and beach bars (locally known as chiringuitos) include Espetos de Sardinas on their menus. These are skewers of sardines that can be enjoyed as a quick and affordable lunch option, or as part of a larger meal. Although less common, you can also find these skewers made with squid or octopus. Another popular treat is Boquerones, which are anchovy fillets either served fried or marinated in lemon. Still within the realm of fish/seafood, the Costa del Sol is also well-known for its Zarzuela, a seafood stew; for the Pescaito Frito, fried fish; and for its Gambas al Pil-Pil, a dish of shrimp served in a delicious spicy sauce made with garlic, chili, paprika and white wine.
However, since we're still in Andalusia, tapas remain a way of life around here! So, if you want to hop from place to place as you enjoy a few drinks and sample some of the staples, we recommend trying Ensalada Malagueña, a cold salad made with cod, orange, black olives and tomatoes; Pitufo, an Iberian ham and cheese sandwich; and, of course, the famous cold soups that are so popular in this part of Spain, such as Gazpacho and Ajoblanco.
Finally, and while desserts may not be the local cuisine's strong suit, it's always worth trying the Arroz con Leche, the Spanish version of rice pudding; Tejeringos, local churros; or Tortas de Aceite, small biscuits made with olive oil, flour, sugar, anise and sesame seeds.
Costa del Sol 1-Week Travel Guide – Hidden Treasures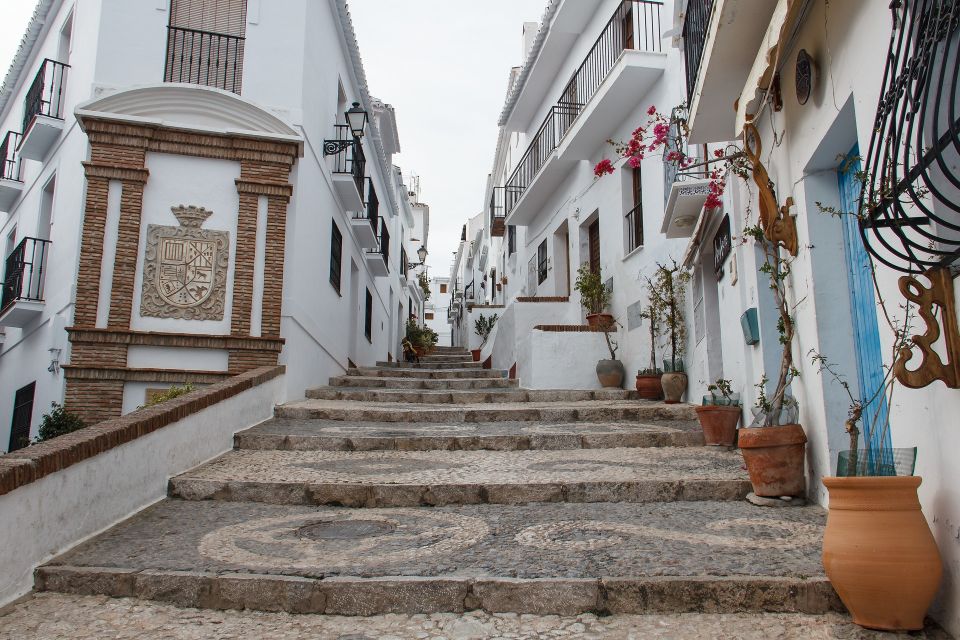 As we always do, we wanted to make sure to include some hidden gems along the Costa del Sol, allowing you to truly discover the very best of this marvelous region. Beyond the well-known cities, charming towns and popular tourist spots, it's always a great idea to go a little off-the-beaten-path!
Therefore, here are some not-so-popular sights we've added to our Costa del Sol 1-week travel guide:
Mijas Pueblo
Cabopino Beach
Juzcar
Ronda's Arab Baths
Frigiliana
Egido Beach
Costa del Sol 1-Week Travel Guide – Best Beaches on the Island
Burriana Beach: A lively beach with seaside restaurants and a bustling promenade, offering a diverse range of activities. So, if you don't just want to sit under the sun for hours, you can participate in water activities such as diving, kayaking or jet skiing.
Maro Beach: Nestled between cliffs and surrounded by pristine natural scenery, this secluded beach offers a tranquil retreat with its untouched beauty and crystal-clear waters. One of Nerja's finest sandy shores, alongside our previous entry.
La Cala del Moral: Located next to a charming fishing village, known for upkeeping its authentic character amidst the hordes of tourists, this beach provides a relaxed atmosphere and picturesque views. It also stretches for over a kilometer, helping maintain a certain sense of privacy.
Egido Beach: A hidden gem within the town of Fuengirola, this beach can be found just below the Sohail Castle, and it is frequently used as a venue for concerts and other summer events.
Bil Bil Beach: Located in Benalmadena, next to the iconic red façade of the Bil Bil Castle, this picturesque beach stands out with its darker sand hues, a relatively uncommon occurrence in this Spanish region so famous for its golden sands.
Playa del Cristo: Right next to the Marina in the popular town of Estepona, this beach stretches along a protected cove, with the local topography providing shallow and calm waters, perfect for swimming with children.
Cabopino Beach: Another often overlooked paradise along the Costa del Sol, this Marbella beach is located inside a protected area, famous for its large sand dunes. There is also a more secluded designated area that can be used by naturists.
Real de Zaragoza Beach: Regarded as one of the longest beaches in the entire Costa del Sol, spanning an impressive 1700 meters, this sandy stretch is surrounded by tourist developments and enterprises. Despite that, it stands out for its beauty and popularity.
La Malagueta: Located right in the heart of Malaga, this urban beach is, as expected, quite busy. As such, it is known for its vibrant atmosphere and tree-lined promenade, standing as the perfect combination between the convenience of a city and the relaxed setting of a beach.
Costa del Sol 1-Week Travel Guide – What to See and Do in 7 Days
Despite stretching for 150 kilometers – and as the saying goes: "the more, the merrier" – the reality is that you can craft a truly captivating itinerary along the Costa del Sol in just one week. With a full 7 days at your disposal, you'll have the opportunity to explore the region's main towns, indulge in the finest beach experiences and even venture a bit further inland to discover some hidden gems of Andalusia. In essence, you'll the full experience!
So without further ado, here are the cities, beaches and attractions that you simply can't miss on our Costa del Sol 1-week travel guide:
Costa del Sol 1-Week Travel Guide – Day 1: Malaga
Without further ado, let's kick off our Costa del Sol 1-week travel guide in the magnificent city of Malaga, the largest and most prominent city in the region! While it may live in the shadow of other more renowned Andalusian cities, like Seville or Granada, Malaga has its own unique brand of charm. As such, our adventure begins with a leisurely walk through the beautiful Old Town, an enchanting maze of narrow streets, medieval buildings and pedestrian squares. While you're here, don't forget to visit the area's most notable landmarks, such as the Saint John the Baptist Church, the Atarazanas Central Market, famous for its ancient Islamic gate, and the bustling Plaza de la Constitución, considered Malaga's main square. Further ahead, you'll come across what is probably the most impressive building in the entire historic center: the Malaga Cathedral! Built on the grounds of the former mosque after the Spanish Reconquista, this is a true architectural marvel.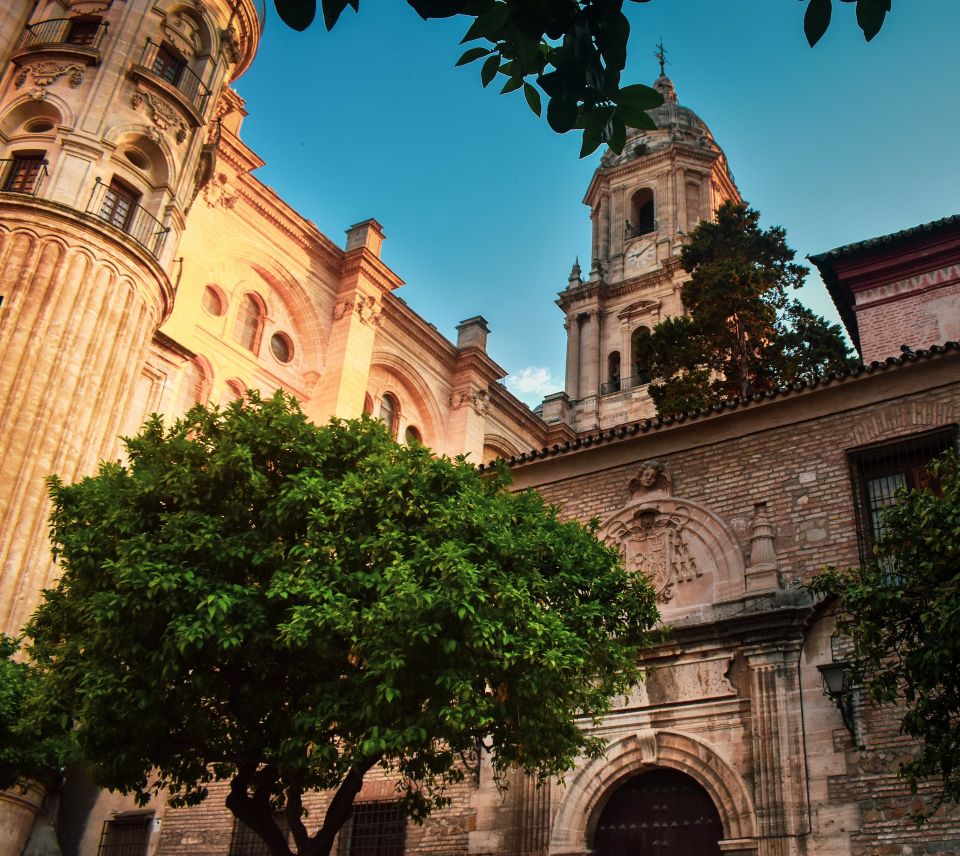 Next, we'll make our way to the Roman Theatre, a monumental ancient ruin located at the foot of Mount Gibralfaro, where you'll have a magnificent view of the imposing walls of the Alcazaba of Malaga (3,50€; or 5,50€ if combined with the Gibralfaro Castle). This old Moorish palace, built over the ruins of a former Roman bastion, stands out as the city's most famous landmark, with its intricate Islamic design and beautifully landscaped gardens. After exploring the palace, we'll ascend the hill to visit the Gibralfaro Castle (3,50€; or 5,50€ if combined with the Alcazaba of Malaga), another remarkable fortress. Much like the Alcazaba, this defensive stronghold was also built on the site of an even older structure – this time, an ancient Phoenician lighthouse – which goes to show just how old and historically rich the city really is. Once you're done with the more cultural side of Malaga, it's time to cool off with a late afternoon swim at La Malagueta, the main urban beach of the Costa del Sol, before wrapping up the day with a refreshing ice cream and a nighttime stroll along the lively Port of Malaga.
First day wrap-up:
Old Town
Saint John the Baptist Church
Atarazanas Central Market
Plaza de la Constitución
Malaga Cathedral
Roman Theater
Alcazaba of Malaga
Gibralfaro Castle
La Malagueta
Port of Malaga
Cheap restaurant suggestions in Malaga:
Costa del Sol 1-Week Travel Guide – Day 2: Caminito del Rey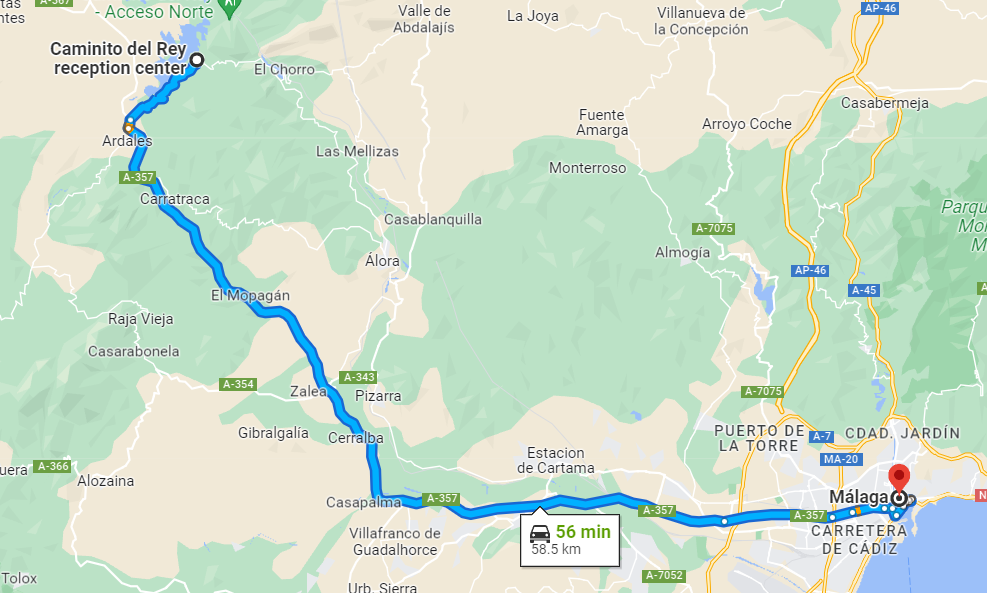 For the second day of our itinerary, we'll leave our belongings in Malaga and embark on an unforgettable adventure along the famous Caminito del Rey, one of Europe's most breathtaking trails. Interestingly, this man-made path was originally carved out of the rugged walls of the Gaitanes Gorge with no intention of catering to tourists, as its purpose was to provide access for workers involved in the construction of the local dam back in the early 20th century. After the dam's inauguration, during which the King of Spain walked this route (hence its name), the Caminito fell into obscurity for many decades. However, the place regained its popularity in the 21st century, leading local authorities to undertake extensive renovations following a few incidents involving intrepid tourists. The result is the remarkable trail we can experience today, featuring perfectly safe walkways, viewpoints and trails that offer truly awe-inspiring views of the canyon.
When it comes to more hands-on information, it's advisable to purchase tickets online through this platform, at a cost of 10,00€. Assuming you'll be traveling by car, you can conveniently park for free near the Restaurante El Mirador Ardales, as the municipal parking lot charges a daily fee of 2,50€. From there, simply follow the signage and you'll be lead through a tunnel to the trail's official starting point. At the end of the hike, which will take about 2 hours depending on your pace, there's no need to walk the entire way back. To get back to your car, you can take one of the shuttles (2,50€) that connect the Caminito's North Entrance to the nearby town of El Chorro, driving through the parking lots of Ardales along the route. On the other hand, if you're traveling by train, these are the exact same shuttles that transport visitors between the El Chorro train station (the closest to the trail) and any of the entrances to the Caminito del Rey.
Second day wrap-up:
Costa del Sol 1-Week Travel Guide – Day 3: Antequera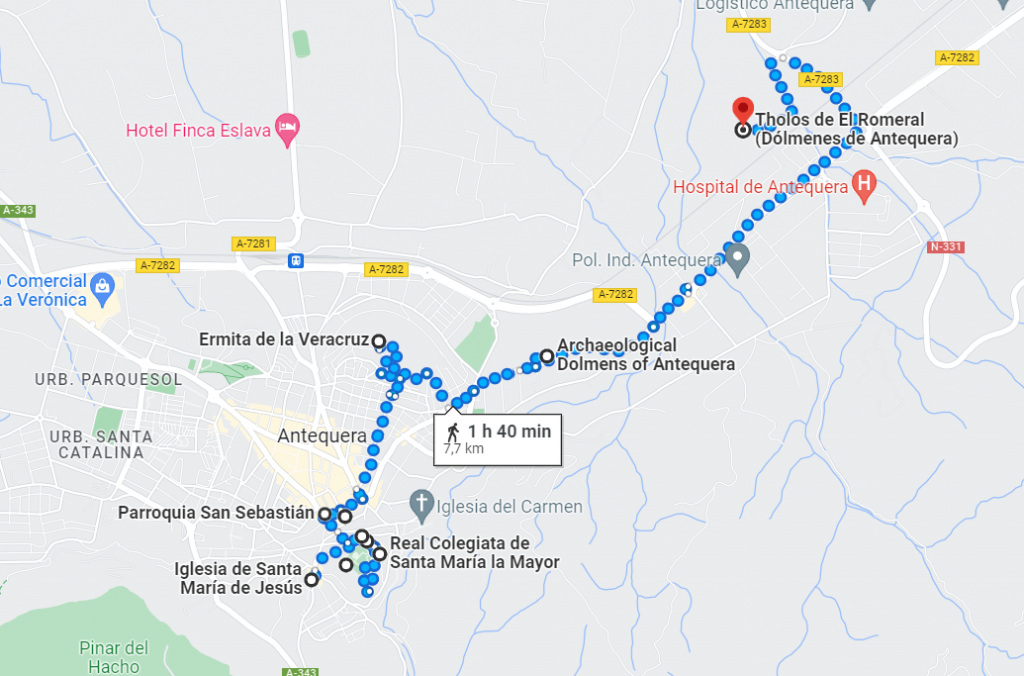 Just like the previous step in our journey, we'll take another day trip from Malaga, this time to the stunning city of Antequera, famous for its historic center and vast collection of megalithic monuments. As soon as you arrive in Antequera, you'll want to experience the enchanting Old Town, a tapestry of narrow streets, Islamic palaces, Renaissance buildings and churches… loads of churches! Som many, in fact, that Antequera is officially the town with the highest number of churches per capita in all of Spain! Some notable ones to visit include the Church of Santa Maria de Jesus, the Royal Collegiate Church of Santa María la Mayor (3,00€) and the Parroquia San Sebastián Church. In between all these cult places, don't forget to visit the Alcazaba de Antequera (3,50€), one of the biggest Moorish constructions in the entire Iberian Peninsula, and pass through the impressive Arch of the Giants, one of the main gateways to the historic center. As a final note, no visit to the Old Town would be complete without a stop at Plaza Coso Viejo, the unofficial heart of Antequera.
However, it's impossible to write a piece about Antequera without highlighting some of its most popular viewpoints. After all, there are several locations where visitors can enjoy extraordinary panoramic views over the city, like the Mirador de las Almenillas and the stunning Ermita de la Vera Cruz, both conveniently located in the old town. Lastly, we have to save a few lines to talk about the dolmens, ancient megalithic tombs which, in the specific case of Antequera, are estimated to be 4000 to 6000 years old. Although there are three different dolmen sites here, the Menga Dolmen is the natural highlight, standing as the largest of its kind in all of Europe. However, and while you're at it, make sure to explore the Viera Dolmen and the El Romeral Dolmen as well. Despite the mysteries surrounding their origins and main purpose, the truth is that these structures are so fascinating that UNESCO has recognized them as World Heritage Sites.
Third day wrap-up:
Old Town of Antequera
Church of Santa Maria de Jesus
Alcazaba of Antequera
Royal Collegiate Church of Santa María la Mayor
Arch of the Giants
Mirador de las Almenillas
Parroquia San Sebastián Church
Plaza Coso Viejo
Ermita de la Vera Cruz
Menga Dolmen
Viera Dolmen
El Romeral Dolmen
Cheap restaurant suggestions in Antequera:
Costa del Sol 1-Week Travel Guide – Day 4: From Benalmadena to Marbella
Alright, now that we've delved into the historical and cultural side of this adventure, exploring Malaga and Antequera and walking the Caminito del Rey, it's time to focus on what truly brought you here: sun, sand, and sea! For that, we recommend hitting the road early and heading the city of Benalmadena. Despite its admittedly poor reputation due to being a Spring Break hotspot, the truth is that outside of the Easter holidays, this city is relatively peaceful and an absolute must in any Costa del Sol travel itinerary! Without wasting any more time, you'll dive back into the refreshing waters of the Mediterranean at the Bil Bil Beach, nestled next to the iconic red facade of Bil Bil Castle. After soaking up the morning sun, get ready for one of the most breathtaking views along the entire Costa del Sol, as you'll take the Benalmadena Cable Car (17,90€ round trip, starting from 12,90€ if purchased online) and ascend to the summit of Mount Calamorro. Once you make it up there, elevated walkways will guide you to various lookout points that offer mind-boggling panoramic vistas over the sea, the Sierra Nevada, the silhouette of the African coastline and, if you're fortunate enough with the weather, the majestic Rock of Gibraltar. Once you're back on solid ground, and before you move on to your next destination, take a detour to Benalmadena Pueblo, the name given to the city's tiny-yet-charming historic center.
After lunch, it's time to let your food settle as you take a stroll through Mijas Pueblo, a picturesque village nestled in the lush slopes of the Sierra de Mijas. This is a place meant to be savored slowly, where you can wander through quaint alleyways while you take in the charm of the village and enjoy the views from the Muralha Park. Once you're done with this lovely village, it's time to get back in the sea at Cabopino Beach, a paradise hidden away between Fuengirola and Marbella.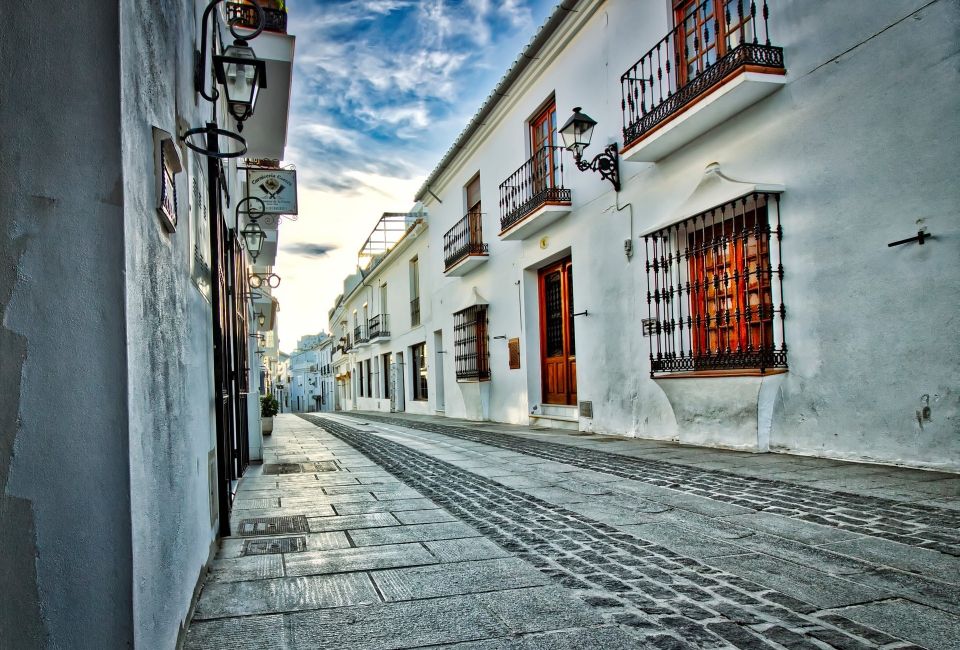 Fourth day wrap-up:
Bil Bil Beach
Bil Bil Castle
Benalmadena Cable Car
Benalmadena Pueblo
Mijas Pueblo
Cabopino Beach
Cheap restaurant suggestions in Benalmadena:
Costa del Sol 1-Week Travel Guide – Day 5: Marbella
As the sun rises in Marbella, today is all about unwinding and relaxing, doing little more than swimming, sunbathing and taking a few calming strolls. To start off, we recommend taking one of those gentle walks through the charming Old Town, a lovely quarter of narrow streets, ornamented pavements and flowery façades. The area's biggest highlights include the Plaza de los Naranjos and the impressive Church of Nuestra Señora de la Encarnación. Follow that up with another stroll along the Alameda Park, Marbella's vibrant green area, before officially stepping onto Avenida del Mar, a pedestrian street that will lead you straight to the beach!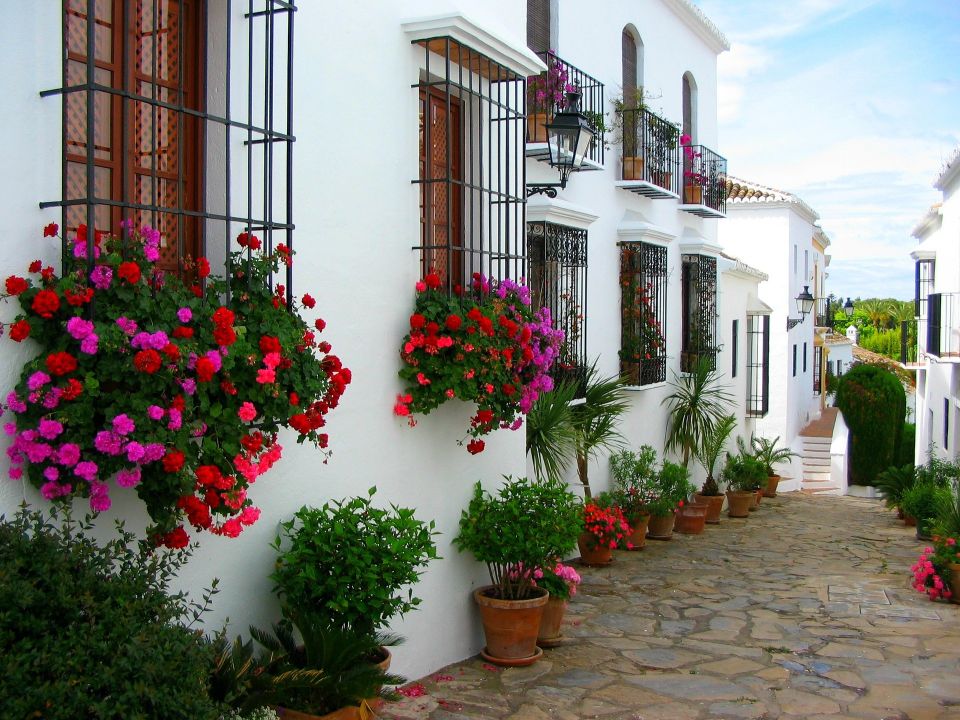 While you could certainly spend an hour or two relaxing at one of Marbella's beaches, our recommendation is that you head west and save your swims for Puerto Banús, the most exclusive area along the Costa del Sol. Popular for its high-end fashion boutiques, picturesque marina dotted with luxurious yachts and dazzling display of luxury cars, Puerto Banús is just like a miniature Monaco, only adorned with whimsical Dalí statues! Finally, and so that you can try one of the finest beaches in the entire Costa del Sol, just keep going in the same direction until you reach Estepona, another extremely sought-after destination in the region. This is where you will relax at the Playa del Cristo, a beach that stretches along a protected cove, where the local topography provides shallow and calm waters, perfect for swimming with children.
Fifth day wrap-up:
Old Town of Marbella
Plaza de los Naranjos
Church of Nuestra Señora de la Encarnación
Alameda Park
Avenida del Mar
Puerto Banús
Playa del Cristo
Cheap restaurant suggestions in Marbella:
Costa del Sol 1-Week Travel Guide – Day 6: Ronda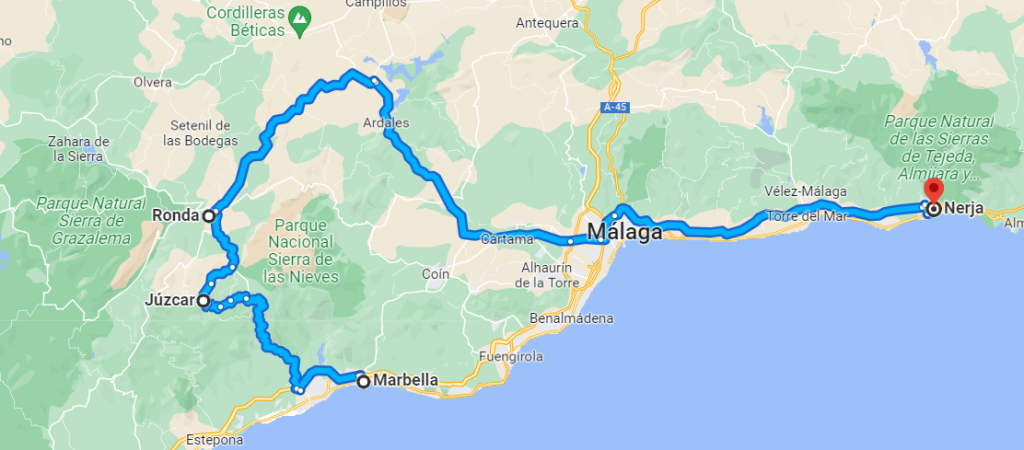 After two blissful days of dolce far niente, it's time to take a break and turn the "explorer mode" on again. Today, we'll head to Ronda, a city that has been hailed as one of the most beautiful in all of Andalusia. But before getting there, let's make a stop at a place that feels like it's been taken straight out of a movie set… in this case, the Smurfs! Located in the picturesque Valle del Genal, the quaint village of Júzcar is famous – as you may have already guessed – for the vibrant blue color plastered in all of its constructions, including residences, churches and even municipal/governmental buildings. Surprisingly, it was Sony España that painted the village blue back in 2011 as a promotional campaign for the live-action Smurfs film. Originally intended to be repainted white after the campaign, the villagers fell in love with the new look and decided to preserve it, turning Júzcar into a viral tourist destination.
After a short walk and a few trendy snaps, you will then continue your journey to Ronda, a city that is equal parts beautiful and dramatic, as it sits perched atop an incredibly tall plateau. Ronda is split into two parts: the ancient quarter, built during the Moorish occupation, and the New Town, erected over 500 years ago (despite its misleading name). You'll start off by exploring the old quarter, passing through the Almocábar Gate, one of the ancient city gates, and walking past the Palace of Mondragón until you reach the Church of Santa Maria La Mayor, which was originally a mosque. To delve even deeper into the Islamic heritage of Ronda, you will then visit Ronda's Arab Baths, the most well-preserved ancient hammam in Spain! Finally, and in order to get to the "newer" part of the city, you'll have to cross the iconic Puente Nuevo, the city's major landmark and main tourist attraction. On the other side, take in the breathtaking views of the deep gorge from Alameda del Tajo, before bidding farewell to this captivating Andalusian gem with a stroll through this quarter and a refreshing caña at Plaza del Socorro. Once you've quenched your thirst for wanderlust, hit the road again and complete the last leg of your journey to Nerja, where you'll spend the night.
Sixth day wrap-up:
Júzcar
Almocábar Gate
Palace of Mondragón
Church of Santa Maria La Mayor
Ronda's Arab Baths
Puente Nuevo
Alameda del Tajo
Plaza del Socorro
Cheap restaurant suggestions in Ronda:
Costa del Sol 1-Week Travel Guide – Day 7: Nerja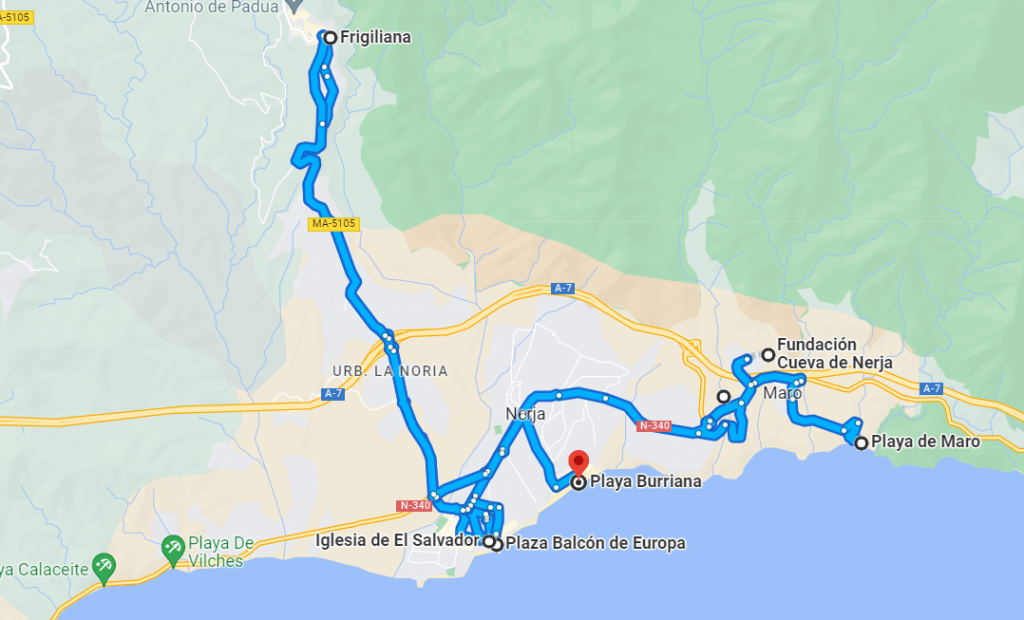 For our last day in the Costa del Sol, you'll be welcomed to the wonderful Nerja, a true paradise that perfectly captures the essence of why the Costa del Sol is such popular holiday destination. You'll kickstart the end of your adventure at Maro Beach, a place nestled between cliffs and surrounded by pristine natural scenery, in perfect harmony with its untouched beauty and crystal-clear waters. Nearby, take an hour of your day to explore the famous Cuevas de Nerja (16,00€), a magnificent complex of caves and caverns divided into three galleries that are open to visitors, before making your way back towards the center of Nerja and stopping at the impressive Aqueduct of El Águila.
Once you reach Nerja's historic center, it's worth taking a break and simply wandering aimlessly along its charming streets and picturesque squares, while absorbing the unmatched atmosphere of a traditional Andalusian pueblo. As you near the sea, make your way up to the Balcón de Europa, where you can enjoy panoramic views of the Mediterranean. Once an old fortress used by locals to spot pirates at sea, it is nowadays a viewpoint and observation platform. To cap off your adventure on a high note, head to Burriana Beach, the main sandy stretch in Nerja, where you can find plenty of seaside restaurants and a bustling promenade. If time allows, we highly recommend a detour to the picturesque village of Frigiliana, yet another example of a traditional local village located on the slopes of a hill.
Seventh day wrap-up:
Maro Beach
Cuevas de Nerja
Aqueduct of El Águila
Nerja Historic Center
Balcón de Europa
Burriana Beach
Frigiliana
Cheap restaurant suggestions in Nerja: